SIOUX CENTER—Two Dordt University students are among those who have filed a lawsuit against the U.S. Department of Education that says religious exemptions unjustly allow Christian schools receiving federal funds to discriminate against LGBTQ students.
Thirty-three former and current students at 25 U.S. Christian colleges and universities are plaintiffs in the class action lawsuit filed March 29.
The lawsuit states that religious exemptions to Title IX policies have allowed schools to adopt discriminatory policies harmful to students who are gay, lesbian, bisexual, transgender or have other minority gender identities and sexual orientations.
Avery Bonestroo and Lauren Hoekstra are among the plaintiffs. Both are students at Dordt, which is located in Sioux Center.
Bonestroo, who uses they/them pronouns, is from Sioux Center and a senior at Dordt. They are bisexual and genderfluid, meaning the gender they identify with most is not fixed and changes over time.
Hoekstra is 21 and a junior at Dordt. Originally from Grandville, MI, she identifies as a queer woman.
In their testimonies shared in the lawsuit, Bonestroo and Hoekstra recount personal experiences of discrimination, rejection and harassment as well as fear of disciplinary action from the university for expressing themselves.
"I fear I will be forbidden to graduate or be forced to participate in conversion therapy if I do come out," Bonestroo said in the lawsuit.
Homophobic jokes, teachings from professors stating that people who have same-sex relationships will burn in hell and loss of friends after coming out are some of the things Hoekstra has experienced.
The lawsuit
The lawsuit was filed by the Religious Exemption Accountability Project, an Oregon-based nonprofit.
The lawsuit argues that religious exemptions to Title IX rights permits the Department of Education to "breach its duty" of protecting sexual and gender minority students from discrimination at Christian colleges receiving federal funding.
Dordt is not a party to the lawsuit.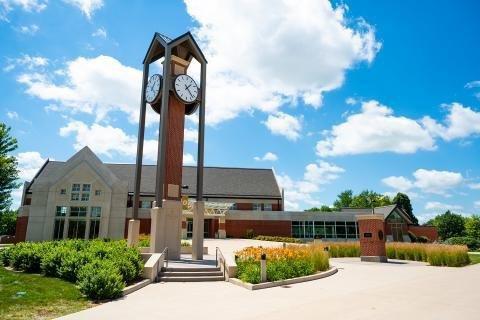 The university issued a statement March 30 stating, "There are statements made in the complaint that do not represent the practices of Dordt University. As a Christian university, Dordt does maintain community standards which are obedient to Scripture. We seek to live these out with grace and truth — modeling Christ-like behavior in all areas of campus life. We pledge to extend compassion, care, support, and accountability for each member of our campus community as we develop into effective Kingdom citizens.
"As we monitor this lawsuit in the days ahead, we will pursue our mission faithfully as we 'equip students, alumni, and the broader community to work effectively toward Christ-centered renewal in all aspects of contemporary life.'"
Dordt president Erik Hoekstra — who is not related to Lauren Hoekstra — was contacted for this story but declined to comment further.
Queerness at Dordt
According to Dordt's student handbook, marriage, engagement or sexual relations with a same-sex partner is unacceptable.
"Transgendered behavior," or adopting an identity that does not match one's biological sex, is prohibited.
Promoting or advocating these behaviors and identities also is prohibited, but the handbook does not clarify what actions the university considers promoting or advocating.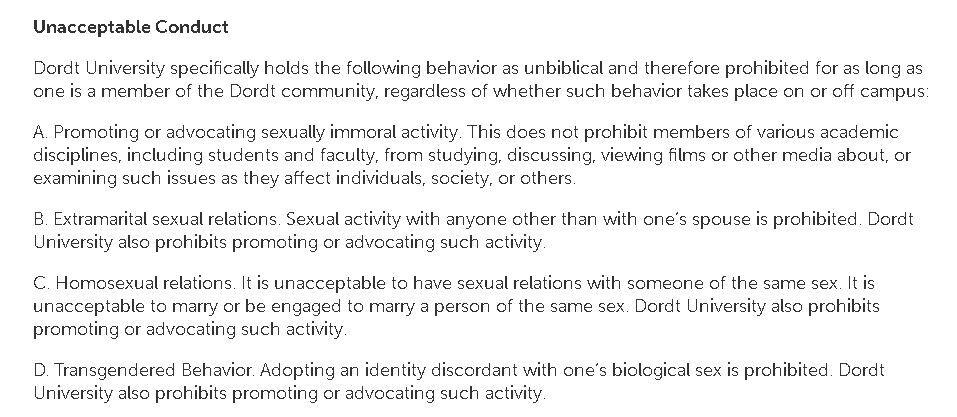 This vagueness is a source of frustration for Lauren Hoekstra. She has a rainbow Pride flag in her room, multiple rainbow stickers on her laptop and often wears shirts with phrases or slogans showing her support for LGBTQ rights and said she's never been told not to do those things. But last spring when she considered coming out publicly, she worried about whether she would be allowed to freely express her identity.
After talking to two members of Dordt's administration, Hoekstra said she was told "there's nothing Dordt can do to you if you come out," including expelling her or taking disciplinary action. However, actions such as kissing a partner on the walk to class would not be allowed.
On the Religious Exemption Accountability Project website, which shares testimonies from all 33 plaintiffs, Bonestroo details similar concerns about repercussions from the university.
Bonestroo is in a relationship with a woman and is concerned that if Dordt administration find out or if they are open about the relationship, they will be unable to graduate or be forced to participate in conversion therapy. Bonestroo shared that Dordt threatened to forbid another female friend who was engaged to a woman from graduating.
They said they have stayed at Dordt because they are far enough into their coursework to make transferring financially unfeasible, adding that "the campus climate at Dordt is not safe or supportive for queer and trans students."
Hoekstra came out publicly through social media in June, describing it as the "most liberating thing I've done to date."
"As soon as I posted, I just laid back on my bed and said out loud to myself over and over again, 'I'm free, I'm free, I can finally be myself.' It just felt so right," Hoekstra said.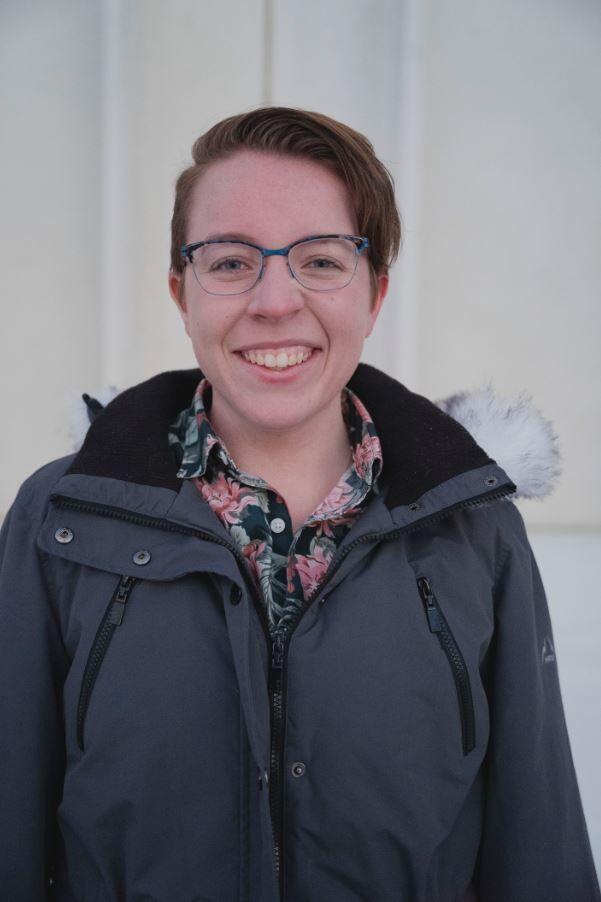 Although many friends, classmates and faculty have been supportive, Hoekstra also said she has lost friends since coming out and said some students avoid her or refuse to make eye contact. Those experiences are in direct contrast to the sense of community that drew her to the university.
Those struggles have not changed her mind about her choice of college, and she said she is more determined than ever to speak up.
"I love Dordt," Hoekstra said. "It just needs to be a better place for people who are marginalized, and I want to be part of the change in making it better."
She found out about the lawsuit through Twitter when one of the plaintiffs posted about it asking LGBTQ students at Christian colleges to participate. Hoekstra said she was "100 percent on board" with the lawsuit and willing to take push back from Dordt officials and the surrounding community to stand up for others like her.
"I can take the bullying, the harassment, the people avoiding my gaze, people not talking to me anymore," Hoekstra said. "I can take it so some kid five years down the road doesn't have too."
Setting a precedent
The lawsuit calls for a judgment that religious exemptions to Title IX as applied to sexual and gender minority students is unconstitutional.
The plaintiffs also are seeking an injunction rescinding prior religious exemptions and prohibiting granting of future exemptions. The sought-after injunction also would require the Department of Education treat Title IX complaints from sexual and gender minority students at taxpayer-funded religious colleges the same as complaints from similar students at taxpayer-funded nonreligious colleges.
Hoekstra said she is not sure whether any of those requests will be granted, but that does not change her determination to go forward with it.
"Even if it doesn't pass, then we're still making a change, we're still paving the way for future changes by setting a precedent of what we believe life should look like for queer folks at Christian institutions," she said.
In her eyes, that means accepting that queerness and Christianity can and do intersect and creating safe and supportive spaces for people like herself to express all parts of themselves.
"Having this lawsuit is so important because it is leveling the playing field for those of us who are already in the outfield," she said. "It's kind of the bare necessity of saying, 'You're human too. You deserve the same rights as everybody else.'"