ROCK VALLEY—A company that specializes in countertop heaters recently set up shop in Rock Valley.
DG Innovations' manufacturing operation moved to a facility located at 1333 Valley Drive in the Sioux County community earlier this year.
The business produces a line of thin, attachable countertop heaters under the brand name FeelsWarm as well as a line of foil heaters under the brand TurboFlex Heaters. The latter are marketed to original equipment manufacturers to use as components in other manufacturer's products.
"We started this in 2013, and we identified a problem in the market and no one was able to solve because you needed a thin heater, you needed it safe, it had to be low voltage and it needs to be big and you needed to make it in a hurry," said DG Innovations owner Jahn Stopperan.
"No other company was able to come up with a solution."
The business previously operated fabrication sites in Burnsville, MN, and Lakeville, MN. Each of those sites was consolidated in the Rock Valley space, which is part of a building that also houses other manufacturing companies.
"It was the right square footage. It has maybe 3,500 square feet of immediately usable floor space," Stopperan said.
The business' sales, marketing and other administrative functions still take place out of Lakeville.
The main reason DG Innovations relocated its manufacturing setup to Rock Valley was to accommodate growth the business has seen in recent years, particularly on the FeelsWarm side.
Stopperan said interest in and positive feedback about the countertop heaters has grown as word has gotten out about the product.
"It's taken seven to eight years for momentum to get big enough where, just like heated seats in your car, you started realizing, 'I can't live without them.' Once you have them, you never want a car without them," Stopperan said.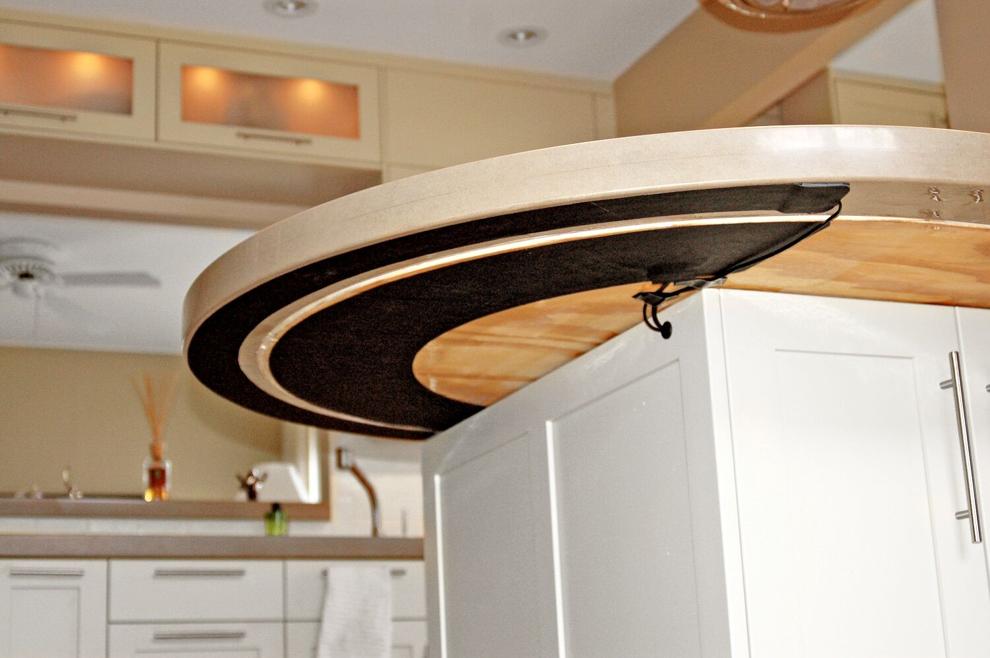 There are two main ways homeowners can apply the countertop heaters, which are plugged into standard electrical outlets. The first application is for countertops being installed in a newly built or renovated home. In that case, DG Innovations works with the contractor to have a FeelsWarm heater already mounted on the countertop when it arrives at the house.
The second application is for existing countertop overhangs that homeowners want to be warm to the touch when they sit at it. For those scenarios, FeelsWarm offers stick-on heaters customers can install themselves on their stone countertops. Stopperan said the market for existing countertop heaters is about 10 times as large as that of new countertops.
The TurboFlex side of the company still is in its early stages and is driven by business-to-business transactions, not consumer exposure.
However, Stopperan said it will likewise see continuous growth, especially as businesses that would purchase TurboFlex Heaters get back to normal operations following the disruption caused by the coronavirus pandemic.
"Companies disbanded and their product development work kind of went on hold. Now that's firing back up, their engineers are designing new products again," Stopperan said.
The TurboFlex Heaters can be used as components in a range of products other manufacturers make, such as medical devices, analytical equipment, electronics, lighting equipment and more.
Besides specializing in production of heaters for the FeelsWarm and TurboFlex lines, Stopperan said DG Innovation is capable of making them in a timely manner.
"That's what these other companies want, they want fast turnaround on heaters for their development work," he said.
The Rock Valley facility employees about five people, although Stopperan said the company plans to hire more workers as its growth continues.
He also credited the facility manager, Jason Strubbe, for helping make the switch to Rock Valley be a smooth process as well.
"We did some searching and found a great local person with 20-plus years experience in industrial and manufacturing management," Stopperan said.
"That was a key piece of the entire project being successful. He really is the local liaison."