SHELDON—When people ask Millie Vos what she does with her spare time, she has an answer ready.
"What spare time?" responds the 85-year-old dynamo.
There is always something to do, she said during an interview at the Sheldon Prairie Museum on Saturday, Dec. 7. That's a historic date, and an appropriate date to talk with Sheldon's unofficial town historian.
She may not be the official collector of the town's past, but Vos does have a title: Director of the Sheldon Prairie Museum. She also serves on the museum board as well as the Sheldon Historical Society Board of Directors.
Although she taught school for decades and still has the ever-vigilant style of a classroom veteran, history has been her passion since she was a girl.
"Because I'm interested in this. I'm interested in history," she said. "And I want to preserve this museum. What's going to happen to it? I really worry about this."
The Sheldon Prairie Museum has been a part of the community for half a century, since the Sheldon Public Library left the building, one of thousands of libraries built thanks to a donation from business tycoon turned philanthropist Andrew Carnegie. It was the last library to be funded by Carnegie, according to the Sheldon Area Centennial Book.
The library opened in 1908 but when the "new" library was built across the street in 1969, the historic structure was scheduled for demolition.
"They were going to make it into a parking lot," Vos said.
'Minor in history'
That did not happen, thanks to a few citizens with a love for history and an appreciation for the building. Vos was not involved then, since she was busy teaching school and raising her family.
But her love for history, starting with a deep interest in the Civil War, was instilled in her early.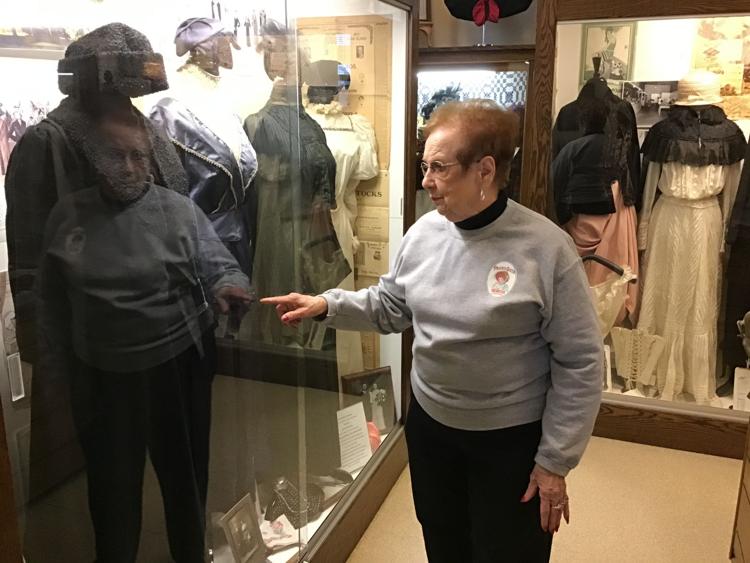 "I have always been interested in history," she said. "All my life. My graduate work was in history and I have a minor in history."
She was born in Pilot Mound, a small town south of Fort Dodge, in 1934, to parents who instilled in her a love for knowledge. It was one of the few gifts they could pass along, Vos said.
Her father worked as a telephone lineman and her mother was an operator. The telephone office was in their home.
"I came from having no money," she said. "My folks were not well-to-do. I did anything to make money because my folks couldn't help me."
She began working as a child, babysitting, cleaning houses and working for farmers. She also raised rabbits, which she sold to people for meat.
The bunnies brought 25 cents each and she raised and sold 500. That money, along with scholarships she was awarded, allowed her to attend college.
Vos did all this despite injuries suffered in a car accident when she was 7. Her grandfather rigged up a tricycle with a motor to help her recover.
"They didn't think I would walk again — but I proved them wrong," Vos said. "I played basketball in high school, so that tells you something."
While she studied to become a teacher, she also waited tables, worked at the college library and babysat for professors' families. Vos was determined to get ahead. She graduated from Iowa State Teachers College in Cedar Falls — now the University of Northern Iowa — with a two-year teaching degree. She began her teaching first grade in Hull.
Always prepared
She met John Vos in a movie theater and the young couple married in December 1954. They lived in Sheldon, Sibley and Sanborn and had two children, Rochelle and Kraig.
Vos returned to the classroom to teach fourth grade in Sibley in 1963 while she also worked to obtain a bachelor of arts degree from Westmar College — a defunct college that was located in LeMars — a goal she reached in 1971. Still hungry for knowledge, she continued to take graduate courses for years at various universities.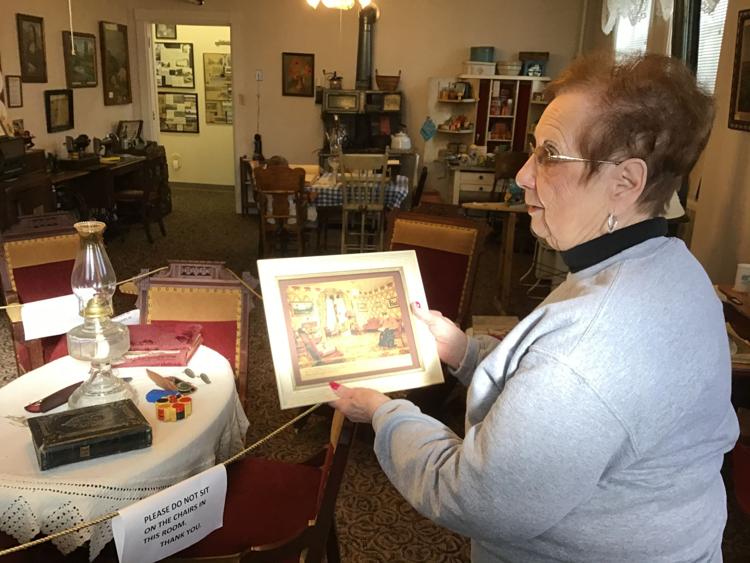 Her life changed in 1981 when she got divorced and moved to Sibley, where she was teaching. After 33 years in charge of a class, she "retired" in 1996 — but it would not stick.
Vos bought a house in Sheldon to be closer to her family and soon returned to work. St. Patrick's Catholic School offered her a part-time librarian job and it "was an answer to her prayers," she wrote in her obituary, which she already has written. Vos always is prepared.
She served as the St. Patrick's Catholic School librarian until June this year while also serving as a substitute teacher and conducting testing.
Vos said she still sees some of her former students and enjoys when they run up to her. She dotes on her own grandchildren and great-grandchildren and has a soft spot in her heart for all kids.
'Proud of this place'
Vos does not spend a lot of time relaxing. She is driven to work.
The museum is proof of that. Vos is in it several times a week, arranging displays, working with volunteers and doing research. She does it all for no compensation.
"I don't get one dime," Vos said. "I taught for 56 years. I get a good retirement."
She began volunteering at the museum in 2006 after longtime volunteer Raeanne Tatsumi asked her to get involved. Vos later was named the director and it has dominated her life since.
"I'm pretty proud of this place," she said. "I'd like to have people come in and see this."
While Vos has had some recent health issues, including a left knee and right hip replacement as well as back surgery, she has no plans to slow down.
"I have longevity in my family," she said.
However, she is looking for someone to take her job. Vos has offered it to other volunteers, but they have told her when she retires, they will leave, too.
She said Ralph Hollander, whose father Ralph Hollander Sr. was a Sheldon postmaster, businessman and town historian, has been a great help to her, as has Dyan Lenderink, one of the volunteers who assist her at the museum. More are needed, Vos said.
'She's passionate'
Sheldon city manager Sam Kooiker said Vos is a great asset to the town and its residents.
"Millie is the pulse of the Prairie Museum and has tremendous knowledge of the community," Kooiker said. "Her enthusiasm for Sheldon's history has helped form a team of enthusiastic dedicated volunteers at the museum, and to raise many thousands of dollars for the upkeep of the collections. She's passionate about historic buildings, and she helped draw attention to the plight of the H.C. Lane building earlier this year. I'm not sure how she keeps up this pace, but if I make it to age 85 with half of her energy, I'd still be ahead of most people."
In addition to her teaching career, Vos was an Iowa Communications Network facilitator at Northwest Iowa Community College in Sheldon until she departed from that position in 2000 because it interfered with her ability to attend her grandchildren's sporting events.
She also was on the education and congregational care committees at First Reformed Church in Sheldon; went on mission trips; taught Sunday School and Vacation Bible School; was a Girl Scout leader; belonged to the FOE Auxiliary, where she served a term as president; was a member of the 7 to 8 Book Club and the hospital auxiliary.
If something happened in Sheldon in the last few decades, the odds are Vos was involved.
She is a member of the Sheldon Public Library Board of Trustees and is proud of the remodeled and improved library and a big fan of library director Nicole Morgan.
"She's really a proactive board member and a real advocate for the library," Morgan said. "I don't know what we would we do without her, and she's been a good friend to me, too."
Vos keeps a close eye on all city affairs as Kooiker can attest.
He said toward the end of August 2018 he visited the Sheldon Public Library on a Saturday morning researching Sheldon before applying for the position of city manager.
"Millie came and sat down and started visiting with me," he said. "We ended up talking about Cherokee and Sheldon and how Sheldon lost out on the mental health institute by only one vote in 1894 on the State Mental Health Commission because Cherokee had running water and Sheldon did not. She also knew that Sheldon had its own congressman (William Boies) who didn't run again in 1928 and was later followed by Guy Gillette of Cherokee. She, of course, knew the story better than I did.
"She figured out why I was there that day but didn't say anything — she just raised her eyebrows real high when she asked me what I was doing for a living in Cherokee and I said 'city administrator.'"
Kooiker was hired to be Sheldon's city manager on Oct. 10.
'An important asset'
Crossroads Pavilion general manager Tricia Meendering also is a fan and a friend of Vos.
"I wish we had a few more people like her," Meendering said. "What I appreciate most about Millie is her passion for the preservation of our history and sharing the stories of our city's past. There are so many interesting little tidbits, tall tales, facts and remarkable moments that she is privy to knowing and sharing."
Meendering said Vos should be cloned or at least emulated.
"Millie is one person. I can only imagine how many more of those stories are out there about our city's past, if only more people like her were willing to share," she said. "Back when I had my coffee shop, Tooties, many stories were told about the number of stores there were downtown, the different shop owners living above the business and the fun times they had.
"Millie is an important asset to Sheldon's history and future. She gets to be the great storyteller of who we were back when, last year, even yesterday," Meendering said. "Those stories, those significant moments in time are, have shaped us into who we are today. And those stories, moments, events, they do not stop. I often wonder who will take her place, or better yet serve alongside her in preserving our history."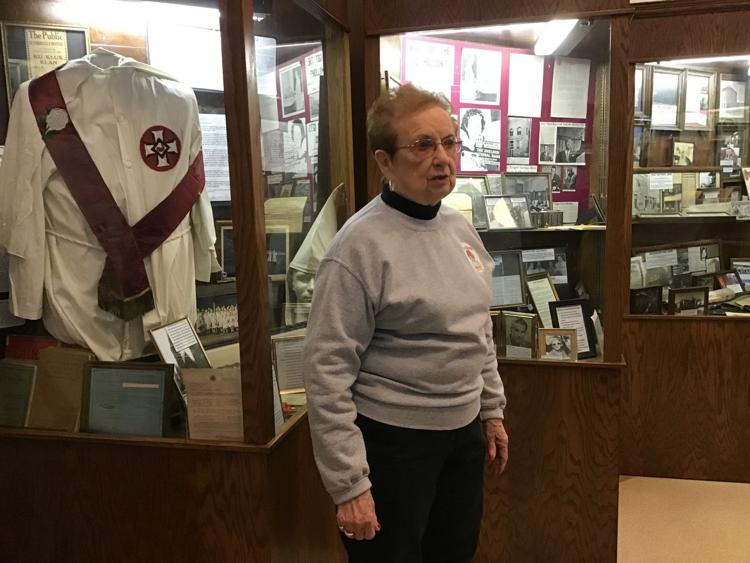 One of the reasons Vos can tell Sheldon's history so well is that she has lived through much of it. When she writes about a fondly recalled hamburger joint, she knows what she is saying, since she ate there.
She had a front-row seat to the most infamous chapter in town history, when Burnice Geiger embezzled more than $2 million from Sheldon National Bank.
Geiger lived two doors down from Vos and they knew each other. Vos said Geiger was known for her charitable activities as well as her stylish wardrobe, which included 100 pairs of shoes.
An FBI agent spoke with Vos when they came to Sheldon to arrest Geiger on Jan. 16, 1961, and during the investigation. Vos said she was hired to help collect and categorize the massive amount of items stored inside Geiger's home.
It has provided Vos with special insights as she writes about the notorious theft. The bank's after-hours depository is one of the latest additions to the immaculately kept museum and Vos is proud it has been added.
It is located near a display of Ku Klux Klan items, horrible reminders of the KKK's past in Sheldon. A gathering in the 1920s, when the Klan had become a social and political power across the nation, drew thousands of people.
It is a shameful piece of Sheldon history, but one Vos wants preserved alongside the period clothing and furniture, scrapbooks and school photos.
Meendering and Vos got to know each other before Meendering was mayor, a post she held for more than a decade.
"I met Millie when I visited the Sheldon Prairie Museum. I was in search of old photos to possibly use for decor when I was opening my coffee shop," she recalled. "She was excited to share in the surplus of photos they have as well as stories of the busy downtown we once had. Millie is often a guest at the Prairie Arts Historical Park Council meetings, where I have served as the treasurer for many years."
Vos and Meendering will team up to make plans for Sheldon's sesquicentennial celebration in 2022. That work starts in January — but Vos said she already was working on the research.
Of course she is. That's Millie.