CARNES—Mindi Wikstrom was not expected to survive a vehicle collision she experienced a year ago, much less run a half marathon or graduate from college after it.
Yet the 22-year-old Sioux City woman and former Dordt College student achieved each of those goals in the year following her collision with a semitruck on May 15, 2019, on the Highway 60 expressway near Carnes.
Wikstrom sustained serious injuries from the crash and was put in a medically induced coma after being flown by helicopter from Orange City Area Health System to MercyOne Siouxland Medical Center in Sioux City.
She does not recall any of the details of the crash; her first memory after it happened is waking up in the hospital's intensive-care unit and not remembering how she arrived there.
"That was honestly the worst experience, waking up and knowing that you're supposed to be not in a hospital but not knowing what had happened to you," Wikstrom said. "It was like a horror film."
She remembered her father, Dwight, explaining what happened to her and her refusal to believe it at first.
"I just remember crying because I was like, 'This is not real life. This is a bad dream,'" she said.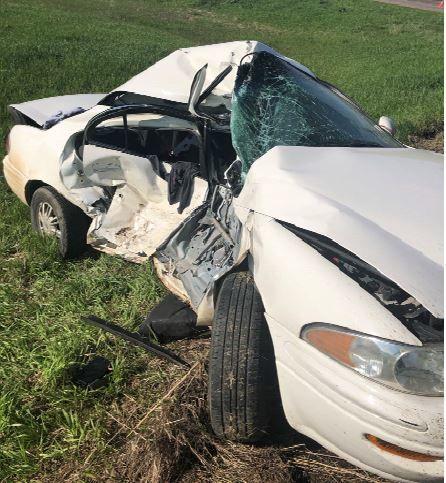 Richard and Miriam Ludeke of Archer were among the first people at the scene of the crash and immediately went to help Wikstrom.
Richard, 66, and Miriam, 61, had been driving north along Highway 60 and went past the intersection as the collision occurred.
Wikstrom also had been driving on the expressway which curves to the east at the Carnes intersection. She crossed the median to go north on Jackson Avenue and her 2004 Buick Le Sabre collided with a westbound 2003 Peterbilt semitruck pulling a tank trailer. The impact forced her vehicle into the ditch across the street from Sfumato Pizza.
'God saved her life'
The Ludekes' car had been so close to the collision, some of the shattered glass from Wikstrom's vehicle flew onto it. Richard also recalled that Wikstrom's battery had shot out of her car to land in the middle of the highway.
"We did a U-turn really quick because people were stopping," Richard said. "I spun around and I parked right almost in front of where you went in the ditch right there and we ran down the ditch."
The Ludekes, as well as another woman who had been at the scene, found Wikstrom with her head tilted back with blood filling her mouth. Richard replayed the scene to Wikstrom.
"That lady reached through and I said, 'Hold up her head! Hold her head!' because you were gurgling. Your head was way back and you couldn't breathe and you had blood coming out," Richard said.
"So she reached in and held up your head. And then there were two county guys right by that 'Do Not Enter' sign. I don't know what they were working on. They ran over and your door was all smashed in on that side. I couldn't get in. So both of those guys grabbed the door and just basically ripped your door off, the driver door. And then Miriam helped the lady hold your head up."
Richard, who has a background working as an emergency medical technician, explained how it was important they cleared Wikstrom's throat of blood to prevent her from drowning in it.
After they did so, they stanched the blood flowing from other injuries on Wikstrom's head, neck and legs using pieces of clothing they gathered.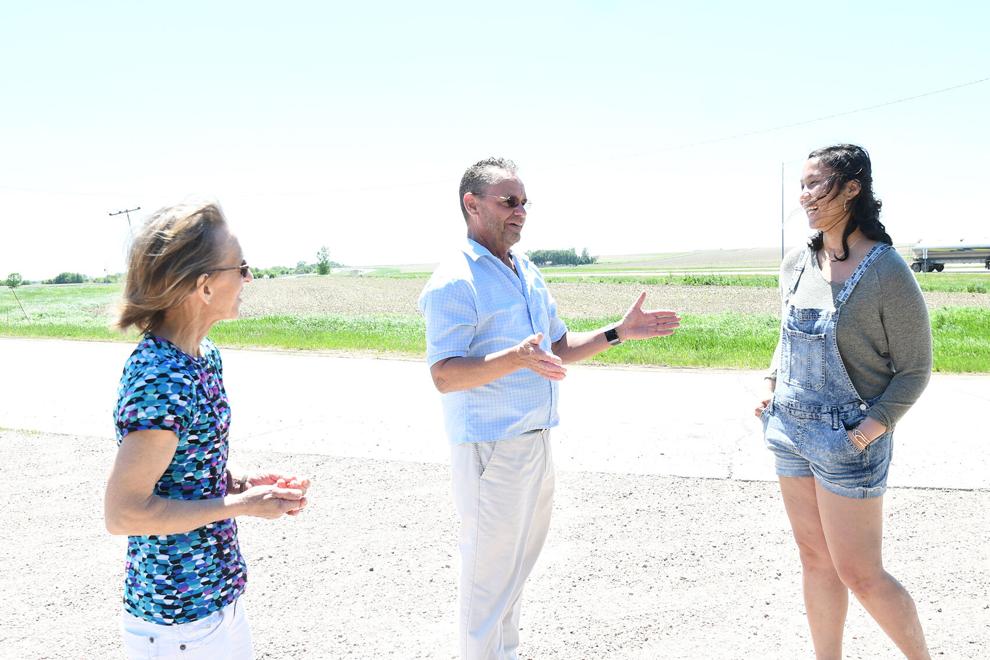 Wikstrom's mother, Mary, called the Ludekes in the days following the crash to inform them her daughter was in a coma but wanted to thank them for their role in saving her.
"I said, 'No, God saved her life. We were just there and did the best we could,'" Richard said. "And she started crying and crying and she said you were in a coma and couldn't move and you had bleeding in your brain. And she said, 'I didn't know if she was going to make it.'"
'I'm very thankful'
The Ludekes did not hear back from Wikstrom's family and assumed she died from her injuries.
That is, until Richard received a call from Wikstrom in late May — a year after the crash — in which she told him she was alive and well. Richard did not believe it at first.
"When you called, he was just like, 'Wait a minute.' Almost like, 'She's playing a trick on us,'" Miriam said.
Wikstrom thanked them for their role in saving her life and asked to meet with them at the site of the crash to hear them recount what had happened.
They accepted and met her there Friday, May 29, for a tearful reunion.
Richard told her the whole time he and Miriam had been working to preserve Wikstrom's life, they had been praying for her.
The Bible verse that came to mind for Richard during the ordeal was Psalm 107:20, which says, "He sent His word and healed them and delivered them from their destruction."
"This is a verse I prayed for you, that God's sending His Word to heal you and deliver you from your destruction," Richard told Wikstrom.
Richard explained God gives second chances and that he believed God put him and Miriam at the right place at the right time to help Wikstrom.
"That's what it's really all about. It's not us, it's God just sent His word to heal you," Richard said.
She in turn explained how she woke from her coma after about two weeks. Her jaw had been broken in the crash, so her mouth had to be temporarily wired shut so it could heal.
She remembered having to talk through the wires while video chatting with her friends.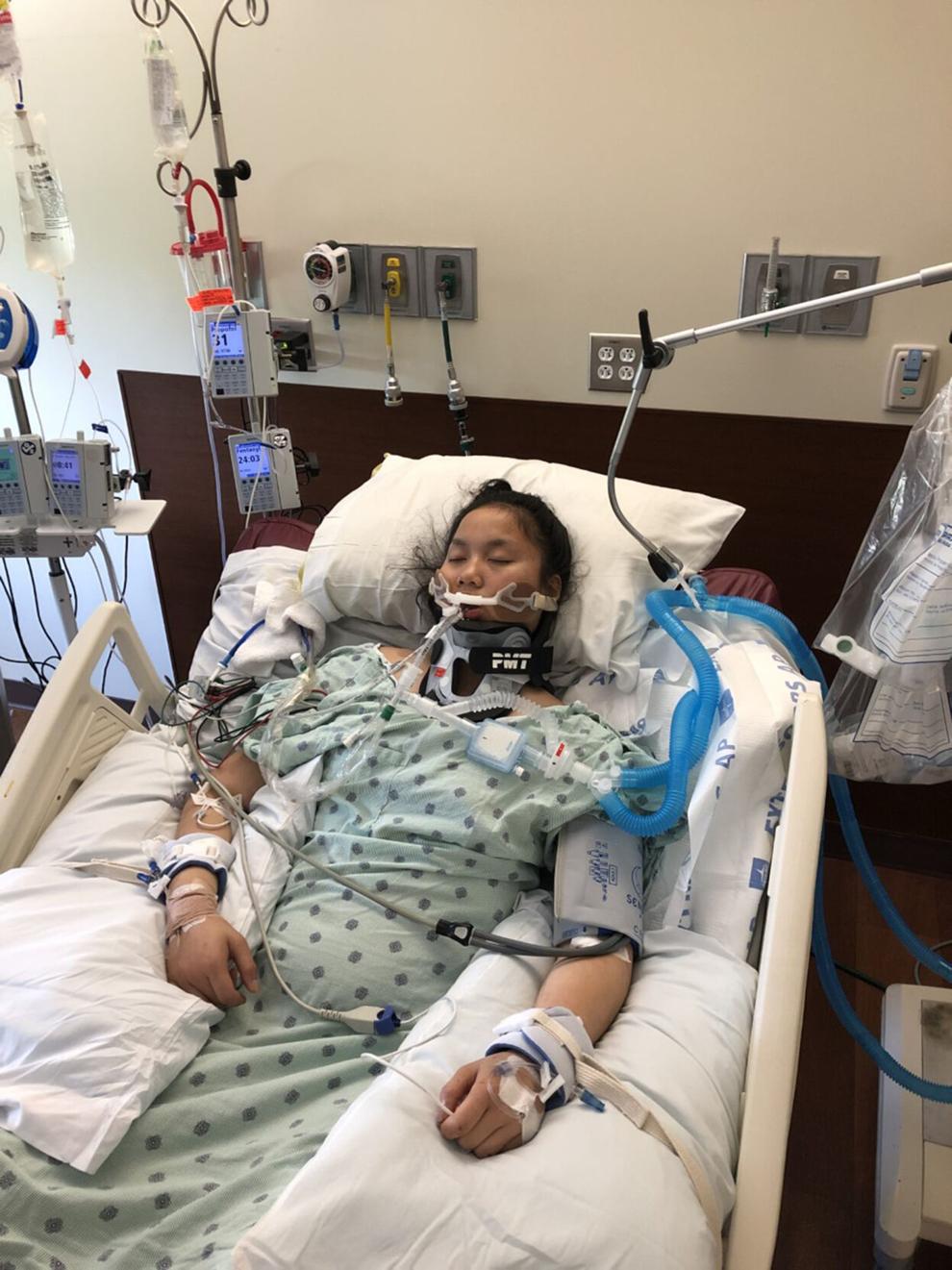 While at the hospital, she went through two weeks of physical and speech rehabilitation. She described those aspects of her recovery as a highlight.
"I like to walk and I like to talk," Wikstrom said. "I remember speech therapy was harder because they would ask me a lot of challenging questions, and I was also pretty drugged up, so that was difficult. And then physical therapy was fun for me, just because they made me go on the treadmill and they made me walk around outside."
She later was diagnosed with depression following the crash and struggled to understand why God had allowed her to go through the ordeal.
"Then He just showed me that, one: I don't deserve this life, He saved my life. And two: It's so nice to walk and breathe, and I'm very thankful for the good," she said.
'I want to give back'
Wikstrom spent six weeks in the hospital overall, having been in a general admission room two weeks following rehabilitation.
Wikstrom was again able to resume her life — but she chose not to approach it as usual.
She explained how she is confident in her salvation in Jesus Christ and that if she had died, she would have gone to heaven. To her, the fact she survived the crash means she was meant to keep living for a reason.
"I look at life very differently," Wikstrom said. "I don't waste it anymore. I don't want to waste my life anymore. I just really want to, not impact the world, but show people Jesus."
She has gone on to do just that.
In October, Wikstrom completed a half marathon in Des Moines — something the hospital staff had doubted she would be able to do. She plans to run a full marathon later this year.
In May, Wikstrom graduated from Iowa State University in Ames with a bachelor's degree in communication studies and a minor in business. She had transferred to the state university in the summer 2018 after having studied at Dordt College in Sioux Center for two years.
Wikstrom also accepted a full-time job with a campus ministry organization at the University of Nebraska in Lincoln called The Navigators.
"We basically live relationally with college students and just really let them know about Jesus or teach them about the Gospel and then read the Bible with them," Wikstrom said.
She told the Ludekes how her experience with the car crash has ultimately deepened her love for God and her calling to pursue ministry.
"I want to give back to people what my hope is," Wikstrom said. "I feel logically the only reason why I'm alive is to share Jesus Christ."