REGIONAL—N'West Iowa school districts have been relying on coronavirus case data to determine how and when to hold in-person classes for the 2020-21 academic year.
Like other schools across the state, they have the option to disclose the number of positive cases and people in quarantine they experience — as long as such information does not identify individuals — but are not required to.
As such, the state does not have a centralized database that contains information about COVID-19 case numbers in schools.
Sara Willette decided to do something about that.
The 41-year-old Ames resident has been maintaining her own database of COVID-19 information since the pandemic hit Iowa in March.
The website, iowacovid19tracker.org, charts coronavirus trends by using data from the Iowa Department of Public Health and data she receives from the public.
Willette has remained at home throughout the pandemic since she has a rare immunodeficiency condition called common variable immune deficiency, which makes her particularly susceptible to illness.
"I've basically lived a pandemic life always, keeping as much distance between me and sick people as possible," Willette said.
Her website, which she updates twice a day, shows the trend of COVID-19 cases throughout the pandemic across numerous metrics as well as for each county. Among the graphs for each county are ones showing the daily number of active cases and 24-hour and 14-day positivity percentages.
The health department's website shows statewide trends for numbers of tests, positive and negative cases, recovered cases and percentage of individuals who tested positive. It also shows graphs for new daily cases for each county as well 14-day positivity for counties. The state website does not show the number of active cases in each county.
Spread in schools
Willette's site also includes information for school districts that experience positive cases or have people self-quarantining. Her school reporting is in part possible thanks to her partnership with the Iowa State Education Association, a Des Moines-based nonprofit organization. She also recently began to collaborate with thecovidmonitor.com, an online database which compiles coronavirus case data from around the country to help researchers track the pandemic's spread in schools.
The school information is available under Willette's "COVID-19 in Our Schools" tab. Maps at the top of the page show districts where data is available and a spreadsheet below also breaks down that data.
As of Thursday afternoon, eight N'West Iowa school districts were represented on the site: Gehlen Catholic, Hartley-Melvin-Sanborn, MOC-Floyd Valley, Okoboji, Rock Valley, Sibley-Ocheyedan, Sioux Center and West Lyon. Cases at Dordt University in Sioux Center also are included.
Willette collects COVID-19 data for schools in a few different ways. One way is through crowdsourcing information from the public using a submission form on her website. She also scans school districts' websites to see if they self-report COVID-19 numbers and receives direct messages on Facebook from people wanting to report COVID-19 information in their schools.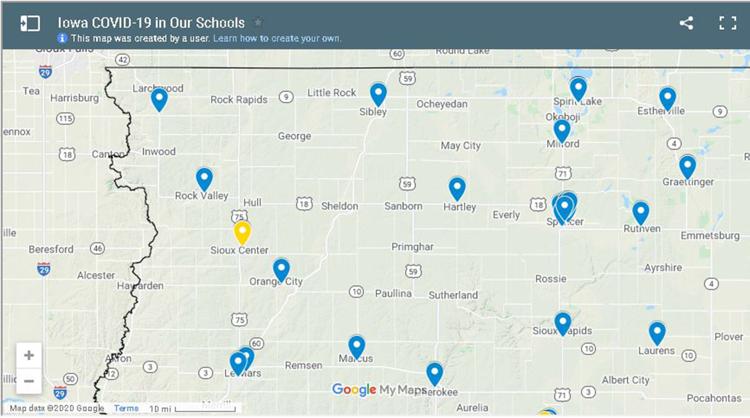 Six students at Iowa State University in Ames assist Willette with hunting, collecting and sorting through the data. She also sometimes enlists help from her husband, Auriel, who is a biostatistician at ISU, to make sense of the data.
"I rely on his expertise when I think something may or may not actually be true, like I'm interpreting something wrong, and I ask for his input because I want to be as scientific as I possibly can," she said.
Transparent schools
The Sibley-Ocheyedan School District is one of a few N'West Iowa districts that publicly releases how many students and staff members test positive and are quarantining.
The data is available on the district's website by first clicking the "COVID Info" tab and then going to "COVID-19 District Status" on the left menu.
"Communication is a vital part of our relationship with the community, and safety being our top priority, we wanted to keep the public as informed as we could," said superintendent James Craig.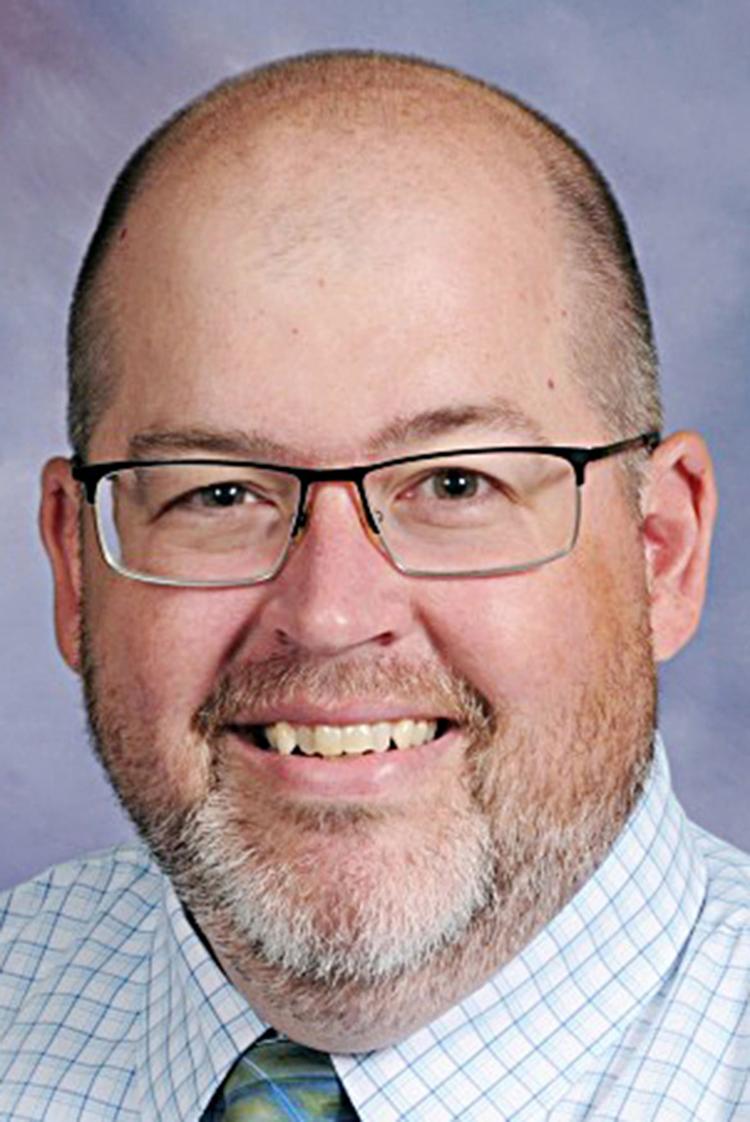 As of Friday afternoon, it showed the district having fewer than six students testing positive and fewer than six staff member testing positive. Sixteen students and staff were recorded as being in quarantine.
Before the district created the COVID-19 status page, it sent out individual news releases notifying the community of positive cases in the district. Craig said that was done to be transparent with district residents.
When the district began experiencing a significant uptick in positive cases and number of people quarantining, it quit sending out news releases and instead created the dashboard.
"At one point, were up to over 200 people quarantined, and that was almost 20 percent of our population, between staff and students in the district," Craig said. "Communication was very difficult to keep up with at that point."
Other N'West Iowa school districts with similar features on their websites are Central Lyon and Okoboji.
Central Lyon breaks down active COVID-19 cases among students and staff by building. Superintendent Brent Jorth said open and honest communication is one of the district's values, which contributed to the school board members' decision to make the case numbers available.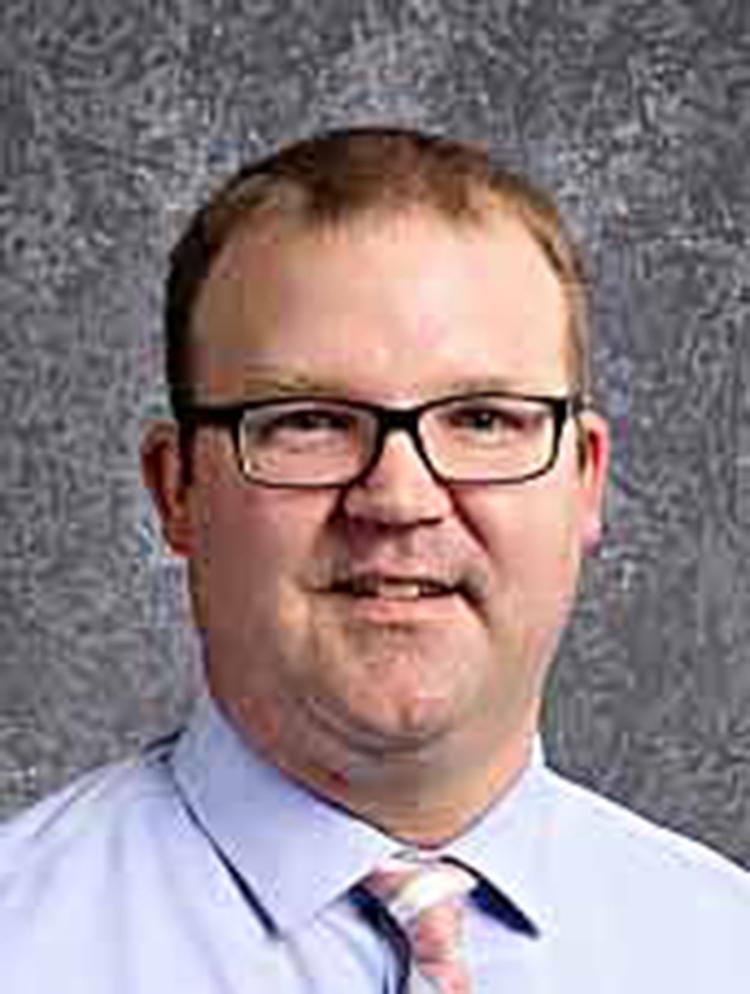 "After we'd had our first student positive case, they expressed their desire for us to begin publishing that information while simultaneously trying to protect the privacy of those individual students and staff members as best as we can," Jorth said.
The dashboard, which is updated each Monday, showed one active student case and one active staff case in the district as of Friday afternoon.
Okoboji's COVID-19 dashboard meanwhile shows how many active cases and people in quarantine there are in the district using number ranges instead of exact figures.
For instance, as of Thursday afternoon, it showed one-five active cases among students and staff in the district and 25-30 in quarantine due to close contact with someone who is positive.
Disclosure limited
Willette said many superintendent she had spoken with leading up to the start of the academic year did not know what their districts would be able to disclose regarding positive cases.
It was not until Sept. 16 the Iowa Department of Public Health released guidance for school districts regarding the disclosure of COVID-19 cases.
The guidance says school districts and public-health officials are authorized to disclose names of positive students and school staff members between themselves if necessary. However, school districts are prohibited from releasing identifying information about positive cases to the public.
Other guidelines the health department asks districts to consider when it comes to reporting cases include:
Release case counts only when there are 100 or more total students in the student population at a location.
Schools that have no cases can report zero cases.
Schools with counts of six or more cases can release specific case counts.
Schools with five or fewer cases should not provide a specific count but can confirm there are cases within the school population.
No other demographic identifiers should be included in the school-level release.
Willette described the willingness of a school district to disclose its number of active cases to be on a spectrum, which is in large part tied to the district's size.
"If a district is large, they have a much easier time sharing positives and exposures because then they don't need to worry about people in the community figuring out who it was that was positive at the school," Willette said.
Craig said that was the case for Sibley-Ocheyedan, which has a student population of 767, and why the district chose to only release case counts in the district as a whole.
"We're in several small towns here in Osceola County," Craig said. "It's going to be obvious. Word is going to get out, it just can't come from the school."
---
DIFFERING DATA:
The Iowa Department of Public Health has not been alone in reporting COVID-19 data during the pandemic.
Sara Willette, a 41-year-old Ames resident, created her own database called iowacovid19tracker.org in March. The site breaks down coronavirus case data trends statewide and by county.
It also tracks known cases in school districts — information the state does not report and that districts can choose not to disclose.
Another key difference between Willette's website and that of the state department is how each arrives at the 14-day positivity rates.
"I use the data from the downloads for the new positives and new tests in every 24-hour period to calculate and I add those together over 14 days and then I just do a straight division and then turn that into a percentage," Willette said.
"According to the state's website, that's what they do too. So when it comes to why mine is different from the state's, I don't know."
The positivity rate is what Iowa schools use to determine if and when they will be able to apply for a waiver that allows them to temporarily switch to a 50 percent hybrid teaching model where half the school would learn online.
Schools in counties with at least a 15 percent positivity rate and that have at least 10 percent absenteeism due to sickness are eligible to apply.
"When my numbers are different, I just sit there and I'm like, 'What? Why are mine different?' And my positivities are very different from the state. They range anywhere from a few percentage points to upward of 10 percentage points' difference," Willette said. "And mine are almost routinely higher."
She speculated the difference in percentages could be related to a data error the state corrected in late August, in which positive and negative test results had been incorrectly recorded to earlier dates outside the 14-day window.
After the state fixed the error, Willette was hopeful her numbers would converge with the state's but that so far has not happened.
"For parents sending kids into a school and for teachers themselves going into school, we all want to know what it looked like last week versus what we might look like next week so we can have an idea of whether or not today is safe," Willette said.
She hopes her data will help Iowans make decisions on how best to protect themselves and those around them while the pandemic continues.
"That's the most important piece that a lot of people don't seem to remember that yes, each individual is important. All of us deserve to be healthy and lead our lives and try to not be as impacted as possible by what's going on," Willette said.
"But the way we do that is by protecting each other and by helping each other stay informed."