While many summer traditions have been postponed or canceled due to the ongoing coronavirus pandemic, Sheldon Farmers Market has been up and running since June 1.
Sheldon Farmers Market is open 4:30-6:30 p.m. Monday and 11 a.m.-1 p.m. Friday at the Sheldon Union Depot at 1200 S. Second Ave. and features locally grown produce, baked goods, flowers, jam, farm fresh eggs and more.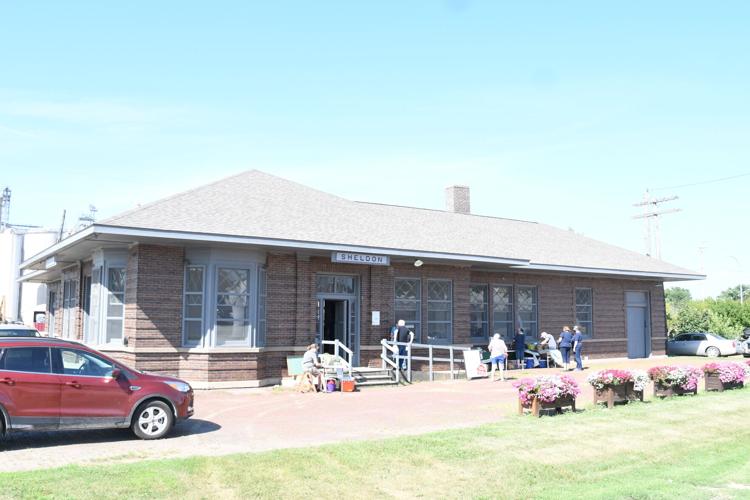 Sheldon Chamber and Development Corporation chamber director Shantel Oostra said there have been plenty of changes to it this year due to COVID-19.
"We had to make sure that we had hand sanitizer available," Oostra said. "We posted signs just making sure that people stay 6-feet apart from each other the social distancing.
"For a while, we were not able to have any craft items. We have a few vendors that sell different craft things and they couldn't have that. Now that's been lifted and they can now have those in the farmers market."
There were some items that were not allowed for some time because of sanitary concerns.
"Funny things like cloth tablecloths we weren't able to have for a while because they need to be able to wipe down the surfaces every hour and that sort of thing," Oostra said.
The good news for customers is they still are able to get the products they are looking for.
"All along, any farm produce was available, so anything from peas to tomatoes, to lettuce, all of that," Oostra said. "Also, fresh-cut flowers, that has always been OK. Anything that was produced on a farm was OK. Baked goods have always been OK because you use eggs."
Other products considered OK to buy are honey, jelly and salsa.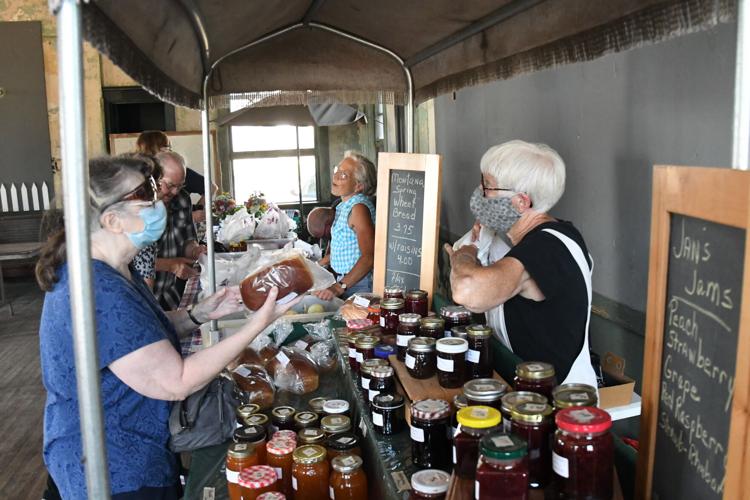 Eating at the farmers market is not allowed at this time.
"Another thing that we can't have this year is popcorn because we've always had popcorn and we can't do that this year because people can't be eating on site," Oostra said.
Seven vendors have been regularly attending the farmers market. Sanford Sheldon and the Iowa State University Extension and Outreach come to the market as well.
"Sanford comes and they do a recipe and a sample of the recipe each week. It's usually a healthy recipe using farm produce," Oostra said. "This year, that also had to change a little bit because people were able to sample it on site in the past, and this year, it had to all be prepackaged and they take it away and eat it not on site, so that was different."
The Extension gives children's information about the food being sold at the market and they are given a coloring book to work on outside of it.
"One week they gave away shovels so kids could plant their own seeds," Oostra said. "It's just kind of an interactive thing. There was also a little bit of a change because we couldn't have activities and have kids in the building and that sort of thing for the first little while, so that's been lifted and we're thankful for that."
She said planning to get the farmers market took a lot of work this year.
"It was a lot of reading through material and checking with public health, and that sort of thing,, just kind of staying on top of where the proclamation was at," Oostra said. "Sometimes there's kind of vague language in the proclamation, so you have to do a little more investigating and trying to figure out what exactly that means. Like the tablecloth, it doesn't necessarily state that in the proclamation, but when you touch base with the Department of Public Health, they'll inform you that kind of stuff can't be there because you won't be able to wipe down the surfaces. It was a little more prep, trying to get prepared for it."
Oostra has been on the job since November and it has been a tough one due to the pandemic.
"I've chuckled often that this is probably not the best year to jump into this job, just given all of the different things going on," Oostra said. "I just kind of took it as it came and it's all new to me, and so, throwing a pandemic in there really didn't change anything because I had to learn how it went anyway.
"Now I'll just look forward to next year when hopefully it's a little bit easier and I don't have to plan for all of the stipulations with the pandemic."
Sheldon Farmers Market will continue through September.
Despite the pandemic going on, attendance has been satisfactory.
"It's pretty good," Oostra said. "Mondays are usually busier just because we have all of our vendors there on Monday evenings. We have a smaller group that comes on Friday mornings. We have two to three vendors on Friday and they almost always sellout or come close to selling out of their product when they're there. It's been very well-attended.
"Every time that I have stopped, there's always been people there and they're doing a good job of the social distancing and trying to not kind of be on top of each other."