SIOUX CENTER—Thirteen-year-old Grace Van Voorst was one of about people 80 crowded into The Fruited Plain Cafe in Sioux Center on Saturday, Dec. 21, to hear Cory Booker's pitch for the presidency.
"I've seen a lot of candidates so far — he's my sixth candidate," Van Voorst said,
The teen, who lives in Harrisburg, SD, but is originally from Hull, noted why it was important for her to spend her Saturday morning listening to a Democrat U.S. Senator from New Jersey.
"A lot of the decisions made today will impact my future and many generations to come," Van Voorst said. "Climate change and gun control, criminal justice reform, it's just something that has a domino effect and I know that if I don't get engaged politically at my age, then how will I know how to be politically active when I reach the age to vote?"
All three topics Van Voorst mentioned were addressed by Booker, who delivered a sermon-like stump speech before diving into a question and answer segment with the audience, which featured a mixture of locals and travelers.
As far as gun control, Booker told the crowd he supports law-abiding citizens having the right to legally bear arms. Where he takes issue is when people with criminal backgrounds obtain firearms illegally.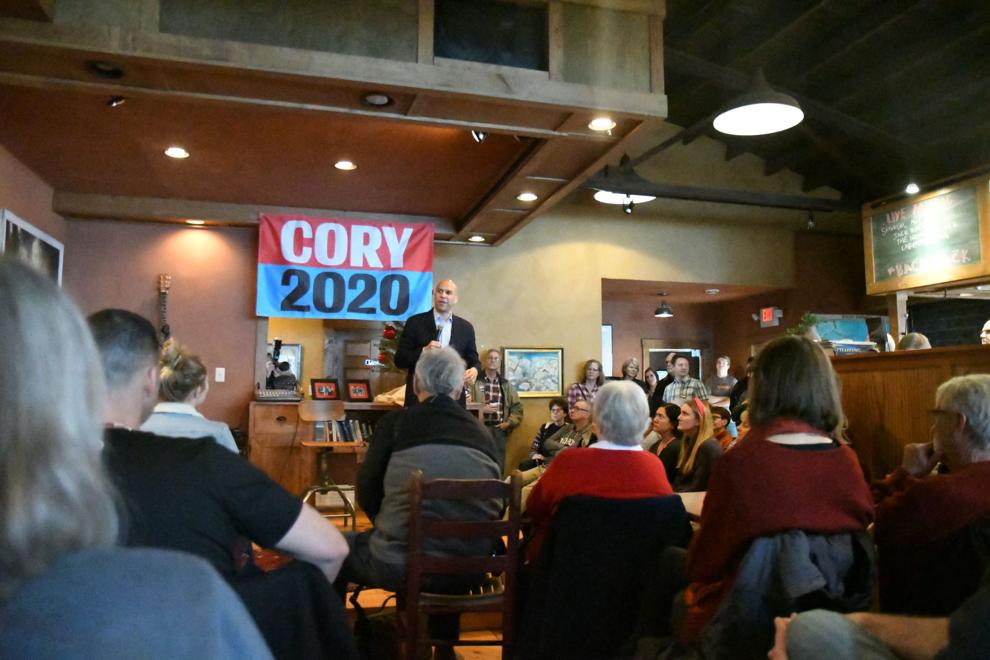 Booker noted this issue resonates with him as a black man who has lost friends to gun violence and as the former mayor of Newark, NJ, which was once called "The Most Dangerous City in the Nation" by the now-defunct Money magazine.
"This is very personal to me and millions of other Americans who understand the impact of gun violence," Booker said in an interview after the event. "To me, I'm driven on this issue in a way that I think is going to be essential to get something done.
"It can't be a side issue; protecting American citizens has to be a drive and more people have died in the last few years from gun violence than in every single one of the wars in America combined. I just don't see this as anything but an urgency and I'm going to deal with it that way as president of the United States."
During his speech, Booker mentioned doing more to help farmers — Iowa's 4th Congressional District, which includes all four N'West Iowa counties accounts for 55 percent of the state's agricultural sales — and he tied it with addressing climate change.
One proposal he suggested was taking tax credits away from the oil industry and passing them along to farmers to spur them into leading the way on climate change and provide them with additional income, something he elaborated on after the event.
"We should be paying farmers for their role in solving this crisis," Booker said. "We've been paying oil companies to help them accelerate the causing of the crisis; we should be paying farmers.
"And farmers, right now, desperately need and deserve new revenue streams to help support their farms because independent family farmers are disappearing in the Midwest right now and it's unacceptable that we are losing our heritage because we are not finding ways to empower farmers to succeed."
Booker also mentioned putting an end to corporate consolidation in the ag sector, something he said is contributing to the demise of family farms, which also is an issue he has addressed in the Senate via his Food and Agribusiness Merger Moratorium and Antitrust Review Act.
Dave Hibma of Sioux Center, whose grandfather is the late the Rev. B.J. Haan, one of the founding fathers of what is now Dordt University in Sioux Center and the college's first president, asked Booker a question during the event and shared his thoughts on him afterward.
"Cory is the candidate that most intrigues me of the 30-whatever," Hibma said. "I remember seeing him on quite a few interviews back when he was mayor and also when he was running as a Senate candidate and thinking, 'Wow, if that guy runs for higher office he's probably going to be on my list.'"
When Hibma saw that Booker was stopping in his hometown, he made it a priority to see him.
"One of the great things about living in Iowa; it comes hand in hand with having to sit through 6,000 commercials, but you get to meet the candidates and ask them questions," he said.
So what did Hibma think of Booker?
"I like him, I'm happy to hear his perspective on faith," he said.
Booker told the crowd his Christian faith is important to him although he respects other ideologies as well. Obviously, faith was an important topic for Hibma whose grandfather led the congregation at First Reformed Church in Sioux Center for 15 years.
"People struggle with how to be a Democrat and a Christian in this area and still support abortion and to hear someone come and kind of give an answer to that — not necessarily a direct answer — but to say love of everyone regardless of faith or creed or color is important and you can't force people into a religious stance," Hibma said.