ROCK VALLEY—Copper Rose Apparel, the downtown Rock Valley clothing and gift boutique, is the result of a late-night text.
Britney Westra was working as a social media manager for an online boutique, and suddenly it came to her — instead of running social media for someone else, she could open her own boutique, and work for herself.
"I was like, 'I love this boutique and all these cute clothes — why wouldn't I just do it for myself?" Westra said.
She decided to run it by her mother, and eventual business partner, Joane Rozeboom.
"I texted my mom at 11 o'clock at night," the 30-year-old Westra said.
"It was absolutely crazy," the 54-year-old Rozeboom said.
It was crazy, but Rozeboom was in. The mother-daughter duo started by creating an online clothing shop, then opened a brick-and-mortar store in Westview Plaza, the strip mall adjacent to Highway 18 in Rock Valley.
It was not the first crazy idea the two pursued together. Before launching Copper Rose Apparel, Westra and her parents began selling furniture built by Westra — and goods bought at auction by her father, Jay — in the Rozebooms' old barn.
"I had been doing craft shows, and I was looking for something a little more permanent," Westra said. "So, we worked together to clean up the barn on their yard and opened it for monthly shopping. We had our first pop-up boutique in the barn but quickly decided that is not a place for new clothes."
A storefront
Once Rozeboom and Westra had secured a permanent location in the strip mall, they renovated the space and opened the first Copper Rose Apparel in August of 2021. The store's name is a nod to the family's last name — the "rose" stands for "Rozeboom." The "copper" was chosen because the two thought it paired well with "rose."
Westra and Rozeboom spent their first year with a physical store building an inventory of clothing and other specialty gift items while continuing to sell goods online. They had no intentions of moving, but when a space opened up on Main Street in downtown Rock Valley, however, Westra and Rozeboom decided they better take a look.
"People come to Rock Valley just to check out all the little shops," Rozeboom said.
Rather than empty storefronts, which are a familiar sight in many rural communities' downtowns, Rock Valley's downtown is a thriving retail center that draws shoppers from across the region — including from across state lines.
Rozeboom said she remembers seeing a sign in the Empire Mall in Sioux Falls, SD, advertising a bus trip to Rock Valley for a day of shopping.
"There are people lining up to get into a bus to take from Sioux Falls to Rock Valley," Rozeboom said.
Moving downtown
The two business owners were interested in the downtown location, which had been vacant for a couple of years. However, when they visited the space, which had most recently been a Chinese restaurant, they had misgivings.
"We went with our husbands to look at it," Rozeboom said. "We walked in, looked at it, and all four of us were like, 'Uh, no way.'"
The space still was cluttered with cooking equipment and needed a deep cleaning, along with significant renovation work. They did not jump on it, but they returned a couple more times.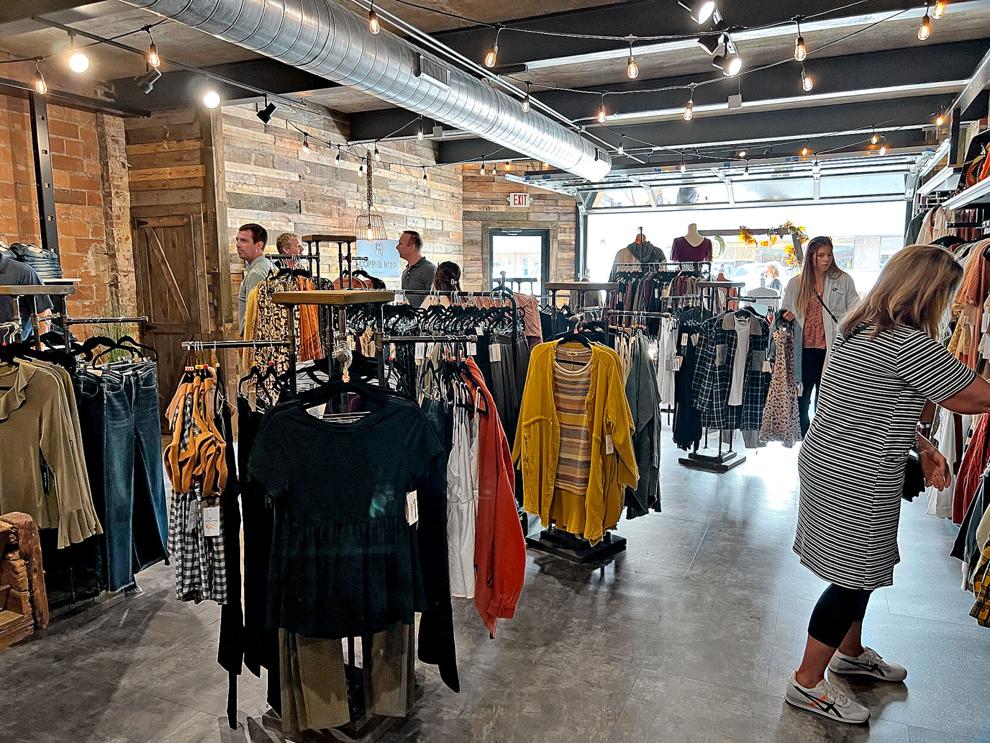 "The third time, we were finally like, 'All right. We're going to take the plunge,'" Rozeboom said. "We bought the building at the end of April, and we started the renovation process in May."
"We completely gutted everything, and we did most of the work with our husbands and by ourselves," she added.
It was a whirlwind process that culminated in a mid-September grand opening and ribbon-cutting ceremony at the store's new location.
New storefront
The new store is organized to display a wide range of apparel, with smaller areas dedicated to a selection of fashion accessories, several spiritual devotionals and a variety of specialty goods produced by local and regional vendors.
"We are just starting with wine at this new location, and we're trying to find unique wines from small-town wineries," Rozeboom said, listing wines from Round Lake Vineyards and Winery in Minnesota among those sourced in the region.
"It's something that you can't go to the grocery store and get," Westra said.
Along with wine, there are products sourced from a variety of local vendors, including handmade candles, honey, a variety of jarred salsas and "Cream of Anything" soup base, which Westra describes as "a healthier version of cream soup."
Clothing
The apparel for sale, which may be purchased in the store as well as online, is intended to appeal to women in a variety of age groups.
"We have teenagers that come in all the way up to people in their 90s," Rozeboom said. "We're covering a pretty wide range."
The clothing appeals to a diverse clientele, but in general, it reflects the personal style and fashion sensibilities of its two owners.
"Britney's style is more classic and comfortable because she has three little children," Rozeboom said. "For me — if it's different, I have to try it. My style is a little edgier, and we've kind of merged both our styles together."
Westra describes her taste as "Midwest mama fashion," and she looks for clothing that she can move and play in, striving for a balance of comfort, modesty and style.
"Our motto is, 'If we won't wear it, we won't buy it,'" Rozeboom said.
Mother-daughter team
While Rozeboom and Westra are united in their vision for the business, they play different roles.
"I like being behind-the-scenes," Westra said.
She does all the "back-end" work, like ordering goods for the store, managing online sales and overseeing marketing and social media for the business.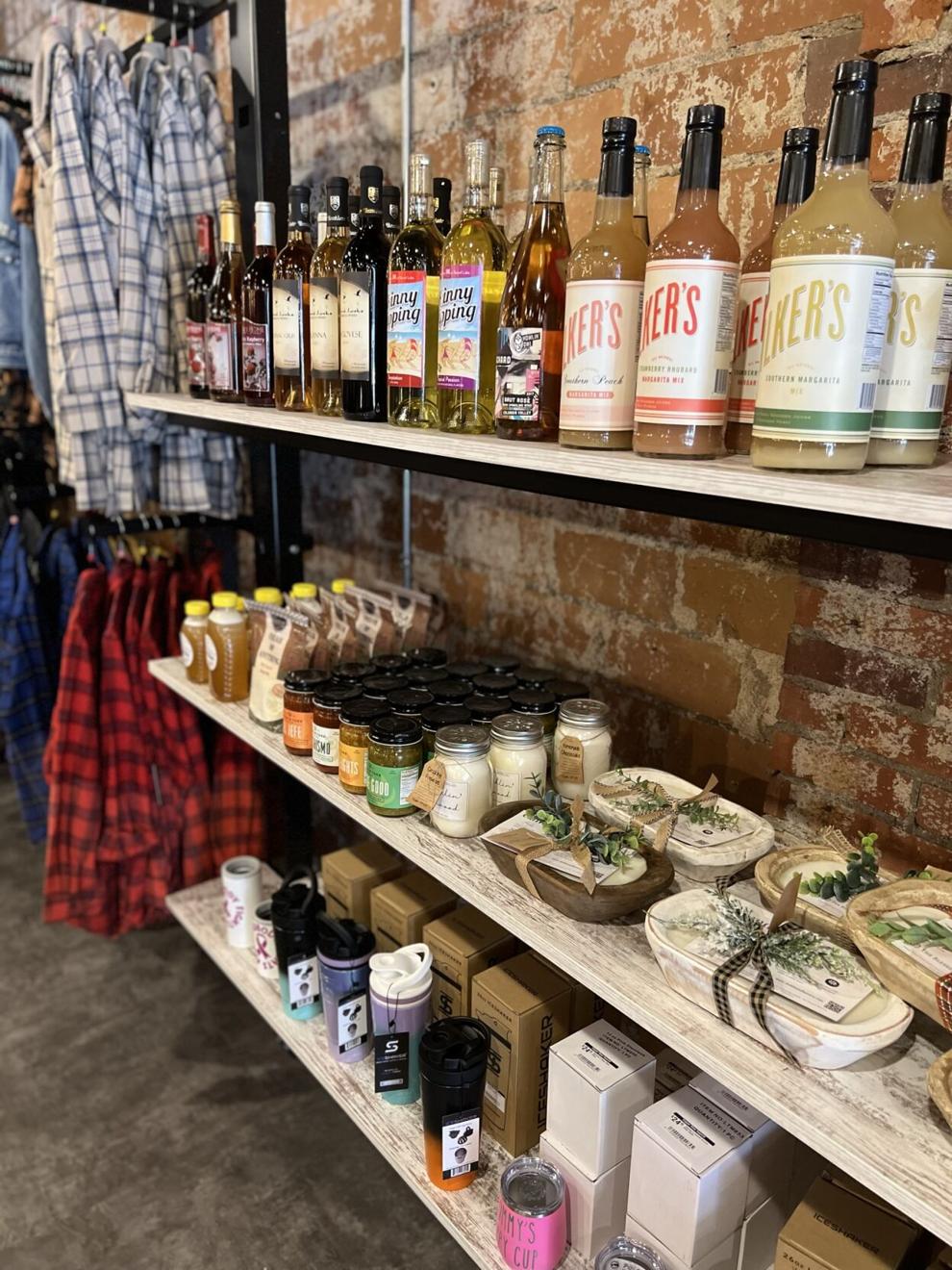 Rozeboom takes care of much of the store's "front end" — she works behind the cash register and floats around the store, greeting patrons and helping them find what they're looking for.
"She's way better at the people and relationships," Westra said. "The store wouldn't be where it is without her there."
"And without you behind the scenes," Rozeboom said. "We couldn't do it without each other, but neither of us would want to do the other person's side of it."
Now that they have joined the downtown retail community, they are excited to see what the future brings.
"It's been a crazy year in a half — from an online boutique to this crazy, beautiful store," Westra said.
"We absolutely could not have done it without our families and friends, and the locals supporting us, stopping in to wish us well," Rozeboom said. "It's very overwhelming."
"A good overwhelming," Westra said.