SANBORN—Memories are set to be made this weekend as the sixth annual Commercial Chaos for a Cure has trucked its way back to Sanborn.
The event began Friday but more activities are slated for today (Saturday, July 25).
Attendants can visit Yesterday's Memories & Truck Museum, take in a truck show, grab a slice from Pizza Ranch for lunch, and participate in poker run and enjoy dinner from Spark BBQ of Sioux Center.
Donations will be accepted and all proceeds go to the June E. Nylen Cancer Center in Sioux City.
Over the years, the event has raised more than $70,000 for the cancer center and this year's haul will go toward improving technology at the facility.
Denny Postma, a caretaker at Yesterday's Memories, said the planning the event takes three months, but this year was questionable due to the coronavirus pandemic.
"It's been going fine," he said. "We were on the fence about whether we were going to do it or not do it."
As it turned out, most people at Yesterday's and within the Sanborn community were still interested in having the event this year, so Postma made it happen.
"Everybody's wanting to do something, so we're going to go ahead and do it," he said. "If they choose not to come or if they want to practice social distancing, it's their choice."
Those who attend the event will not be required to wear a mask.
"That's all their choice," Postma said. "They more than likely will."
He said there has been interest about the event outside of N'West Iowa, going as far as Colorado.
Postma wants everyone to have a good time.
"I just want to have fun," he said.
Postma is a big fan of going to truck shows, but the pandemic has put the brakes on that.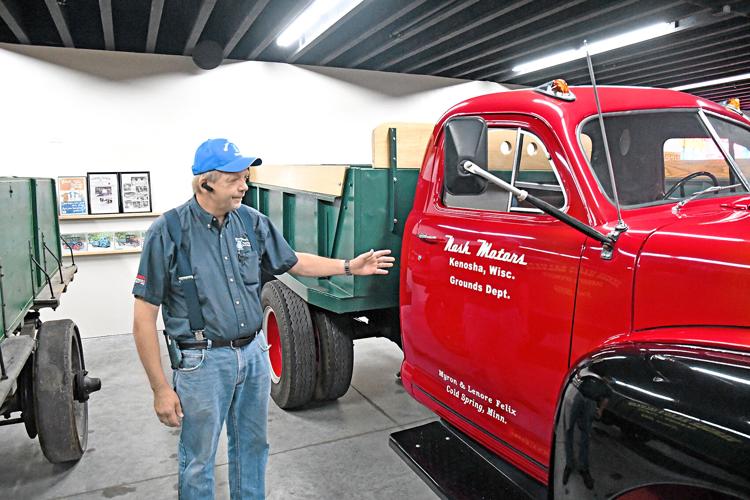 "By this time last year, I'd been to nine different truck shows," he said. "This year, zero. I'm going nuts. It's like an addiction. It's a hobby, you love to do it and then they say 'no, you can't.' It's like we're going against the grain a little bit."
Commercial Chaos for a Cure president Paul Schelling's main purpose for the event is to raise money to cure the disease, which he has battled.
When he first started working for Sioux Center-based Ryan Moret Trucking in 2010, he experience some problems.
Several months after he started the job, he would feel drowsy while working and have issues swallowing. At 21, he thought since he was so young there was nothing wrong with him.
Eventually, the problem got to the point where it nearly killed him.
"This led on for a few weeks until I passed out behind the wheel," Schelling said. "I came to doing 70 mph with the cruise set on the wrong side of Highway 60 just a few miles from Sibley."
He and his wife made their way to the hospital to get a CT scan. Doctors in Orange City told him he had cat scratch disease, which is a bacterial infection which can be caused by when an infected cat licks a person's open scab or if they bites or scratches the person to the point where it's teeth or claws break into the skin of a human.
However, he wanted to get another perspective.
"I went in for a second opinion at Dr. Korver's Ear, Nose & Throat clinic," Schelling said. "He looked over the scan and promptly scheduled a biopsy for the following day. After the biopsy, he consulted my wife and explained to her that I had a mass surrounding my jugular the size of an orange. The mass had doubled in size since the CAT scan a week prior. Specialist said if we didn't get to it ASAP, I would have six months to a year to live."
Schelling went to June E. Nylen Cancer Center, where he underwent aggressive chemotherapy. It was during treatment where he had an idea to give back to the organization.
"The care June E. Nylen had for their patients was second to none and I felt that I needed to somehow give back to them in exchange for my life," he said.
Schelling plans to have the event for years to come to help those going through a similar situation to him.
"The event has grown tremendously over the past five years," he said. "We are working very hard at growing our full potential."