MAURICE—It's a small, quiet town now, but Maurice once hummed with business.
There was a brick factory, an opera house, a service garage, grocery store and more. And there was a bank for more than a century.
But one thing the Sioux County community of about 270 never had was a library — until this year.
Marissa Maassen lead the effort to convert the closed bank building into a public library. More than 50 people joined the effort.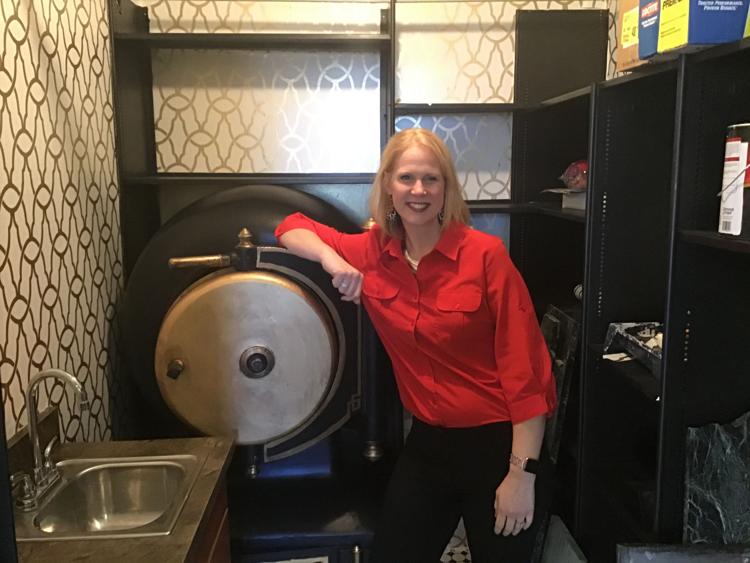 The Book Bank opened at 210 Main St. on June 1. Its hours are 9-11:30 a.m. and 3:30-6:30 p.m. Monday-Friday and 9-11:30 a.m. Saturday.
"Anybody I've asked to help, they're always willing," Maassen said. "They're beyond willing."
The idea came to her last fall as her 14-year-old son, Seth, looked for an Eagle Scout project. At first, they considered constructing a small outdoors lending library but people advised them to open a library in the closed bank. Maassen asked the Maurice City Council if it was available and the council heartily endorsed the idea in December.
They offered the building rent-free and pledged to cover utility costs. In January, Maassen and her band of book backers were in business. They formed a nonprofit to operate the library after finishing the remodel of the 121-year-old building.
After the bank closed a decade ago, Maurice First Reformed Church rented the building and dubbed it The Connection, creating a space for Bible studies and other activities. But it closed a few years ago and the building sat empty.
That changed this year as Maassen, assisted by her husband, Aaron, a rural Maurice dairy farmer who has put in a lot of hours, set to work. They have been aided by dozens of local residents eager to see the town finally get a library.
In addition, Maassen found support from the MOC-Floyd Valley School District, which provided a $1,000 grant for books. She teaches second grade at Orange City Elementary and second-grade students are in a reading competition. As they complete a book, they gain points and their name is placed in one of the books donated to The Book Bank.
Honoring history
Shelves were obtained from a Minnesota business, but the design of the library pays tribute to Maurice's past.
"We thought, 'What if we make a little town with a history of Maurice?" Maassen said. "So that is where this dream came from."
A large mural depicts the rail lines that once were kept busy in town with agriculture and other products. Bob Zeutenhorst, a model train enthusiast, built a rail line that will be located near the top of the library and takes a spin a few times a day.
The mural is next to a brick display that honors the brick factory. One area is dedicated to former businesses. It honors the grocery store, a cake shop, the garage and other shops and stores, with the signs changed monthly.
A table inside The Book Bank recognizes the role a town cafe played in Maurice's history.
Since it was a bank, there is a vault. It was converted to a DVD and media center, with LED lights placed atop the iron door honoring the Maurice Opera House.
Aaron Maassen has installed tiles in the vault. He has experience with tile work and said he was glad to chip in.
"Whatever she tells me to do," he said.
"Oh, that's not true," his wife said.
Marissa Maassen has the enthusiasm and energy of a grade-school teacher and is an ideal champion and cheerleader for this effort. There is just something about a library, she said, that brings people together, reaching across generations.
"The coolest thing about a library is everybody benefits from a library. That's probably my No. 1 goal," Maassen said. "There's no place for people just to bump into each other. This is a place where people can bump into each other and share life."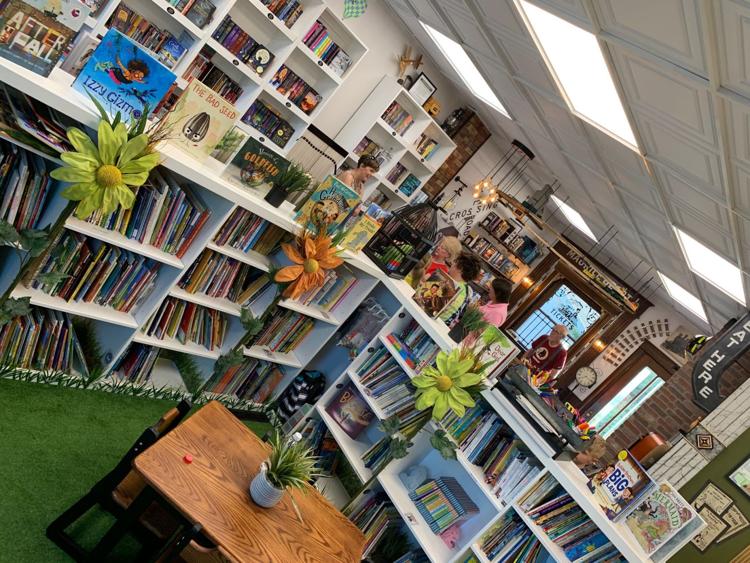 When Maassen and her husband, along with other volunteers, were working at the building, people stopped by every time, she said.
"It already is exciting for people," she said.
That is apparent as kids wandered past the building this spring. One boy on a bike was excited to tell his friends about the evolution that was underway.
"This is going to be our liberry," he said, using a slang phrase.
Nine-year-old Tyler Nunley, a third-grader who lives a block away from The Book Bank, said he plans to spend a lot of time there. Tavia Bruning, 12, and Kiley Broderick, 11, both sixth-graders, also were eager to see it open.
Cindy Vander Weide, who has lived in Maurice for 30 years, said it is a great addition to the town.
"Wow, it's huge," said Vander Weide, who put in several hours to prepare it for its grand opening. "It's great for the kids. This is a perfect place for kids. Reading is so important."
Named for leader
The town is named for Maurice, a 17th century prince of Orange who was a famed general and stadtholder, or national leader.
Maurice, Iowa, was platted in 1882. The first banking business started shortly after that, and by 1899, Henry Hospers had a brick bank built in downtown at a cost of $3,000. Over the decades, several banks operated there; the last one was a Northwestern Bank.
Jenn Leusink, the agriculture and commercial loan specialist at Northwestern Bank in Orange City, said the Maurice branch of Northwestern Bank closed on Jan. 18, 2013. Leusink grew up in Maurice and fondly remembers going to the bank as a girl.
"It was always fun to go there and get candy," she said.
Her daughter was in Maassen's class, and she is friends with Maassen, so she is informed on the progress. In addition, her church, Maurice First Reformed, is supporting the new library.
It is no longer a bank, but the building's new use is valuable as well. You can book that.