ROCK RAPIDS—Central Lyon Middle School eighth-graders blew through a unit on natural disasters that finished recently.
Science teacher Mandi Hare and technology education teacher Susan Van Wyhe, who led the unit, assigned each group of students a tsunami, earthquake, volcano or tornado.
"We wanted to make them relevant to them too so we tried to pick a lot in the United States, so then they either have heard about them or we could give input about them too," Hare said.
Then the students made videos using the program WeVideo in Van Wyhe's class.
"They have to narrate and have music," Van Wyhe said. "So my piece is that, the video editing skills."
Previously, the students did PowerPoint presentations on volcanoes.
"Last year we said, 'I'm kind of sick of this' and we started talking about a new way to make a new project and kind of expanded over a variety so it wasn't just volcanoes," Hare said.
So while Van Wyhe deals with video editing, Hare, in her fifth year at Central Lyon, focuses on the content of the videos.
"There's a rubric of what they have to have, then I just have to go through and make sure they didn't make anything up," Hare said.
In addition to being graded by the teachers, students also evaluated each other's videos.
"They were required to comment on two videos and then they have to give positive feedback," Van Wyhe said. "We're trying to get them ready for online classes and things like that so we have them comment on the videos and what they've seen."
Eighth-grader Lauren Geerdes said using WeVideo was a little confusing at first.
"Once you get used to it, it's pretty easy," Geerdes said.
Video editing software has improved and is easier to use since Hare was in college
"The kids pulled up a video on Friday that I made in college and they were laughing at me because it was terrible," Hare said. "I didn't have any of this cool stuff."
Geerdes said she enjoyed making the video. She was assigned the 1899 New Richmond tornado, an estimated F5 tornado that killed 117 people in west-central Wisconsin.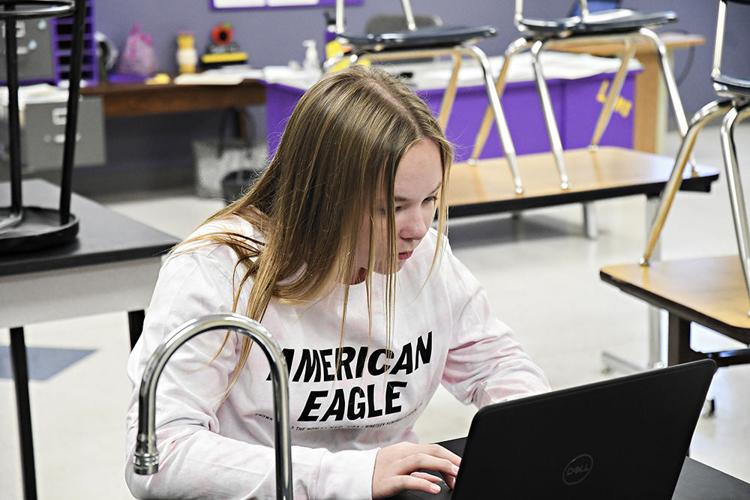 "I spent a lot of time outside of class doing this work," Geerdes said. "I probably dedicated about two hours to the project each day, so I could get a lot done."
Van Wyhe, who has taught at Central Lyon since 1994, said she thought the students would like doing something different from another PowerPoint presentation.
"One of my goals is for kids to go, 'Oh, I'm going to work on this' and they want to," Van Wyhe said. "Not just, 'Oh, I have to do this and get this done and check this off my list.' They'll spend a lot of time outside of class and I don't know if it really seems like homework."
It did not seem like homework to Geerdes.
"It's fun," she said. "It also helps that not everything has to be a certain way so we can be creative with it."
Van Wyhe has a green screen in her classroom, offering students a chance to stretch their creativity.
"They have to get our attention some way," she said. "A lot of the kids use a newscast format for this where they were in a newsroom and then their tornado disaster is running in the background on the screen. They use a lot of different elements."
Central Lyon has an integrated middle school according to Van Wyhe, so she gets involved with many other classes.
"For me it's like project after project and then I just integrate into the curriculum," she said. "If a teacher asks me to do something, we do it. We have lots of fun. It just keeps evolving to what the technology is."