SHELDON—Carl's Footwear, a downtown Sheldon staple since the 1950s, is more than just a business to owner Joel Bousema.
"I've been messing around in the shoe store since I was little kid, I mean way back when," he said. "Dad had us working in here washing windows, cleaning, inventory, started selling shoes when I was a sophomore in high school."
The now 49-year-old took over the family business from his father, Henry, in 1995.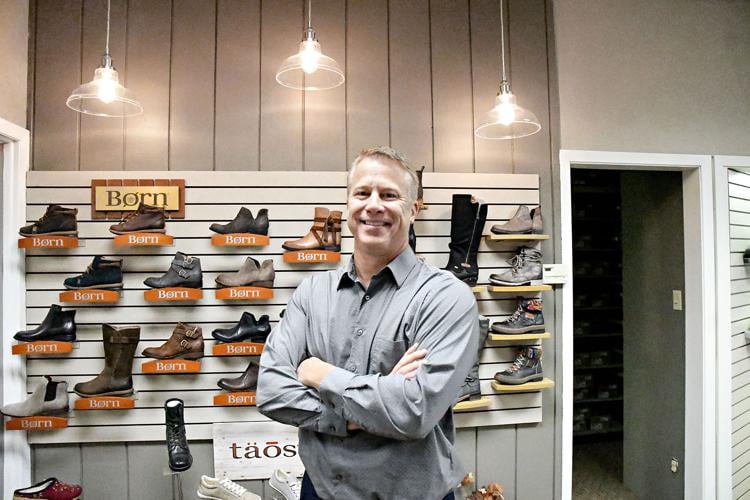 Just ahead of his 25th anniversary as owner, the younger Bousema gave the store its first makeover since 2011 and launched a new pricing structure for brick-and-mortar customers.
"We sell thousands of pairs of shoes on the internet every year and we pay the internet companies 15 percent for every pair of shoes that we sell," Bousema said. "So, I thought why not give that to the customers that faithfully come in here to Carl's.
"We didn't mark the prices up to mark them down, we're just taking 15 percent off and giving those back to the customers."
Carl's carries 10-15 brands of shoes — including Nike, Clarks, New Balance, Skechers — and has footwear for men, women and children.
With the new pricing plan in place, a $100 pair of shoes will ring up for $85.
"These prices, you won't find them in Sioux City, Sioux Falls, Sioux Center, Spencer or on the internet," Bousema said.
He said he cannot advertise the special brick-and-mortar pricing due to minimum advertised prices, or MAP, requirements from the shoe companies.
"So I can sell the shoe for whatever I want inside my store, but I can only advertise it for whatever that minimum is," Bousema said.
Maintaining a physical presence in Sheldon is important to Bousema. His father took over Carl's Footwear in 1973 from Carl Stapenhorst, a former employee of Starrett Bros. department store in Sheldon who opened the business.
Besides the historical and familial connections to the business, Bousema knows the value locally-owned businesses bring to a community.
"We see things are difficult in retail, especially in small towns, so we're going to do what we can to keep Sheldon vibrant and keep as many retail opportunities available in our town as possible," Bousema said.
"We hope this is another way of doing that,"
The shopkeeper also noted how many charitable causes turn to local businesses for support first.
"Every week, we have two or three different groups come in looking for donations," he said. "Church groups to high schools to booster clubs and that's for all the retailers and every time we lose one, we lose that connection and we lose that support for so many local causes."
A recent example of Bousema and other downtown retailers stepping up for the community involved Sheldon's Shop with a Cop program, which was in jeopardy after Shopko Hometown closed.
The defunct retailer previously served as a one-stop shop during Shop with a Cop events.
Carl's Footwear, Top Notch Stitching, Sweet Puddle Jumpers Boutique and Bomgaars all ordered extra items and extended store hours to help 53 underprivileged students get new school clothes in August.
With the new look and pricing structure in place, Bousema is hopeful he can draw in more people to his downtown storefront so that he can continue giving back to his hometown while also making a living.
"We been here a long time and we want to be here a lot longer," he said. "If people keep coming into the door, we can do that."