ORANGE CITY—Sioux County election administrator Kalyn Decker told the county board of supervisors she was pleased with how the general election played out in the county.
"It was very busy and chaotic for a few days," she said, speaking to the supervisors at their regular meeting Tuesday, Nov. 10, in Orange City. "I think the last three days of in-person voting at the courthouse we passed just around 1,000 voters in three days"
She said a popular question her staff got the day before the Nov. 3 election was how to vote from quarantine.
As people were informed about curbside voting, where they could vote from their vehicles at a polling location, she said that the number of curbside voters kept election workers busy on Monday with early voters and on Election Day.
As canvassed by the county, Sioux County had 23,030 registered voters and 19,158 votes cast, resulting in a turnout of 83.2 percent. That turnout was similar to what was seen in the 2016 election.
The return rate for absentee ballots was at nearly 97 percent.
Six ballots were postmarked too late to be counted, she said, and so those had to be rejected.
Decker added that there were six voters who sent in an absentee ballot who died before Election Day.
"Overall, with the number of voters we had, we had a very low number of rejections," Decker said.
She was grateful for the election workers who helped out throughout the election season. The county was able to have on hand a good mixture of new and experienced staff on hand, with enough workers to keep open all of the county's polling locations.
Other counties, she said, struggled to find enough workers.
County auditor Ryan Dokter likewise thanked staff members for their election work.
"My staff did a fantastic job helping voters, taking phone calls. It was a ton of work, and it's been a long season. It started in August already with getting requests in," Dokter said. "They stepped up to the challenge and did really well."
Bond refinanced
The supervisors on Tuesday also moved forward on a plan to save tax dollars by approving a resolution to refinance the revenue bond to pay for the construction of the Sioux County Regional Airport near Maurice.
The county had authorized the issuance of $4.85 million in urban renewal revenue capital loan notes on March 15, 2017. That carried with it an interest rate of 3.25 percent.
By the end of the process, $3,695,000 in outstanding principal will be refinanced by Dec. 16.
"This is another step in the process, getting us to the point where we can execute the refinance of the airport revenue bond," Dokter said. "The cities of Orange City and Sioux Center have also done what they needed to keep the process moving for us as well."
Emmet County joins
The supervisors also unanimously approved a resolution recommending Emmet County's joining of the Sioux Rivers Regional Mental Health & Disabilities Services group.
The region already has Sioux, Lyon, Plymouth, O'Brien and Dickinson Counties in its membership.
As Sioux Rivers CEO Shane Walter explained, the Sioux Rivers board had approved Emmet County's request to join, but the next step was for each of the member counties to likewise lend their approval.
Pending approval from the other counties, Emmet County would join Sioux Rivers effective July 1.
Emmet County is one of the 19 members of County Social Services, but must leave that group because that county is not contiguous with any of the other member counties, as required by state law.
"They have to join either our region or Northwest Iowa Cares, and they don't want to be in Northwest Iowa Cares because they left that region to join the other region some years ago," Walter said. "They felt like we were the best fit, and I agree with that. They come with adequate dollars. They're not going to be a drain. In fact, we'll be able to collect more than they'll spend."
One of the perks of having Emmet County join is that it would bring Forest Ridge Youth Services into Sioux River, adding a new component to the region's children's mental health services.
"That'll be a good add to our region because they're going to be able to help us with a lot of services. We've already worked with them, so this will be a good thing," Walter said.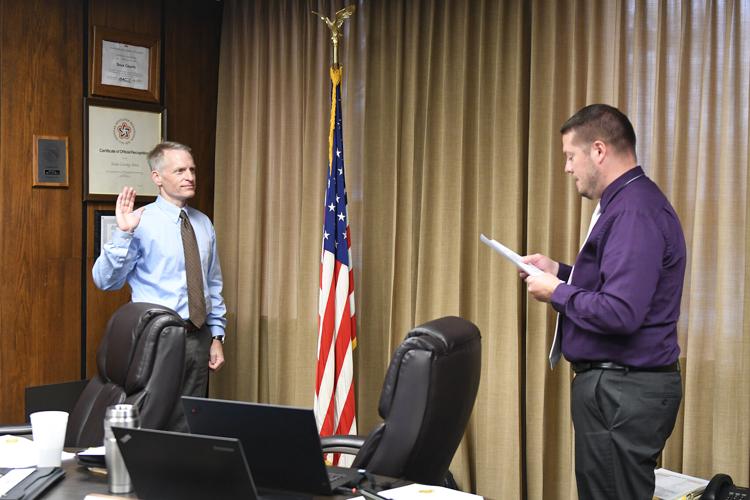 Zomermaand sworn in
Dan Zomermaand took his oath of office at the meeting, following his election to the position of county treasurer in the Nov. 3 election. He ran unopposed as a Republican, securing 15,943 votes or 99.7 percent of the vote.
Zomermaand was appointed to the position supervisors on May 26 following the death of longtime treasurer Randy Jacobsma on April 25.
After being sworn in by Dokter, Zomermaand expressed his appreciation for the opportunity to serve in office.
"I've learned a lot in the last few months," Zomermaand said.