SIBLEY—Sibley-Ocheyedan High School's FFA chapter wasn't just one of many Allyssa Blanchfield competed against in high school contests; it was the one to beat.
"We wanted to have more CDEs (Career Development Events) filled than them at our subdistrict and district level, and we wanted to have more kids get their Iowa Degree than them and we wanted to beat their kids at every contest," Blanchfield said.
"Their chapter was kind of our goal. It was a chapter that our advisers said, 'Let's look up to them. Let's try to compete with them.'"
The 23-year-old Lake City native's path led her back to her former rival district last year when she accepted a job as Sibley-Ocheyedan's new agriculture education teacher and FFA co-adviser.
Blanchfield joined the student agricultural organization when she was a freshman at South Central Calhoun High School and participated all the way until graduating in 2016. She took ag classes all through high school and served as her FFA chapter's reporter her senior year.
She graduated from Iowa State University in Ames with a bachelor's degree in agriculture education in December 2019. Blanchfield spent the next few months as an agriculture substitute teacher in the Newell-Fonda and MMCRU school districts before the coronavirus pandemic closed schools in March of 2020.
Justin Rottinghaus, a fellow 2019 ISU agriculture education graduate and Sibley-Ocheyedan's other FFA co-adviser and agriculture teacher, tipped Blanchfield off to the opening in the district following the departure of its previous ag teacher/FFA adviser, Jacob Fox. Rottinghaus, 23, focuses on teaching plant science, agronomy and agriculture mechanics while Blanchfield specializes in animal science.
"I had no desire to teach animal science when graduating from Iowa State, so thankfully I got into a program that I didn't have to do that," Rottinghaus said. "It works really, really well that she teaches that side of things and I teach this side of things. The dynamics by having two teachers allows us to move from one event to the next with ease and fluency. We never really missed a beat.
Blanchfield knew Rottinghaus before college, having met him while working as grandstand ushers at the Iowa State Fair in Des Moines. They rekindled their friendship when Rottinghaus transferred to Iowa State and joined the agriculture education program.
"We had a few classes together, obviously, because once you get toward the higher-level courses for ag ed, it becomes a pretty close-knit community because they really only graduate an average of about 20 people a semester if that," Blanchfield said.
Blanchfield applied for the opening at Sibley-Ocheyedan and found out she received the job the same day Gov. Kim Reynolds ordered schools to close due to COVID-19.
"I was like, 'I don't know how I'm going to get money for the next six months, but at least I know I've got a job in the fall,'" Blanchfield said. "It was interesting for sure."
The Sibley-Ocheyedan FFA program is among the largest in N'West Iowa, tallying 135 active high school members and several more graduates who can keep paying membership dues until they turn 21.
The district has such a large number of FFA members in part because aspects of the extracurricular activity are woven into agriculture classes.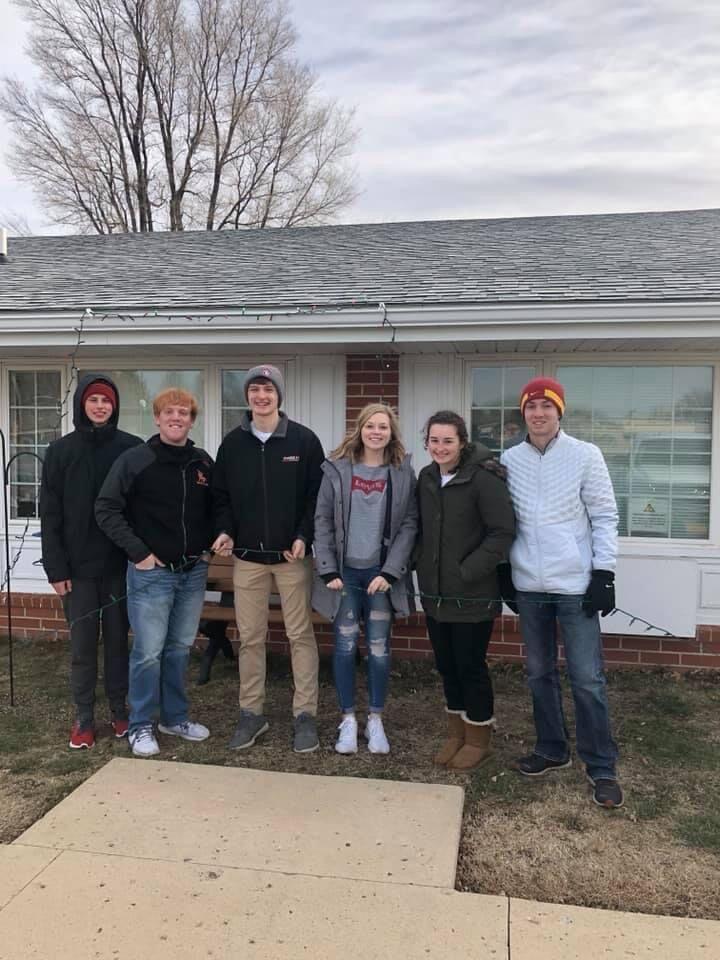 "It's not full-on FFA all the time, obviously, but we integrate different contests and we integrate leadership aspects and things like that into our classes," Blanchfield said. "By connecting it to that, and having it where they're thinking FFA pretty much every single day, it motivates them to be involved."
A few other reasons she cited for strong FFA membership at Sibley-Ocheyedan are that many students in the district belong to families who work in agriculture and younger students tend to get exposed to the organization through older siblings who participated in it.
A 30-day exploratory agriculture class also is offered for seventh- and eighth-graders, which gives them a look into FFA before reaching high school.
Blanchfield has enjoyed working with such a large group of students this academic year since she has able to get to know students with a wide range of interests and backgrounds. She also has been able to meet recent Sibley-Ocheyedan graduates who have returned to assist with different activities.
She acknowledged that not all the students in her agriculture classes may wind up becoming involved in FFA or pursuing a future in agriculture but said the knowledge they gain still is relevant.
"They're still going to relate to it because we all wear clothes, we all eat food, and especially in this type of rural setting, we all see agriculture every day," she said. "It's fun to be able to make that connection with those kids who don't have an ag background."
Several FFA competitions last year had to be held virtually due to the pandemic, although the group was able to do a few activities in late 2020, such as hosting a blood drive in November and hanging Christmas lights around nursing homes in December.
Blanchfield is hopeful subdistrict and district contests will be held in person Feb. 25 and March 6 respectively. She also is looking forward to in-person FFA events planned locally, such as the annual pancake breakfast Wednesday, Feb. 24, and the awards banquet at the end of the academic year during which new officers will be installed.
"That'll be fun to install my first new set of FFA officers and then award kids with their awards at the banquet for all their hard work this year, despite all the obstacles that we've had," she said.