MAURICE—It's usually sweet to be a beekeeper, but the agriculture industry finds ways to sting small-time honey producers such as Dave Korver.
The owner and lone worker for Walnut Grove Honey, Korver is proud to provide what he called a central yet underrecognized role in the food system.
"Farmers always worry about bees, and they shouldn't," he said. "One-third of your food in this country comes from a bee. If we didn't have bees, you wouldn't have a lot of your fruits or vegetables."
From his rural Maurice property — a cozy grove on a dirt road that marks the Sioux-Plymouth county line — Korver manages 90 hives. That's enough honeycomb to house nearly 5 million bees, but his pollination population is minuscule compared to the large companies that keep hundreds of thousands of nests.
He started with just two hives in 2011 as a way to spur pollination for the apple trees around his home while he worked his day job as a carpenter. He "kind of got carried away" after that.
"I'm really seriously thinking about going and doing it full time, and I'm retirement age," the 62-year-old said. "I've always had this idea that I want to retire and mess around with these bees."
As he grew more involved in the buzzing business, he joined the Iowa Honey Producers Association. Over time, he has become more frustrated about the obstacles his industry faces in the Hawkeye State.
Most of the problems, he said, stems from the lack of state rules about insecticides. He and his association want to get the honeybee recognized as the state insect.
"Some of these companies are really scared of that, having a state insect, especially if it's a state insect that is protected," Korver said. "In South Dakota, the honeybee is protected. If they can find chemicals that are against the honeybee or poisoning the honeybee, they can ban that in the state. That's why we have a hard time with legislation in Iowa because Bayer Chemical says, 'Oh, I don't think you want to do that,' and they talk pretty loud."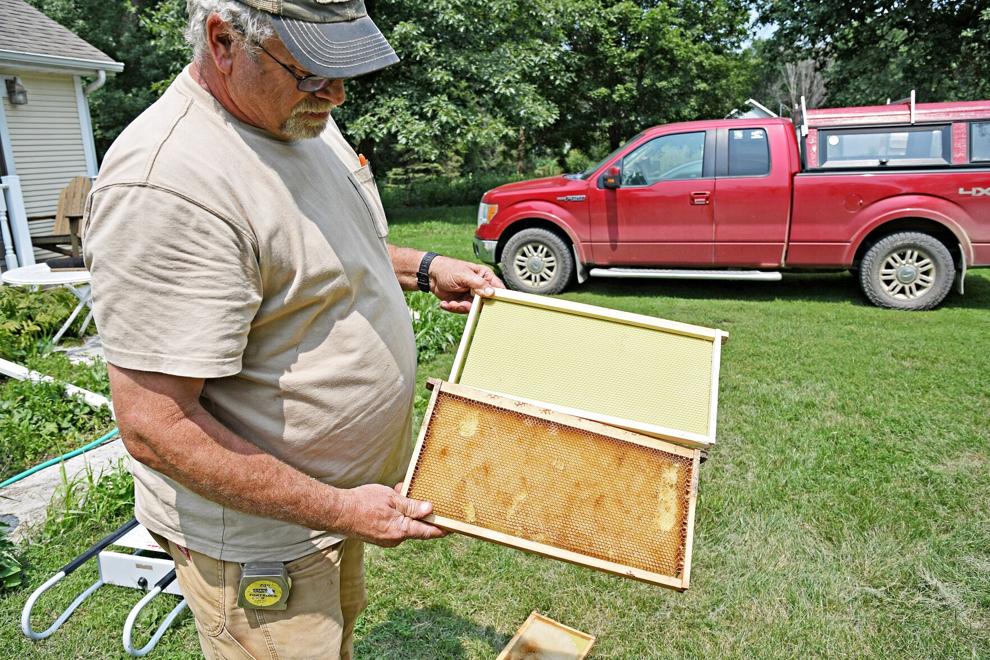 Korver made clear that his problems are not with individual farmers and that his relationships with crop producers are mutually positive most of the time. He said his farming neighbors have told him that their crops, especially soybeans, do better thanks to the pollination from his bees.
But state-level lobbying from major corporations stymies big-picture cooperation.
"Iowa is the big chemical company state," the beekeeper said.
The key to better pollination, he said, is less aggressive spraying and more natural solutions to plant maintenance. Human intervention in the ecosystem has made it more difficult for pollinators to function properly.
"Nature would get along just fine, but we screw it all up," Korver said.
Even with the sundry sticky situations, Korver said he is proud of the role he plays in the agriculture world.
Walnut Grove Honey may be on the smaller side of the spectrum, but the apiary still produces 6,000 pounds of the sweet stuff every year. Each one of its 16-ounce bottles takes about 55,000 miles of bee flight. Facilitating the essential pollination process has market rewards as well, with the honey on the shelf at various local shops including Casey's Bakery in Sioux Center.
Korver said his reason to keep on beekeeping is simple.
"It's a big part of the ag community," he said. "You need bees and bees need ag."