HAWARDEN—A bevy of busybodies from around the area huddled in Hawarden for the 11th annual partner meeting of Northwest Iowa Development on Thursday.
The luncheon at the town's community center attracted about 100 local power players including businesspeople and government officials. NWID combines the local-level economic efforts of Lyon, O'Brien, Osceola and Sioux counties as well as the city of LeMars.
"We work together and share information because we truly care about helping create thriving communities," said NWID chair Stephanie Neppl.
Neppl, who also is the economic development director for Osceola County, opened with brief remarks before turning it over to the NWID vice chair Steve Simons, her counterpart in Lyon County.
Simons introduced a string of awards, including special honors to two individuals who recently retired: Alethea Stubbe, president emeritus of Northwest Iowa Community College in Sheldon, and Neal Adler, longtime leader of the Business Initiative Corporation and Chamber of Commerce in LeMars.
The meat of the lunchtime gathering came from keynote speaker Debi Durham, and her presentation themed "Focusing on Priorities."
Durham is the director of the Iowa Economic Development Authority and Iowa Finance Authority. Her twin positions with the state government make her one of the foremost figures in the Iowa business sphere.
The "priorities" in question are the building blocks for growing commerce in the Hawkeye State and specifically in this corner of it. N'West Iowa needs to support families to be successful, a topic Neppl and Simons have repeatedly identified as needing improvement. This includes housing, education and day-care opportunities.
Durham said the coronavirus pandemic has exposed and exacerbated those issues.
"We in Iowa have a population problem," Durham told the group. "We can't get there from here. We couldn't before COVID, and we certainly can't now with a participation rate that is only ticked up to 66.9 percent. We have got to grow Iowa's population."
She referred to participation rate throughout her speech. An alternative to the unemployment rate — which excludes adults not looking for work such as students and retirees — participation tracks the ratio of adults who are in the workforce.
The pandemic-prodded shift might be permanent but regardless of trends, Durham said, N'West Iowa needs to invest in housing and amenities to attract and retain residents. According to the U.S. Department of Commerce, Iowa has the fourth-lowest home vacancy rate in the country, meaning the supply is thin.
While more housing is being built, Durham is hard at work to bring more workers to the state. The "This is Iowa" campaign, the state's first national advertising initiative, looks to highlight the low cost of living and plentiful opportunities within its borders.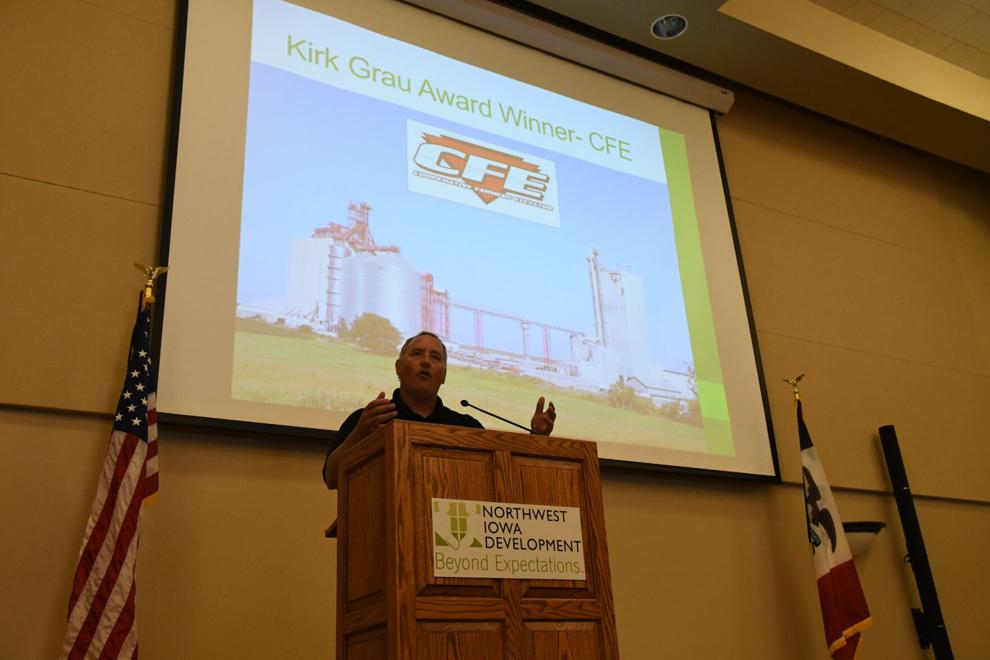 "These are going to be people that have moved from California or New York and they have found their happy place in Iowa and they're thriving. We're going to tell all of these stories," Durham said.
Iowa needs a future-focused image to pull in the workers it needs, Durham said. She cited surveys that point to sustainability becoming more important in the job market. Young people want green workplaces, she said, and employers need to prepare for that.
"Millennials want to work for a company that has a strong social responsibility when it comes to environmentalism," she said. "I will tell you, and I truly believe this, sustainability is just as much about attracting a workforce as it is about environmental policy going forward."
Planning for tomorrow was mentioned by most who took the podium at the NWID meeting. Rob Jacobs, CEO of Cooperative Farmers Elevator, summed up the event while accepting an innovation award on behalf of his Ocheyedan-based business.
"The things we do today in this room are not only for today, but for future generations," Jacobs said. "I think that is so important. If we want to do it for today, do it for the short term, then we'll try to cut corners and whatnot. That's not what we're here to do."