ARCHER—While she may not be as famous as the video game character with the same first name, Zelda Buse Christensen has created her own legend in N'West Iowa.
The 84-year-old Archer woman still rides snowmobiles, horses and four-wheelers. She received a Lifetime Achievement Award from the Iowa State Snowmobile Association in 2012.
"That was a total surprise," Buse Christensen said.
The ISSA does not give out the Lifetime Achievement Award every year. Buse Christensen, a member of the ISSA since 1984, was sitting at the convention in November of 2012 when it was announced that the award would be given out that year.
"Then something was said and they used a female pronoun so I realized, 'Oh, it's going to go to a woman. That's good,'" Buse Christensen said. "They kept going and started giving some characteristics and nothing rang a bell to me until someone said something about barrel racing. Then I thought, 'Wait a minute,' and it was me."
She started snowmobiling in the 1970s. Paullina put out a thick book around that time that featured most of the organizations in the area and a history about them. Snowmobiling was in the book.
"According to what people dug up then, I must have been one of the first, or maybe the first, people in the county or area to have a snowmobile," Buse Christensen said. "We pulled kids around on skis or a toboggan and used a horse to pull. My dad said, 'You know a snowmobile would work perfect.' I probably barely knew what a snowmobile was then. It ended up that I bought a used snowmobile and then it went on from there."
She started riding horses earlier.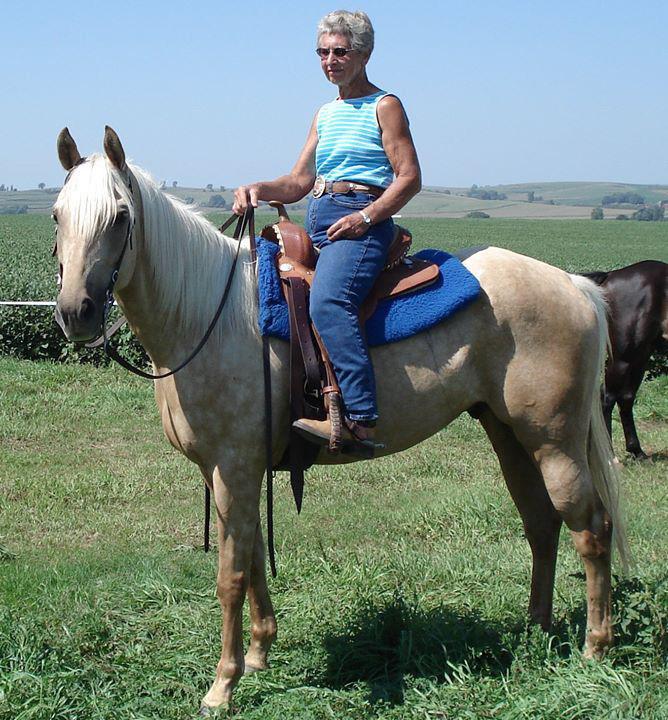 "I had something to ride for as long as I can remember, but it was never a big thing," she said.
After graduating from Iowa State Teachers College in Cedar Falls — now the University of Northern Iowa — Buse Christensen moved to Paullina to teach. A friend from college introduced Buse Christensen to an aunt and uncle who lived outside of town and had a horse.
"They had two sons but the sons couldn't handle the horse so if I wanted to ride it I sure could," Buse Christensen said. "So I started going out there and I'd ride every weekend."
The next year she brought her own horse. Then a man told her he had two horses in a pasture on the edge of town.
"I thought, 'Boy that was a nice man,'" Buse Christensen said. "So I rode those two horses. It turns out, he was a horse trader and he was getting free training. I didn't realize that. Then he got the horse sold because I got them more ridable. I didn't know what I was doing."
Word spread and people contacted her about breaking horses for them.
"Through the years I have had horses to break and train steadily from Estherville to near Sioux City," Buse Christensen said.
She also mentioned that she was lucky enough to not have any major injuries while riding outside of some cracked ribs a couple of times. Another time she suffered an injury to her face while horse riding that gave her a couple of black eyes while she was teaching.
"I thought, 'Maybe it won't be so noticeable. I'll have my glasses on,'" Buse Christensen said. "It was pretty noticeable. The kids were kind of looking at each other and snickering. Finally, I just explained what happened and that was the end of it."
Buse Christensen said people have asked her before how she stays active.
"I guess I like to be active and I like to be outside," she said. "Stuff you do outside is more active."
She said she does not formally exercise.
"I don't pay to go to a gym or anything where you pay to go walk," Buse Christensen said. "I don't go someplace to walk either. I walk here."
She decided she was not getting as much exercise as she should and gave an example of what she does to get more.
"After I was outside and I did the chores, instead of coming right in, I walked in the field road," she said. "I walked a ways and came back just to move a little. Besides, I'd been eating so much sweet stuff. Sometimes I think about making myself move around a little more, but most of the time I just get enough exercise doing stuff that needs to be done."