SIBLEY—Sixth-graders at Sibley-Ocheyedan Middle School were grossed out when they learned the original toothbrushes invented by the ancient Chinese people were bamboo sticks with pig hairs attached to them.
The students learned that fact during a cross-curricular unit about the history of the Asian country taught by social studies teacher Julie Schuller and English literacy teacher Kara Heyn.
Schuller began teaching the ancient China unit a few years ago as part of her larger curriculum on ancient world cultures and history.
"We've just learned the basics about dynasties and how they changed over time and how the borders changed because some rulers were more powerful," Schuller said. "One of the big things they say in the chapter is how China just had tons of inventions, things that we still use."
Schuller knew Heyn's students typically read a story about ancient China's terra-cotta soldiers at one point during the academic year. Heyn rescheduled her ancient China unit so it coincided with when Heyn's students read about the soldiers.
For the unit — which began after Thanksgiving break — students in each teacher's class worked on research projects relating to ancient Chinese inventions.
Students in Schuller's class created informational poster presentations about the invention they researched.
Students in Heyn's class used their research to write essays about the invention they learned about.
Schuller said part of her students' research focuses on how the invention evolved through time and became the modern version still used in the 21st century.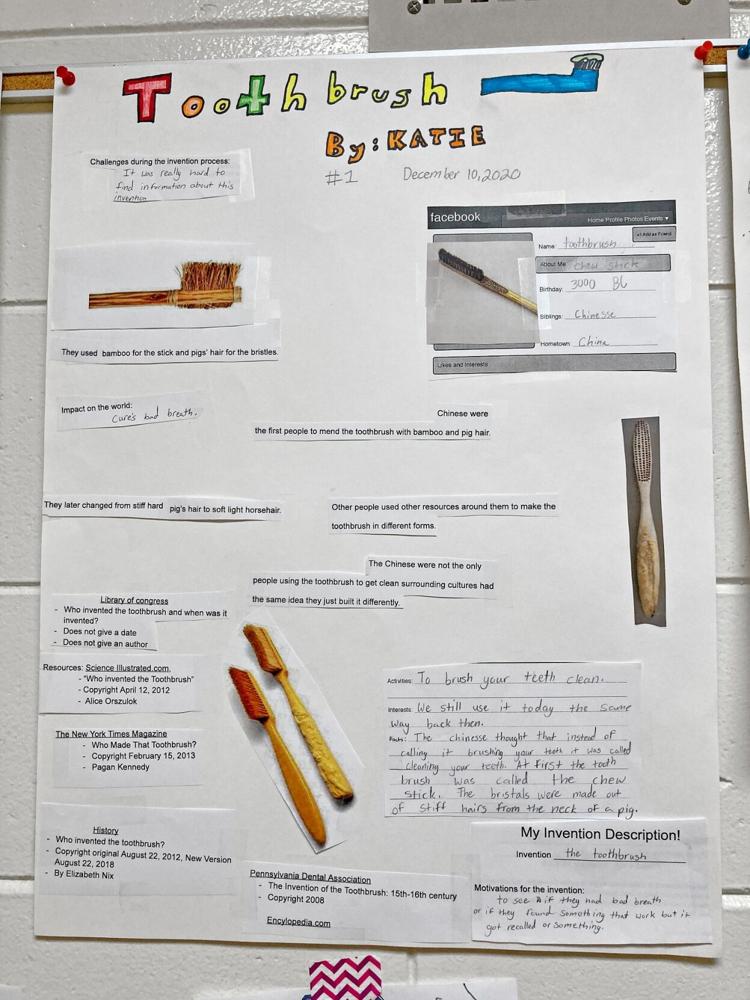 Some of her students also recreated models of the inventions they researched. One student, for example, made a hot-air balloon by attaching a garbage bag to a box and using a hair dryer to make the bag go up. Another student made a model of an ancient toothbrush.
"He didn't use pig hair, thank goodness," Schuller said.
Before classes get out for Christmas break, Schuller said her students will do a few activities that connect the China unit to science, technology, engineering and math (STEM) education. Those activities will include building a model of the Great Wall of China using foam blocks and recreating ancient Chinese musical instruments.
Heyn said a big focus for students as they wrote their essays was learning how to cite sources and paraphrase information.
During the academic year, her students also learn varying approaches to writing depending on which type of essay they are doing.
For instance, Heyn said they wrote argumentative essays earlier in the academic year, which serve a different purpose than informational essays. Other units her students will do later in the academic year include how-to speeches and persuasive writing similar to advertisements.
"You just talk differently when you write about facts versus trying to get somebody to buy something," Heyn said. "You use a lot more detailed adjectives and things like that with those types of writing units."
One challenge her students have faced this year when it comes to writing is the time they lost in class due to the school shutting down in the spring because of the coronavirus pandemic.
"It's coming little by little," Heyn said. "They're kind of getting back in the groove of things."