SHELDON—All aspects considered, Ag Partners Inc. CEO Troy Upah was grateful with how things turned out Friday, June 14, after a small explosion happened at the cooperative's Sheldon facility.
"We had no injuries in this process and I will tell you that emergency crews reacted very well and I appreciated all their efforts in making sure we kept other people safe through this process," Upah said.
The cause remains under investigation, but at about 9 a.m. Friday an explosion took place at Ag Partner's complex along Second Avenue in Sheldon, damaging a catwalk and parts of a grain elevator.
"The part of the facility that was impacted by this was the older part of our grain storage and we are uncertain about the next steps we are going to take with that; rather we should repair it or just going to take it out of operation," Upah said.
Sheldon Fire Co. first assistant chief Brad Hindt said when firefighters arrived on the scene, no smoke of flames were visible.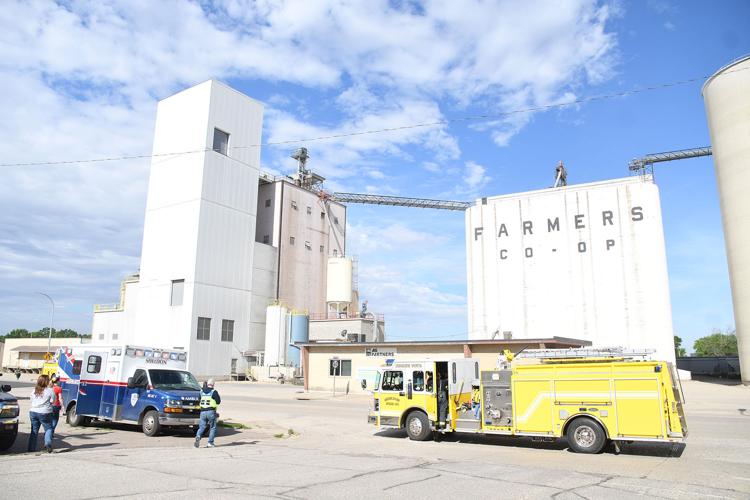 As a precaution, Ag Partners, as well as some neighboring businesses and residences, were evacuated and Second Avenue was closed off.
First responders from the Sanborn and Sheldon fire departments, Sheldon Emergency Management Agency and Sheldon Police Department were all on scene.
The Drone Response Team from the Sioux County Sheriff's Office also was called in to look for hot spots via thermal imaging and to assess damage near the site of the explosion.
"We detected no heat and they were able to get pictures of the structure to make sure the structure was sound," Hindt said. "Once we had that done and they were comfortable, they sent two of their employees up there to do an inspection of the building.
"They found some debris cracking in the silo, some metal legs that were damaged and there was also a catwalk that had blown out.
Hindt said Second Avenue was reopened at about 12:30 p.m. and firefighters were on the scene for about three and half hours and returned to the station at about 12:45 p.m.
Upah said the 15 employees who work out of the company's north site in Sheldon were able to return to work at about 3 p.m.