HAWARDEN—Siouxland Youth for Christ held its annual banquet Tuesday, Nov. 19, at the Hawarden Community Center. The nights theme was "Be the Story."
The event included a meal catered by Downtown Grille and stories from youth and volunteers who have been impacted by the YFC organization.
"I am so thankful you are all here," said Sioux County area director Tom Cook. "I want to first share some awesome things we have accomplished at the teen center in Hawarden this past calendar year — 119 different students have come to the center and just within the last two weeks, we reached the highest number of students in attendance in one night since we opened like three years ago. We had 57 students in one night up at the teen center — God is awesome!"
Shouts of praise and clapping filled the community center at those facts from the growth the teen center has had in the past year and the amount of students who are being impacted by the work done through Youth for Christ. 
Since 1978, Siouxland Youth for Christ has provided outreach to teens in five counties to explore their faith and a relationship with Christ. YFC gives youth resources they need to stop feeling hopeless or unloved.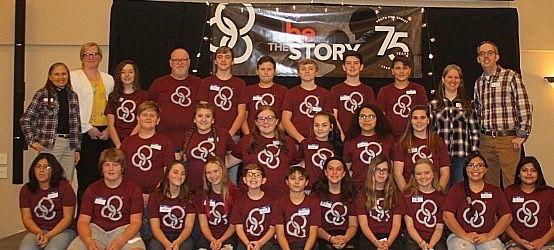 Eleven students, the most ever, from City Life Teen Center in Hawarden attended YFC camp this year. Three teens spoke about their experiences during the banquet.
"My favorite thing, I loved all the activities — like a corn hole tournament and a basketball tournament, but my favorite thing was cabin time," said first-time YFC camper Brielle Aldrich. "It's at night, where we all come together and talk about what we have learned that day, we learned about each other and grew a deep bond with our cabinmates. People you didn't even know and they made you feel like you have known them for years. One thing I took away from camp is we are not alone. You don't have to go through the things alone, you don't just have to rely on you friends and family, there is someone bigger out there that is always there no matter what you are going through. I learned that he gives us another day to try and move forward and be the best person I am for him."
"I learned that when you pray for forgiveness that God forgives you and forgets about it," said Eli McMillan, another first-time camper. "My favorite part was zip-lining and watching everyone's expressions. I also enjoyed the archery."
"I'd have to say the best part was getting closer with my cabinmates," first-time camper Greyson Burnett said. "I liked the different activities. I learned that you don't have to carry weight around, that you have to let go of the burden of sin."
Cook gave thanks to the community and those who donate that made it possible to sent 11 kids to camp last year.
People in attendance also heard from Roxanne Cook, Tom's wife and Hawarden City Life Teen Center assistant.
"I shake like a leaf up here, but I am thrilled you are all here," Cook said. "I have been on staff now since about July, before that I was a volunteer. I have loved being part of the Hawarden community and just really diving into the lives of our students."
Roxanne has been heavily involved in family meal times at the Hawarden teen center, in crafts and in implementing the economis program. Three students shared why it is important to keep the teen center open and thriving in Hawarden.
"Youth for Christ and the teen center has made a huge impact on my life," eighth-grade West Sioux student Emma Breugem said. "It has brought me closer to my family, friends and God. My faith is growing stronger and I am gaining more trust in God. Throughout my three and a half years going to the teen center I have learned a lot of things but two things stand out the most — 1.) That Jesus Christ saved us. 2.) We are one big family and no matter what happens we will all still be there for each other."
"I love that you said family," Roxanne said. "The students are catching what we are saying when we tell them we are family."
Breugem said she is thankful for the leaders at the teen center and that she knows she can go to anyone of them when she needs something. Breugem also said knowing she has people to turn to at anytime gives her comfort.
"You guys are all there for me when I need you, you encourage me and Roxanne you are like a mom to me, you make my life great," eighth-grade West Sioux student Rebekah Huerta said. "The leaders are really good influences on us, they take care of us and we are all family, they will have your back. It is just like they are over you, they will take care of you and say that you are good enough, you are wonderful and they will bring you up. I love that Roxanne is at the teen center, she is a good friend. I just love that about youth or christ, they never bring you down, they bring you up and encourage you. It is like you should believe them, all the leaders say it. I've learned to believe the good things, not the bad things. We are all amazing and we are all different, we all have a purpose, that is why we are here."
West Sioux Middle School sixth-grade student Allen Flores was also interviewed. The teen center is open Thursday afternoons and Flores told the crowd he has been influenced "a lot" by the teen center. He enjoys the games and his friends and cousins that go to the center every week with him but what he said before the banquet during one Thursday at the Hawarden teen center was something everyone should hear.
"Allen has one of those contagious smiles," Roxanne said. "I asked Allen to come and be interviewed, he was really hesitant and he didn't show up tonight because he was super nervous. He came and when I first asked him to speak I lold him I wanted to share something he shared with me. It was near the closing of the teen center time one Thursday night and the kids were playing gaga ball, Allen came in and was gathering his things and he said 'Man, I wish everyday could be Thursday, I love coming up here!' I told him I was going to share that with you all and I would like you to understand my response to Allen that night. I would love for the teen center to be open more hours so that everyday could be Thursday for our students, but we don't have enough volunteers yet. But, I am hopeful that when more people say 'yes' to what God is calling us to do, to be ambassadors for Christ that we will be able to offer more for students like Allen who wish everyday could be Thursday."
For more information or to donate time, crafting hands, cooking talents, baked goods or to give financially call Tom Cook at 712-269-6259 or send donations to YFC at P.O. Box 186, Hawarden, IA, 51023.