IRETON—Coaching wrestling is something 40-year-old Mark Van Oort lives for.
In his seventh season being the head coach at West Sioux High School, Van Oort recently earned his 300th career win.
"It's a big deal, he works hard for all of our goals so it is really cool to see coach accomplish one of the goals he had for himself," said senior Falcon wrestler Cullen Koedam. "It is cool to be a part of it and helping to make it happen."
Van Oort reflected on what 300 wins meant to him.
"The wins represent a lot of memories with a lot of different teams," Van Oort said. "Evaluating the losses and working with the team members and the various different coaching staffs over the years has really driven these results.
"Being open minded to change and development is critical in this sport as a coach and athlete. I am truly humbled and grateful for the opportunities this sport has provided me."
The 300th win came during a quadrangular hosted by Ridge View on Nov. 30 when the Falcons dominated Sioux City Heelan 58-18. Along with that win, the Falcons also beat Alta-Aurelia 69-9 and Ridge View 66-12.
Van Oort is looking forward to more opportunities to add to his career total this season.
"Coach really makes us feel like we are part of a family, he is always there to push us into accomplishing our goals, it was great to be able to help him reach one of his own," said Falcon senior grappler Braden Graff.
West Sioux is ranked fourth in Class 1A for the traditional tournament and third for dual team tournament in the latest IAWrestle rankings. Don Bosco is ranked first for both.
"I don't like to make predictions, but we do have goals," Van Oort said. "We have many individuals that have goals of becoming a state champion and we have team goals to place in the top three of the state duals and state tournament. Lastly, we want to have fun."
Graff and Koedam talked about how Van Oort is good at coaching the wrestlers to peak at the right time and helping them be their strongest toward the end of the season.
"Once we get everyone back and healthy, at our full potential, we can definitely place in the top," Graff said. "Mark always pushes us to work hard and do what we need to do to reach our goals. I am confident I will be up there this year."
Senior Carson Lynott is one of the Falcons working hard to get back to full health after a football injury. After a couple of surgeries, and dislocating his shoulder multiple times during football, Lynott has been working hard to be ready to wrestle when it counts most at the end of the season.
"Mark has always taught us to work hard and never forget our goals," said Lynott. "We are constantly getting texts to remind us of those goals, whether it is about wrestling or not."
Fun it has been and there is plenty more fun to come. The Falcons are coming of a fourth-place finish at the state duals and return six senior grapplers with experience at Wells Fargo Arena, the site of the state tournament. Those returning who have wrestled at "The Well" during the traditional tournament previously are Braden Graff at 120 pounds, Cameron Clark at 132, Drayven Kraft at 138, Mikey Baker at 145, Koedam at 160 and Lynott at 182.
"We have goals to end the season on a high note," said assistant coach Chet Utesch. "Also we want every wrestler to feel like the team couldn't have done it without them, it takes us all. For an individual to walk out of the sectional, district or state tournament with their heads held high and to be proud of who they are as a Falcon, as a young man and what they've accomplished this year."
Some of Van Oort's favorite moments in his career coaching are when West Sioux qualified for its first state dual tournament in 2018 and defeating Lisbon for third place at the 2019 state dual tournament.
"It is certainly a career highlight," Van Oort said. "That one was electric, that started with Carson Lynott's pin of No. 1-ranked Cobe Siebrecht. The entire top half of our lineup bumped up to pick up some needed wins — a true team effort."
As a father and coach, the day his son, Kory, won a state championship at 152 in 2019 cannot be left out for all-time best moments coaching at West Sioux either.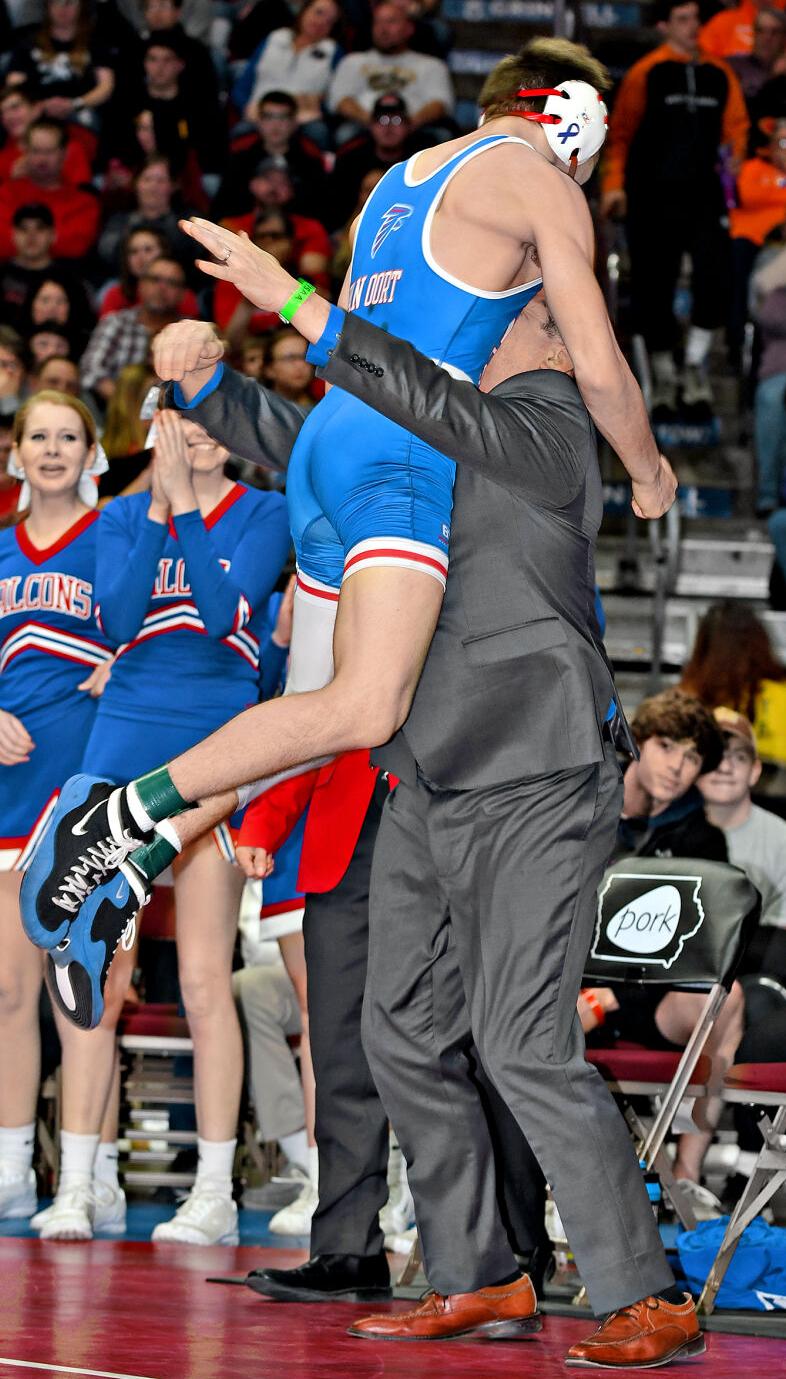 "That was the most memorable thing that I have had coaching alongside Mark, being mat side right there beside him when Kory won his state title," Utesch said. "Kory was a kid that I've known for 12 years and to be able to spend that moment with Mark and Kory is something that is very special to me."
Utesch said coaching alongside Van Oort is something he loves to do because Van Oort brings so much passion to the sport and has the desire to win. Utesch said the 300 wins is something he thinks every coach probably aspires to reach in their career and he is proud of Van Oort for accomplishing it.
"My time at West Sioux has been so memorable and I am so grateful for the kids, the administration, my coaching staff and the community support," Van Oort said. "They have all bought into the process and it makes it so much fun."
He attributed the success of the Falcons' wrestling program to the grapplers being willing to buy into the program. He said West Sioux has been blessed with some of the hardest-working students who just want to do it right.
Van Oort said he and his staff continuously evaluate how they coach and what they coach, and they stay up-to-date on technique and remain willing to change things up when needed. Being a good coach is something Van Oort said he learned from the best during his time wrestling in high school at Aurelia.
"My high school coach, Brian Morgan, is a life mentor for me still to this day," Van Oort said. "He made me want to coach. He made me want to pay it forward and give back. His impact on me truly drove positive change in my life and I have always wanted to try and do the same thing for every kid that will give us a chance."
The hardest part about coaching is when wrestlers quit. Van Oort works tirelessly to try and connect with each of his wrestlers and when one quits, he said that really weighs on him because he knows this sport has something to offer those students.
He said the biggest changes this sport has seen are the different techniques wrestlers use and how they have evolved as well as how weight cutting is not as extreme as it once was.
Van Oort loves coaching at West Sioux and said the youth program also is something to be noted and has him excited for the future of the Falcons.
"West Sioux has been amazing," Van Oort said. "The support our program has received here is second to none. It has allowed for us to build this program and we are super proud of it. It all came together faster than I could have ever imagined. The youth club is really strong and the high school program's success is almost unimaginable. I am incredibly excited about today and our future."