HAWARDEN—New teachers were welcomed Wednesday, Aug. 14, to the West Sioux School District for their first day of school. There are 15 new teachers this year joining the Falcon family.
West Sioux shared superintendent Steve Grond welcomed staff Wednesday morning by providing a few jokes orchestrating laughter among all of the 14 new teachers in attendance on the first day.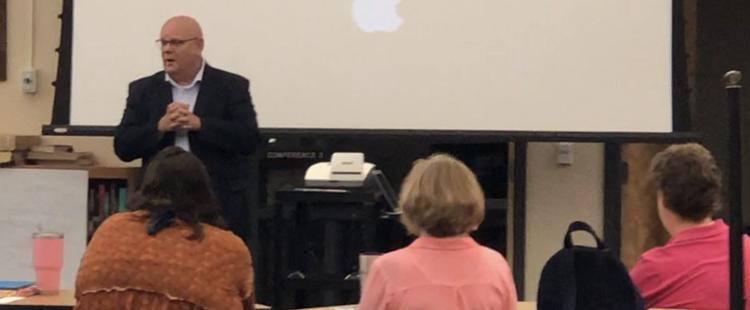 "There is going to be some growth here," Grond said explaining the administration is new to West Sioux, but not to education. "Thank you for being a part of this journey, it will be a great adventure. There will be some head-scratching and even some blank stares at times, but we will get through those."
Grond will be sharing his time spending 60 percent at West Sioux and 40 percent in Boyden-Hull School District fulfilling his superintendent duties.
Joining Grond in the administration roles at West Sioux will be middle/high school principal Alynn Coppock, elementary principal Travis Popken and filling a new position to the district, Matt Van Voorst as dean of students.
All three said "hello" and made acquaintances with the new teachers and welcomed them to West Sioux.
Teachers stayed for a day-long workshop with veteran staff at West Sioux who are leads in the Teacher Leadership and Compensation program the school participates in to improve student learning by improving the instruction they receive daily. West Sioux has learned there is no better way to do that than to empower some of the best teaching staff to coach and co-teach the newcomers.
Read next the Aug. 22 issue as we welcome all staff and students back to school and wish them all a great season.