ARNOLDS PARK—A 1967 West Sioux High School graduate and drummer for The Seven Sons will be part of an upcoming concert in at the Iowa Great Lakes.
Larry Dixon, 69 of Spirit Lake, formerly of Hudson, SD, is excited to be part of the concert set for 6 p.m. Saturday, Aug. 29, at the Roof Garden in Arnolds Park.
Growing up on a farm, Dixon began playing the drums when he was just 5 years old. His parents, Ilene and Wilbur Dixon, blessed him by believing in him and allowing him to explore the world of music.
"I always played the drums," Dixon said. "Initially, I started playing in a five-piece band called 'The Rainbows,' which Jim Dawson, who was a Hawarden resident started. We played proms, dances. I played two nights a week starting at 12 years old."
Dixon was a member of the first West Sioux wrestling team. He and his teammates recently had a reunion with former coach Lynn Dighton in June during which the coach recalled having to talk to other teams to ensure Dixon could wrestle first so he could make it to a show he was playing drums in.
As a junior in high school, Dixon received a phone call from Rick Mellor who was a Morningside College senior and leader of the band The Seven Sons.
"I had seen them open up in Sioux Falls and I thought that would be cool to play rock 'n' roll," Dixon said. "To my surprise one Thursday night I got a call from Rick Mellor, who said he heard about me and wanted me to audition at the Sioux City Auditorium."
As a junior in high school, he then had to go to his parents to get their permission to go to the audition. Then Dixon had to talk with then high school principal Roy Roth about missing school to play for the band.
"To my pleasant surprise, the principal said 'yes' and I was gone sometimes a few days, or a week or so at a time on tour with the band," Dixon said. "I would get my assignments before I left, then while I was on the road, I would study in the car."
Dixon is a chiropractor in Spirit Lake but still enjoys his time playing drums for The Seven Sons. The band is still going strong today. Members include Rick Mellor, Doug Dingle, Rick Knobe, Dan Horswell, Larry Dixon and the late Alan Oliver.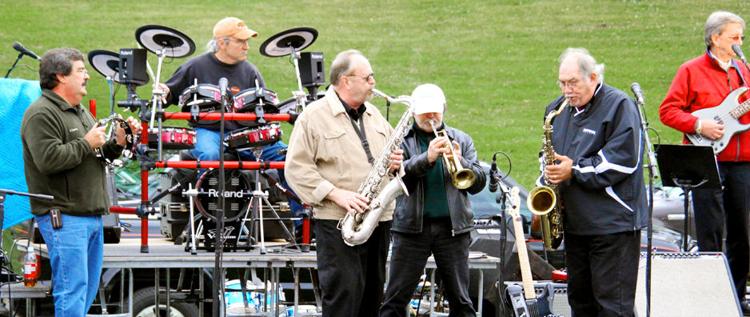 Dixon and The Seven Sons have been inducted into the Iowa and South Dakota Rock and Roll Hall of Fame. They hope to see everyone at their show Aug. 29. Tickets can be purchased at the show. For more details visit www.iowarocknroll.com.