IRETON—Sixty-two-year-old Robert Vander Hamm is thankful to be alive.
Vander Hamm is recovering after being struck by a pickup about 3 p.m. Friday, June 21, at his residence on Dogwood Avenue five miles northwest of Ireton.
"I was just looking at my mail at the mailbox. I looked up and thought that pickup is going to hit me. After that, I don't remember a thing, until it was Jeff Nohava leaning over and telling me they are going to load me on a life flight helicopter," Vander Hamm said. "I don't remember any of it but that."
Vander Hamm was driving a 2016 John Deere Gator XUV825i. He was facing north in the southbound lane when his Gator was struck by a southbound 2020 Chevrolet 2500 pickup driven by his neighbor, 55-year-old Jeffrey Vonk, according to a release from the Sioux County Sheriff's Office. Both were transferred to Hawarden Regional Healthcare initially. Vander Hamm had extensive injuries and the choice was made by HRH medical staff to transfer him to Avera McKennan Hospital & University Health Center in Sioux Falls, SD. He stayed there for a week and then was taken to the Avera Heart Hospital where he stayed three days before finally being approved to come back "close to home" for rehab at HRH.
Vander Hamm's injuries included several torn ligaments in both of his legs and the femur bone was crushed in his left leg. He also had a bruised lung, severe swelling in his nose and face. Vander Hamm had surgery on his hand and both legs during his stay at Avera. The care he received was great everywhere he was, but Vander Hamm said Hawarden Regional Healthcare has "top drawer" care and he wants to make everyone aware of it.
"I can't say enough good things," Vander Hamm said. "I couldn't have come to a better place and I can't brag it up enough. Everyone needs to know about this hospital."
During Vander Hamm's stay at HRH, he was known as the "hospital greeter." The farmers spirit in him made him crave being outside, so staff would see to it he could go out. Some days they would even move the recliner right out the front door so Vander Hamm could sit and visit with people coming in and going out. Oftentimes friends and family would stop and visit as well.
It made the time at the hospital go by quicker, Vander Hamm said.
"It is wonderful, I never dreamt I had so many friends," Vander Hamm said. "I like to think of myself as a nice person, and I'm not a real emotional guy but I have been more emotional through all this. It means a lot. It has been amazing, it is so nice to get outside and get fresh air. They don't have to let me come out here, but it perks up my spirits. You sit in your room 24 hours a day, the minute hand just crawls."
Vander Hamm started his therapy regimen with all three therapies — speech, occupational and physical therapy — and he was in Hawarden hospital until Friday, Sept. 2. That day he was discharged and went home where his wife, Gail, was thrilled to have him back. Vander Hamm has three adult children, Kristy Brandenburg, Terri Vander Hamm and Brian Vander Hamm, as well as five grandchildren.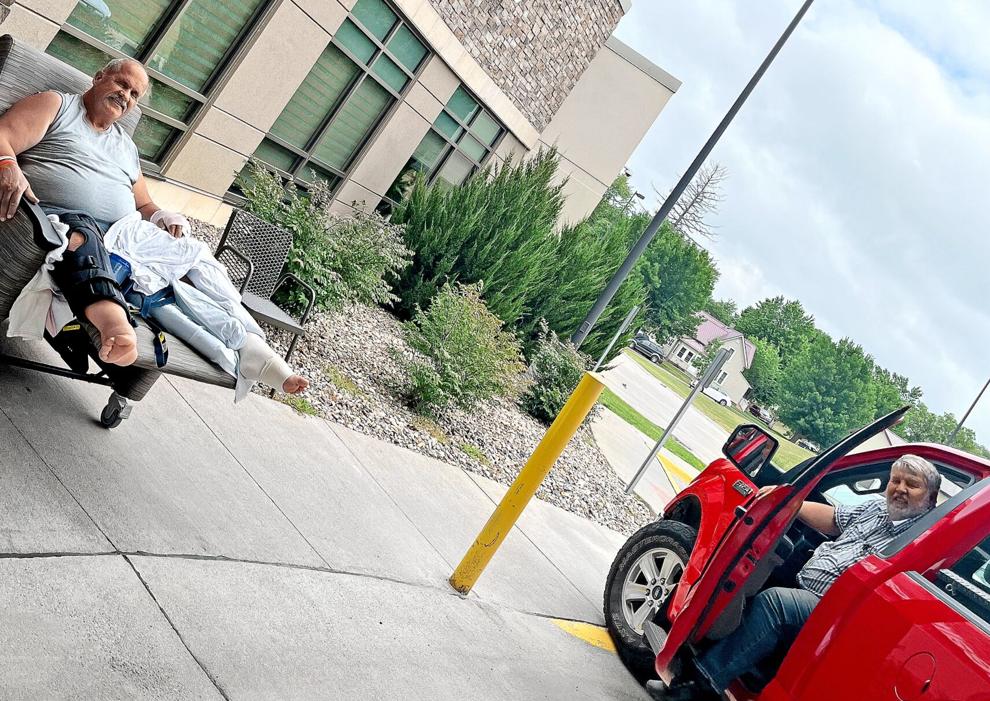 The couple remain grateful to all the hospital staff and therapists.
"We are extremely grateful, they are all angels of mercy," Vander Hamm said. "I owe you all, I don't know a debt I would be able to repay."
The therapy team says the debt is already paid off by the progress and the work Vander Hamm did and is doing to ensure a complete recovery. Like every patient who stays at the hospital, the therapy team has one major goal — to get that patient better and back to what they were doing before coming to receive care.
" In physical therapy, we try to gear our treatment and jails toward meaningful activities for our patients to help them get back to doing the activities that they love," said Abby Stearns, who is Vander Hamm's physical therapist at HRH. "It is one of my favorite parts of the job when I can help get someone back to living their live how they want to live."
While the second day of September might have been the day of discharge for Vander Hamm, he still goes to therapy. One of the farmer's therapy goals was to help with the 2022 fall harvest. On Wednesday, Sept. 21, Vander Hamm, along with Stearns, climbed up into the combine for the first time after the accident. Harvest began Monday, Sept. 26, and Vander Hamm and his family finished the 2022 harvest Friday, Oct. 21.
Without the hard work he did and the "heroes" that walk the halls at HRH, Vander Hamm said harvest for him would have been impossible. But he did it and it's a blessing to have it done.