HAWARDEN—A day celebrating "working women" is coming Friday, March 8. International Women's Day commemorates women workers and the push to advance women's rights within the workforce, politics and society.
One women proud not only to be working, but also to be a business owner is Carol Hoogestraat of Hawarden who owns and operates Big Sioux Embroidery in Hawarden. 
"I love working," she said. "Being a working woman is just a title. Being aggressive is not a quality all people possess, but it is one that you need to be a business owner."
Business background
Owning a business was a goal of Carol's for many years. She started her first company, Rushmore Embroidery, in 1995 in Rapid City, SD.
She and Cal, also ventured with other companies including MC Construction and Shovelhead Excavating as well as flipped houses in the Rapid City area. Carol acquired her South Dakota Realtors license so she could handle the sales.
"Being a part-time Realtor was probably my favorite job," she said.
The couple sold their companies in 2004 and 2008 respectively to move to Las Vegas, where Carol started a small company called CC Embroidery in 2009.
Cal, a Hawarden native, moved to Hawarden in 2011 when his mother died. Carol moved to Hawarden part time in 2012, taking her embroidery company with her but renaming the company what it is today — Big Sioux Embroidery.
She didn't move to Hawarden permanently until 2014.
"I remained in Las Vegas where I worked for the airlines and Expedia.com — both were fantastic jobs and I enjoyed traveling around the world and experiencing many things," she said. "I was able to maintain my position with the airlines while living in Hawarden for a few years, however I did resign last year."
Hard work ethic
Carol, a Mt. Vernon, SD, native, decided after high school graduation to join the South Dakota Army National Guard, which helped pay for her education at the University of South Dakota where she earned her bachelor's degree in communications and business. 
Carol believes she could not have accomplished all that without the hard work ethic and time management skills her mom instilled within her.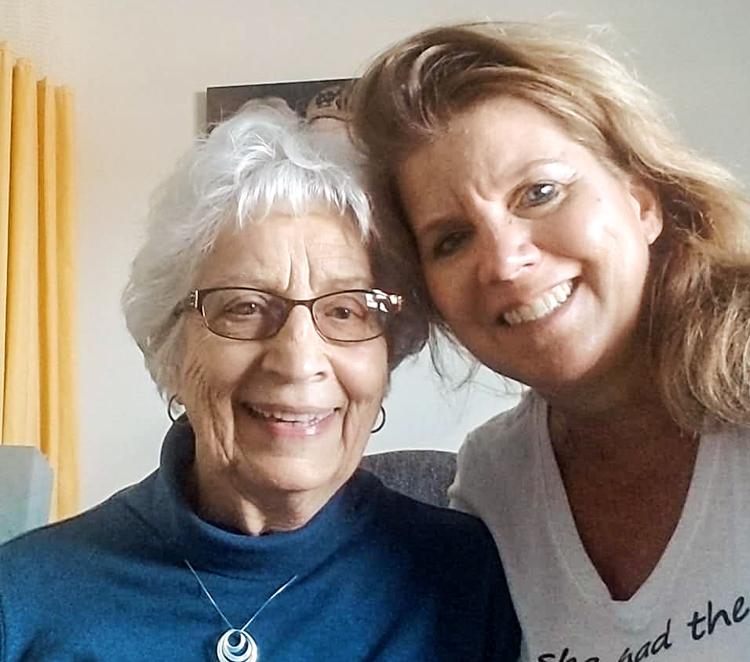 Her mother received a degree as a schoolteacher and worked in many ways to help young people.
"She and my father had eight children so she taught me the value of time," Carol said. "Something my mom would always say is 'Managing your time is the best skill you can teach your children.' I have always worked. Our children have often helped in the companies we owned as they grew up."
'Let Go and Let God'
Carol's motto is "Let Go and Let God — to maintain a calm life." 
"It is easy to get caught up in things," Carol said. "If I could teach one thing to people it is to think before you speak and do your research before you act. Some things just happen and some things you make happen."
Carol believes in taking ownership of things and fixing mistakes. She believes she possesses those qualities and that people appreciate them from her as a business owner.
Running a business
Big Sioux Embroidery is a full service screen print and embroidery store. 
"We live in a global economy these days -— bigsiouxembroidery.com has been a huge asset to us," Carol said. "People order from all over the country and it has expanded our resources."
Having the West Sioux School apparel on hand for area residents to buy and in turn it also has helped her meet people in the community.
"Business has its challenges and I embrace those," Carol said. "I think how you handle a situation speaks volumes about what kind of environment you create for your crew and the customers."
What Carol finds most rewarding is filling a need of a customer; she is happy to be doing just that in Hawarden. She is also thankful to her staff and the recent addition of her son David Oberlitner to the team at Big Sioux Embroidery.
Finding fun
Carol's active in the Hawarden Chamber of Commerce and the Hawarden Golf Course. She's excited the town is trying to expand activities and options for residents to stay and enjoy their time.
"Without the support of the local residents it would not be easy to own a company here," Carol said. "I feel the city should really embrace its Big Sioux Recreation Areas as its calling card to come to this area and spend time. Being outside and having fun is the trend for young people."
Encompassing what it is that makes a person, job or community fun can help determine success for its future. Fun is most certainly something Carol tries to incorporate into her daily routine. 
"If you are having fun in what you do and keep working hard at it, I think you will succeed in anything you do," Carol said. "I do work hard and some people will say that 'Carol's fun button is stuck in the ON position' — well, it is."
Wise words from a wise woman
"It is easy to get caught up in things. If I could teach one thing to people it is to think before you speak and do your research before you act. Some things just happen and some things you make happen." -— Carol Hoogestraat, owner of Big Sioux Embroidery