HAWARDEN—For the first time since helping the Falcons win a state championship in 2017, Jake Lynott of Hawarden will be lacing up his cleats to play football.
Lynott will be playing for Northwestern College in Orange City as they face Morningside at 7 p.m. Saturday, Sept. 12, at Elwood Olsen Stadium in Sioux City. The last time the two faced off was last year in the final regular season game of the season, in a game that decided the conference champion. Morningside beat Northwestern 37-27.
"What a way to start off the season, playing Morningside," said coach Matt McCarty. "It is going to be a great opportunity to see where we are at. The focus is making sure we play our best football, they are a really good team and we will need to play our best to win."
The Mustangs are back-to-back defending national champions and they are the favorite in preseason pick to lead the GPAC, right behind them the Red Raiders who are hungry for the rematch.
One thing that game didn't have but will have Saturday is Lynott as cornerback.
"We are super excited for Jake to get back on the field for us, it has been something he has been anxiously awaiting for awhile," McCarty said. "Jake is an awesome player, he will be a big difference maker in our secondary and I think even better then that is Jake is a great leader and a great kid."
In his career as a Falcon, Lynott rushed for 4,129 yards and scored 56 rushing touchdowns. He caught 84 career passes for 1,375 receiving yards and had 14 touchdowns. As a Falcon, Lynott completed 79-of-132 passes for 1,042 yards and nine touchdowns with five interceptions. He returned 20 career punts for 491 yards and four touchdowns and returned 12 career kickoffs for 245 yards and one touchdown. Defensively, he recorded 118.5 career tackles, three tackles for loss, 15 interceptions, two interception returns for touchdowns, had five fumbles recovered and one fumble returned for a touchdown. Offensively, Lynott's combined rushing and receiving yards totaled 5,504 with 70 touchdowns and he accounted for a total of 87 touchdowns in his high school career.
After graduating from West Sioux, Lynott red-shirted his freshman year at Augustana College in Sioux Falls, SD, before transferring a month later to Northwestern. His sophomore year as a Red Raider, he tore his ACL just before the start of the football season.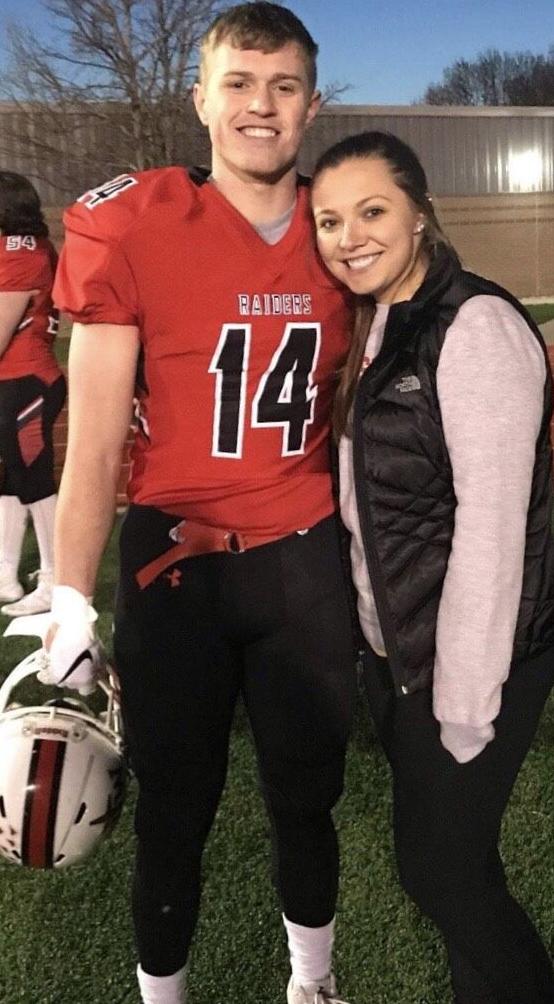 "I am super excited to get back on the field and compete to the best of my abilities," Lynott said. "It would be awesome to see people from West Sioux show up to the game and cheer us on Saturday."
Lynott is in his third year in Northwestern's nursing program with plants to become a nurse practitioner or physician assistant someday.
Darlyn Marquez, former Falcon alum and lineman starts on the defensive line for the Red Raiders and is looking forward to Saturday's game.
Kickoff is 7 p.m. Saturday at Elwood Olsen Stadium in Sioux City.