HAWARDEN—In celebration of Valentine's Day, Friday, Feb. 14, we asked married couples in our coverage area to answer some questions and give some advice on love and marriage.
Each couple was asked their name, age and to give a little history on their love story, how they met, their initial reaction about the other and to give advice they would to readers who could use some marriage advice this Valentine's Day.
Some of the memories brought tears of joy to the couples answering the questions. We hope you enjoy.
John, 57, and Terri, 53, Sabin of Hawarden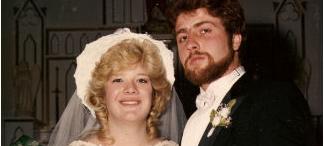 This couple was married on Valentine's Day, Feb. 14, 1987, at Sacred Heart Chapel in Bowie, MD. Terri was 20 and John was 24.
"Being married on Valentine's Day, I have never forgotten my anniversary," John said. "And Terri has only forgotten it three times."
Terri and John met at a friend's house March 23, 1986.
"I told Terri that night I was going to marry her," John said. "She thought I was a horse's &$#. The friends that were in the room heard it from me, I didn't care who knew. Terri was a little more reserved and talked with her parents first."
Today, they have four adult children and five grandchildren. They say the secret to a happy marriage is knowing marriage isn't about perfection.
"If you want perfection, buy a Harlequin romance," John said. "It is the hardest 'job' you'll ever love, something you give 100 percent to every day — to nurture your relationship as it grows. Humor, unconditional love, and never going to bed mad at the other are all things we would advise."
Travis, 32, and Lexy, 25, Osterkamp of Rock Valley
At the ages 30 and 23, respectively, this couple was married Oct. 21, 2017, at the Gazebo in Hawarden. They have been together a total of nine years and have known each other most of their lives.
"Travis and I were neighbors growing up for awhile; we lived on Ninth Street and lived right next door to each other," Lexy said. "Eventually, my mom, sister and I moved to the other side of town. When we started talking, I had just begun my senior year at West Sioux."
It all began with a Facebook message from Travis, who asked if Lexy wanted to "hang out" — "We hung out and then a little while later, went on our first date," Lexy explained. "I gave our relationship three months and he gave it maybe a year. We definitely didn't think it would become anything serious."
Although this couple lives in Rock Valley raising their 4-month-old son, Rhetley LeRoy, their roots are planted in Hawarden where they grew up.
"Communicating with one another and remembering that marriage won't be smooth sailing," is the advice Travis offers to newlyweds. "There are always things that are going to test your marriage, but you need to get through them together."
"My advice is to marry your best friend," Lexy said. "Marry the person that you want to share everything with and feel so comfortable around them. The one that drives you crazy sometimes, but the one who you can't imagine living without. The one who makes you laugh every day and gets you like no one else."
The couple said their marriage works because of four things: communication, honesty, trust and support.
"When times have gotten tough we say our peace, walk away and calm down, but come together again after our space," Lexy said. "When we talk again we hear each other's sides, listen and make sure we're giving what the other person is needing."
Wade, 37, and Sadie, 29, of Hawarden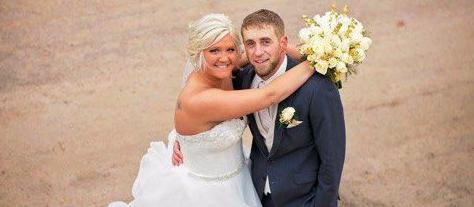 Almost five years of marriage has taught Sadie and Wade how to be patient. The couple got married Dec. 12, 2015, at the American Lutheran church and they're expecting their first child April 3.
"Marriage is not always pretty and telling each other how you're feeling is key to making sure you're both happy and on the same page," Sadie said.
Sadie and Wade met through mutual friends and the first time they hung out was on St. Patrick's Day in 2014. 
"My first reaction to Wade was that he was really quiet and I wasn't sure about him because I'm very loud and outgoing," Sadie said. "But I thought he was very good looking."
"I thought Sadie was beautiful," Wade said. "And I knew she was very outgoing, that attracted me to her."
Nick and Ashley Strong can be credited for hooking up these two lovebirds initially. They were also the first two people who knew the couple were dating because they immediately asked them what they thought of the other after introducing them.
"What has made our marriage work is definitely communicating," Sadie said. "I always let him know when I'm unhappy or sad or happy and we work on making whatever it is better! We also still 'date' each other and that quality time together is so important."
"Being attracted to each other and showing how much we love each other has made us work so well together," Wade said. "Valuing family time and doing date nights are very important to stay connected."
Carl, 34, and Shannon, 30, Baas of Armstrong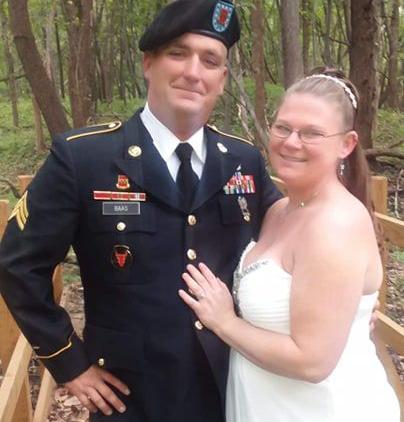 Shannon (Murren) grew up in Hawarden. She married Carl on Sept. 29, 2019, at Trinity Lutheran Church in Hawarden.
The couple met nine years prior in June of 2010 about two weeks before Carl was being deployed to Afghanistan for a year of duty oversees.
"We met from a mutual friend and we went on a double date," Shannon said. "We were planning on going to the movies but the theater was closed so we went and goofed off in Walmart."
When Shannon first met Carl she though he was "handsome" and Carl thought Shannon was "beautiful" this is something that started a relationship that they hope lasts several years. They have two children, Janissa, six, and Teagan who is one year old.
Much like other married couples these fairly newlyweds say marriage takes commitment, loyalty and determination.
"You have to be able to talk about your problems and have the determination to fix the issues," Shannon said. "If one lacks it won't work. Carl and I have had our fair share of issues on both sides, but we both helped each other work through our problems and didn't give up on each other especially when we needed each other the most."
Jaimie, 52, and Christine, 51, Strong of Hawarden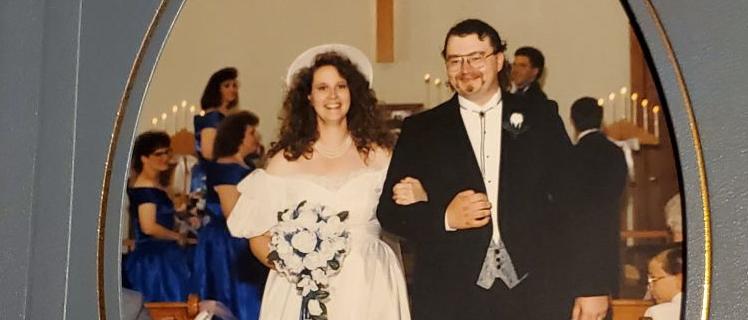 Married in Pleasant Dale, NE on June 6, 1992, Jaimie and Christine Strong believe effort is something that is needed to make a strong marriage and an incredible life with someone.
"We met here in Hawarden at a party at Jaimie's house," Christine said. "I spent most of the night talking to others, we didn't say more than five words to each other. Then we didn't start dating until two years later. On New Years Eve, we were waiting for friends to come out to the car and I turned to him and said 'I love you' for the first time, he just sat there and said nothing. I thought I screwed up, but later that night, he said it back to me and I knew he was the one. That was 30 years ago."
Together the couple have two adult children, Elizabeth and Jacob. As for advice, the couple would tell those looking for love that love is only the start of a relationship.
"It takes work and effort to want to stay together to make a like with someone," Christine said. "Working on communication all the time has made our marriage work. Also wanting to spend time with each other, whether just staying home or going on vacations in the Black Hills."
Jose, 49, and Paola, 39, Rivera of Hawarden

The Riveras were married Dec. 20, 1997, in Mexico and came to Hawarden to provide a "better life" for their three children — Jesus Eduardo, 24, Moisés Antonio, 19, and Andrea Rivera, 17.
Paola was instantly attracted to Jose and she often watched him as he worked next to her mother's house.
"The first time we talked was about six months after looking at each other and I was the first to ask his name and I remember him telling me and I replied 'I like your name' — he was shy but very joking," Paola said. 
Jose didn't think anything about the nerves he felt in his stomach, instead he was flirty and he just joked with Paola from the start. On Sept. 15, 1992, Jose asked Paola to accompany him to her house; that night they made it official as boyfriend and girlfriend.
"We would tell couples that will start a life together that they need to have God in their marriage and a lot of trust," Paola said. "But at the same time, communication and know how to work in love. That they will learn over time."
The couple said their marriage looks like many others because "we have very pleasant moments and very sad moments."
"Our marriage is not perfect but we keep fighting the difficult and it is easier when we both walk the same way," Paola said. "And I always say he is the right person for me because I look old with him, and if you can see the future like that, then he is the right person!"
Bryon, 53, and Jen, 50, Evers of Hawarden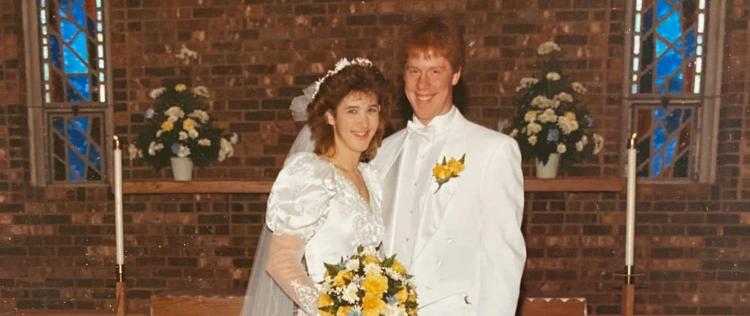 This couple were married Sept. 16, 1989, in Redwood Falls, MN. Though they're not Iowa natives, they've made their home on an acreage in rural Hawarden. They have two adult daughters, Samantha and Danielle.
"We met face to face for the first time at the bowling alley," Jen said. "He was in a bowling league and I was there visiting a friend who was working. He came up to me at talked to me."
That was October 1986. Jen's first reaction to Bryon was "he was tall, redhead and good looking" and Bryon's first reaction of Jen was "she was good looking with a nice butt."
Jen was a senior in high school and went back and told her friends about meeting Bryon at the bowling alley and Bryon told his co-workers, mainly his best friend Rick, who also served as best man at their wedding.
"Do the things that you like to do together, go hangout with alike friends," Jen said as her advice for other couples or newlyweds. "Lean on each other in bad times and good. Have date nights, nothing big or fancy. Celebrate your anniversary date even if it's late. Never be afraid to show your affection to each other even in front of others. Don't complain negatively about the spouse to others in a bad or hurtful way. If you are having problems ask for advice from someone without complaining about spouse. Go to church and pray together regularly but also give yourself time apart from each other."
Bobbie, 35, and Josh, 39, Delibertis of Hudson, SD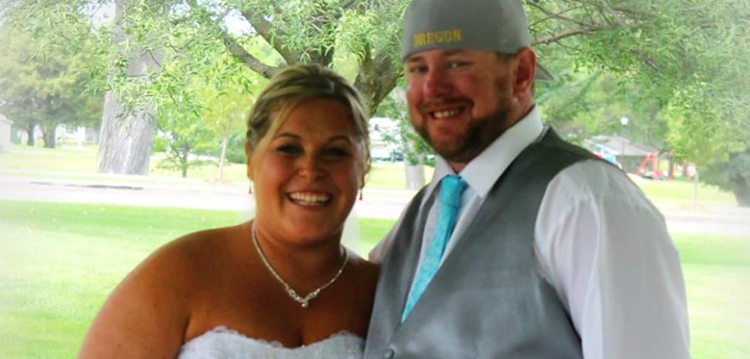 This fun-loving couple began dating online in February of 2015.
"My first reaction was that he was cute and seemed totally cocky," Bobbie said. "But, he was into sports and many other things we have in common. I first told my friends, Bri and Sadie, about him."
"She seemed cool and I liked that she likes sports," Josh said, of his first reactions toward Bobbie.
They said the keys to a happy marriage are to be honest with each other and honest with yourself. Bobbie and Josh were married Aug. 12, 2017. Before their marriage, Josh had three boys, Ethan, 14, Trenton, 12, and Bentley, 10.
"If it feels right, it probably is," Bobbie said. "Who cares if it seems 'crazy' just go for it. Marriage isn't easy, it's not all fun and games, it's not all roses and dates and time spent together — it is tough, it is stressful, it is work — but when you truly love one another, it's totally worth it."
This couple "makes it work" because they said they are forgiving and understand each other. They also believe marriage is 50/50, give and take and it is a compromise. 
"We may not always like each other, but we always love each other," Bobbie said. "We are very sarcastic toward one another, and that makes ours work. Neither of us were raised in a lovey dovey household, so that's all we know. In the end, you look at the other person and realize that's the idiot you want to spend forever with, because they make you better, they make you laugh and they make you feel like you can accomplish anything!" 
Tom, 43, and Roxanne, 44, Cook of Hawarden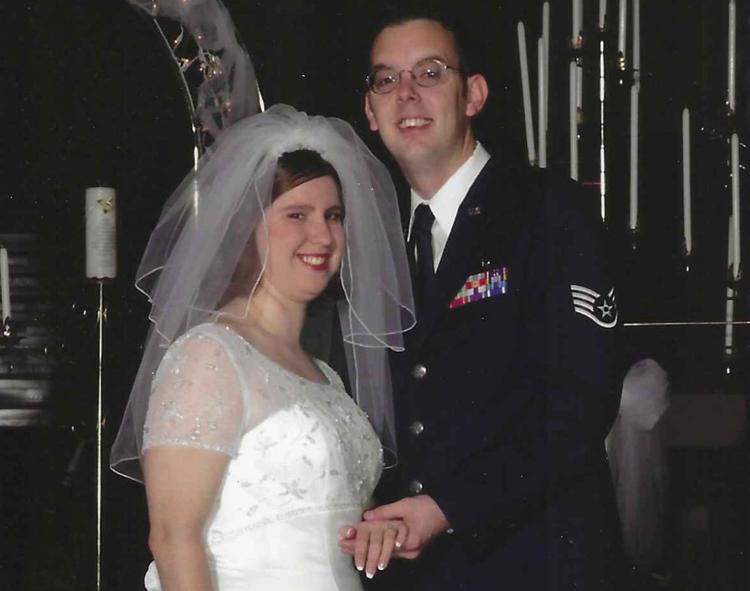 The Cooks met at Tom's sister's wedding in Ozark, MO, in April 2002. They were married a year later on June 28, 2003, also in Ozark, MO.
Roxanne was instantly drawn to Tom's looks in his "Air Force blues." Tom served with the U.S. Air Force at Ft. Meade, MD. The couple had a long distance relationship when they first started dating.
"I had to tell my mom about Tom because I was rarely reachable on the phone because I spent so much time talking to Tom," Roxanne said.
This couple would advise any newly engaged couples that marriage is like a marathon, not a sprint. They believe by working things out and realizing not every day will go perfect their marriage has stayed strong.
"With both having a relationship with Jesus and trying our best to keep him the center of our marriage has been key to get us here today," Tom said. 
"We have been through a lot as a couple — miscarriage, surgeries, cancer, births of kids, moving all around the world, military life, ministry life and so much more — and without Christ we couldn't have gotten through all the ups and downs of life," Roxanne said.
Today the couple devote their time to raising their two sons, Gregory, 12, and Joshua, 10, as well as working with Siouxland Youth for Christ in Sioux County and Hawarden for the past five years.