HAWARDEN—An undeniable fact about the Falcon football team is how often they come up in conversation lately, and rightly so.
West Sioux is 2-0 on the season, seeking to earn a third consecutive state title. Not to mention, senior Kade Lynott broke a record during the team's 47-10 win over Central Lyon/George-Little Rock on Friday, Sept. 6. Lynott, a wide receiver, earned the record with 342 receiving yards which is the most recorded in 11-man and 8-player football in the state of Iowa.
Coming into the season Lynott said he didn't even know what the record was. After the game, head coach Ryan Schwiesow came to him and told him he either broke the record for the most yards in a single game by two or that he was short by two yards — West Sioux activities director Ben Bouza confirmed he had broke it.
"I was really surprised!" Lynott said. "I knew I had a lot in the first half but I didn't know it was that much." 
Lynott grew up running the ball, however, he was placed at the wide-receiver position while his older brother, Jake, had a great career as running back for West Sioux. If Schwiesow had one word he could use to define Lynott it would be "humble."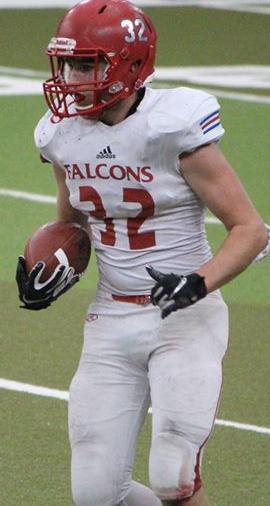 "Kade is a humble kid. He has stayed in his brother's shadow and he is sometimes in Hunter's shadow and Kade is just fine with that," Schwiesow said. "Coaching players that haven't got any playing time at all or don't get the ball because it wasn't what we needed to do to win a game, some kids get mad — I never once seen Kade think he should get the ball more or think he has been overlooked."
Asking Schwiesow where he would like Lynott to go and play after high school, Schwiesow didn't say — rather he said "wherever Kade is happy playing."
Lynott hopes underclassmen see the work he has put in and that others may follow in his footsteps. 
"My advice for younger class men is to participate in as many sports as possible," Lynott said. "Playing wide receiver when Hunter is quarterback is something I haven't taken for granted — he puts the ball on the money no matter where you are on the field."
Hard work is the one thing that coach Schwiesow continues to reiterate about Falcon quarterback Hunter Dekkers and Lynott.
"Everybody thinks they just come out and play, but weight lifting is year round, we do Air Attack Academy all winter long, they did extra training too, when you do those things — you are going to do really well," Schwiesow said. "They are just really naturally gifted on top of the work they do. They deserve it when they put in the work they do."
Dekkers is 1,234 yards away from becoming the Iowa's career leader, he has seven touchdown passes to become the 11-man record holder and nine to have more touchdowns than any player at any lever in state history.
"I think if you asked Hunter if he would rather win the next however many games to win a state championship, or get a career passing record, I know he would say I would rather win the state championship," Schwiesow said. "As far as the records, he will brake them when he brakes them. We will worry about that then. We will just worry about what we need to do to win football games. If they start dropping back, we will run the ball and if we run the ball the whole time to win all the games, we will and he won't get it."
Dekkers is on board with doing whatever it takes to get the third consecutive state football championship.
"This is the ultimate team sport. Kade and Hunter have done a great job of trying to not make it about them, even though the press tries hard to do that," Schwiesow said. "I'll be more excited about a Friday night win and I think these guys will be too."
FRIDAY NIGHT'S GAME:
The offensive line did struggle some during the Friday, Sept. 6, game. Central Lyon ran a three front blitz, according to Schwiesow.
"I don't know if it was we were seeing a different front then what we are used to or the fact that didn't have very good communication upfront," he said. "We are going to look at the film. We are going to figure out what we have to do, mostly it is we have five guys who haven't worked a lot with each other. We will get it fixed."
Another unusual struggle was the special teams. Seven points were given away freely to Central Lyon/George-Little Rock as Kole Telford returned the kickoff 99 yards for a TD.
"We plan on working on special teams a lot more this week in practice," Schwiesow said. "We need to do a better job. I know Jason works really hard, he does a great job for us. I consider him one of the best kickers in Class! A and I think he will be able to extend that into a college career, but sometimes you miss."
Jason Topete missed twice during contest at Central Lyon/George-Little Rock.
"Those things happen. I would rather him miss two in a 47-20 win then in a one or two point loss," Schwiesow said. "Jason does a great job and I have all the confidence in the world that if I have to run him out make a field goal to win the game, that he is going to make it."
As for playing against Sioux Center this week, Schwiesow said this will be the "toughest team" the Falcons have faced yet this season. He's happy the game is home and expects a large crowd for both the Warriors and the Falcons. Game time is 7 p.m. at Eneboe Field in Hawarden.
Before the game, the Falcon Wrestling Club is hosting a tailgate supper at the Hawarden Golf Course. Serving with begin at 5:30 p.m. all Warrior and Falcon fans are welcome.