HAWARDEN—"Look good, feel good, play good" is the motto of Hawarden's newest Central Avenue business.
JnL Athletics held its grand opening Saturday, July 24, at 816 Central Ave. 
"Both Crazy Days and the Grand Opening were excellent," said owner Josh Delibertis. "We had steady traffic and had great response to our items. Special thanks to everyone that came out both days."
Delibertis, 40, takes pride in the customization process his business offers customers. During the grand opening, Jim and Cindi Lynott of Hawarden were JnL's first customers to use the in-store design process to create some custom hoodies.
"He is very talented at what he does and has all the latest technology for customizing the perfect designs," Jim Lynott said. "We were very impressed."
While all customers who came were notable, perhaps the most exciting was Lt. Gov. Adam Gregg who was a high school classmate of his wife, Bobbie. Gregg made time to stop in and make a purchase.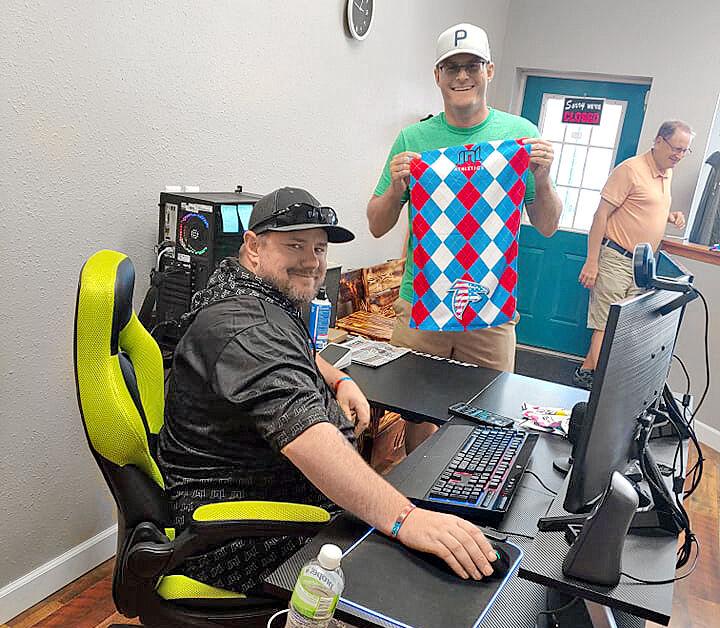 Bobbie is a Hawarden native and the reason JnL Athletics has a home downtown Hawarden.
"I'd like to say I'm a one man show, but Bobbie would say differently," Delibertis said. "For two and half years, the business was all in the basement of our house and she wanted it out, so we searched for a retail location and found the location at 816 Central Avenue, so we jumped on it."
Unlike several of the new businesses in town, JnL Athletics did not utilize the revolving loan fund the city offered as it was not accommodating for their business, according to Delibertis. They reached out for lending through their bank and were able to help open the doors and retrieve inventory as well as other business essentials.
JnL offers printing on items including polos, hoodies, jackets, T-shirts, jerseys, uniforms and more. 
"We are not just a sports apparel company, we also have access to all sorts of baseball and softball equipment like bats, gloves and bags," he said. "So if you're in need of anything, don't hesitate to reach out to us and I'll do my best to find what you need. We are a small company, it's a one man show most of the time, Bobbie helps as much as she can, but we both work full-time jobs, so we can't be open regular hours.
Full dye sublimation is the process used at JnL to fulfill customers orders. During that process, the ink is infused into the fabric using heat and special ink. Embroidery can be done, but it is not done in-house, Delibertis said. 
"We're different from screen printing, our products last longer and again, we can customize anything for anyone — right in front of you," Delibertis said. "So you can tell us right there to change something in the design. It may take a little longer to receive your product since we don't do it in-house, but that's what customization is about, you get what YOU want. We have a variety of items, and if we don't have it, we can most likely get it. No job is too big or too small, so we have no problem creating one of a kind items for our customers."
He said there is nothing better then sending a mock-up to a customer and their first response back is "nailed it" because then he knows he captured what the customer wanted.
"There is a sense of pride when you have satisfied customers, especially when your wife is one of the most complicated customers you have — when you can get one of her designs to her satisfaction, it's a sigh of relief," he said. "There's times I wish she would learn the designing program herself and design her own items, ha. All in all I thank her and I just want to say how excited we are to become a part of the Hawarden community as well as the Chamber and we can't wait to see what the future holds for us."
Hawarden Chamber of Commerce will be hosting a ribbon-cutting ceremony for at JnL Athletics at 10 a.m. Monday, Aug. 2. All are welcome to attend.
BUSINESS PROFILE:
n AT A GLANCE:
Business: JnL Athletics
Owner: Josh Delibertis
Address: 816 Central Ave., Ste B, Hawarden
Hours: By appointment only or follow on Facebook.
Phone: 605-595-2576
Online: www.jnlathletics.com