IRETON—All-terrain vehicles and side-by-sides will be required to register with the city of Ireton, free of charge, in exchange for an identification a sticker if they are ridden within city limits.
The requirement will be effective upon the Ireton City Council's review and approval of the full ATV/UTV ordinance at is next monthly meeting, currently set for 6:30 p.m. June 18.
The council emphasized that everyone caught without a sticker or in violation of Iowa law such as an under age driver, not having a license or not obeying traffic laws will be ticketed. The board understands those in violation have to be caught to be ticketed but encourage the community to get out there phones to take pictures or video and report any misuse of the city ordinance to the Hawarden Police Department.
"There's no grace anymore; it's time to give tickets," said council member Craig Peterson during the council's half-hour discussion at its monthly meeting Monday, May 20. "There was a lot of people here tonight, there was a concern."
About 40 community members attended a half-hour town hall meeting held before the regular city council meeting for the council to gather input concerning disobedience of the city's ATV/UTV ordinance, which has been in place since 2014. Ireton city administrator/clerk Carol Liston has received 27 calls this spring about resident concerns. Hawarden police department has received four calls.
Complains ranged from ATV drivers racing, kids being reckless, drivers riding on property that shouldn't be rode on, riding on the walking trail and one driver having tipped over.
"I just want to give a reminder that Carol or I didn't get a badge when we were sworn in office," said mayor Chris Mueller. "If you see something like that, enforcement of these ordinances goes to the police."
Mueller said with summer on the horizon and school about to end, now is a good time to review the city's policy and hear input.
"We just want to make sure that everybody understands we don't want anybody to get hurt," Mueller said. "This is supposed to be fun thing that the city has but at the same time those who are riding have to understand these rules are in place for a reason. First and foremost it's for safety. Death is tragic and we don't want that to happen to anyone, especially because of recklessness."
Questions were raised about how often the Hawarden Police Department patrols the community. Hawarden police chief Corey Utech told the crowd the department spends more than 40 hours a month at varied times in the community since he started more than a year ago.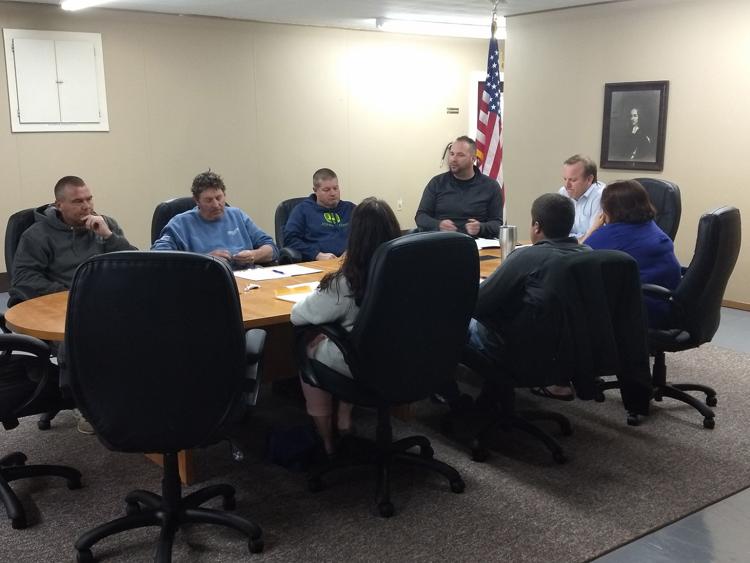 "Everything is in place, all the parameters are there," said Dennis Burns of Ireton. "I think it's up to the room here and the council, the rest of the town to get behind it and find a happy medium. I grew up with dirt bikes, all that stuff. They are fun but when it comes out that something is going to get banned, where do you start where do you stop without full-time police officer in town?"
A total of eight people share their thoughts and concerns.
Utech said his biggest battle is identifying the culprit. He encourages those who file a complaint to take video, a picture or share as much description as possible.
"It's hard when we don't have that because it becomes a tit for tat situation," he said. "When we have evidence of such a thing happening, if you can get a little clip of anything like that going on, we can enforce it better."
"I understand that everybody thinks that writing a ticket fixes everybody but it doesn't," Utech added. "People drive as fast as they can afford."
He said ultimately the owner of the vehicle is responsible for what happens. Whether drivers, especially those underage or parents of those underage, understand that, he's unsure.
"We want to be able to work with the community; we don't want anyone getting hurt," Utech said.