HAWARDEN—FaceTime provided the perfect medium Sunday to connect a veteran with his son who is overseas.
Greg Schumacher of Alcester, SD, who resides at Hillcrest Healthcare and Mica Hill Estates in Hawarden, had the opportunity to talk with his son, Jeffery Schumacher of St. Louis, MO, who is working in Iraq, as an intellegence analyst for the National Geospatial-Intelligence Agency.
"It was just a miracle to be able to get such good contact like that," said Greg's wife, Vivian. "It is amazing."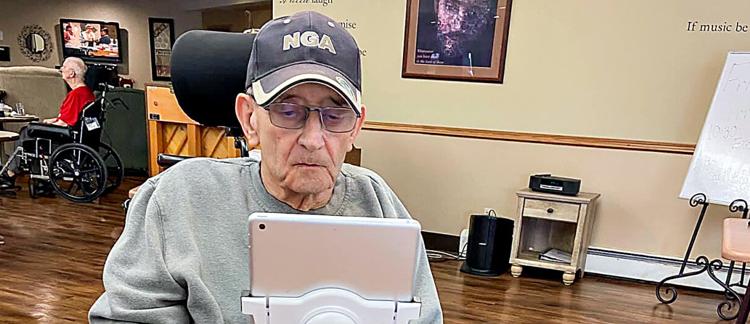 COVID-19 has made visiting Greg nearly impossible. The limited or no social contact with family members has been hard on many care center residents but the Schumacher family is thankful for the time and effort Hillcrest staff are putting in to organize FaceTime visits.
Hillcrest's activity director Lisa Millage and nursing assistant Amanda Dittmer effort helped the father-son duo to see each other from across the world.
"It was really special to get a chance to see dad and visit with him a bit," Schumacher posted to the nursing home's Facebook page after the chat. "It was so good to see that he is receiving such quality care from Hillcrest. A big shout out to the staff and all that put in the hard work necessary every day to keep the residents safe and happy."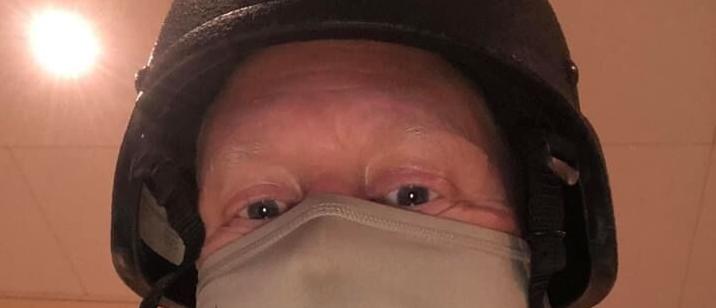 Greg has been a resident since September of 2019.
"Hillcrest has such a great screen. I could tell from the pictures that Greg was able to see Jeffrey and recognize his face," Vivian said. "I feel for the nursing home people and hospital people, all health care workers right now with COVID, it is cruel for everybody. We are all affected in some way. It has been about 250 days since I have had my hands on Greg because we can't get in. This is why I think it is so great that they got this screen and the residents can get a little bit of an idea that there is somebody out there yet that is caring for them and hasn't forgotten them. The staff is doing everything they can to keep things healthy and give the best care they can."
Greg served in the U.S. Army 1958-60. He also is a proud lifetime member of the Alcester VFW Post No. 6149. He and his wife graduated from Alcester High School but they weren't dating while he was in the service.
"It wasn't until he got out of the service that we got serious," Vivian said. "I was in high school. He enlisted right after high school. He enjoyed his time in service, even though he was in Korea for a year … the service was good for him."
Together they have four adult children: Michael, Jeffery, Karla and Helen.