HAWARDEN—Heartland Appliance and Repair in Hawarden is officially under new ownership.
Rob Van Egdom, 40, purchased the business, formerly known as The T.V. and Appliance Shop, from his uncle, Harlan Van Egdom.
The change was marked by a ribbon cutting Monday, July 20.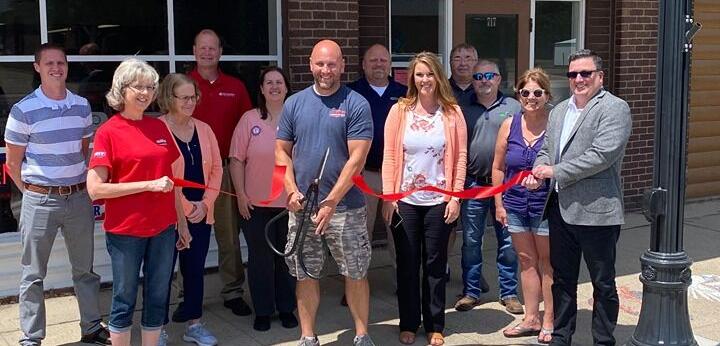 Rob Van Egdom said the Hawarden community supported the original business from the start, helping it be successful today. 
"It is really hard to get a business started from nothing," Van Egdom said. "Harlan already had a good customer base. When we took over in George, that wasn't so much the case. The previous owner had sold 22 appliances over the last year he had been in business, so the following wasn't there on the appliance side. It took five years to get it going, and in year five it took off."
Van Egdom had no intentions of owning a hardware and appliance business at any point in his life. He thought he would be a banker for life, but his father-in-law, Dan Gerber, had other plans. Gerber owns a plumbing company based out of Lester and he asked Van Egdom to go into business with him and his business partner, Dave Roemen.
"I had no experience in hardware," Van Egdom said. "I was not the handiest guy alive, but it was more so like I was thrown into a science experiment. Before I left the bank, I asked if he was sure I should quit the bank."
When his father-in-law said, "I won't let your kids starve," Van Egdom heard all he needed to venture into the business. Together, they have ran Heartland Appliance and Repair in George since Feb. 4, 2014.
He purposely purchased the Hawarden location Feb. 4 because of that. The coronavirus pandemic that reached the area in the spring, however, pushed back the ribbon cutting celebration until now.
Van Egdom said Harlan is planning to work every once in awhile as well.
"People still do come and say, 'Where is Harlan?' And I am sure that will be that way for a long time," Van Egdom said.
The motto of the company is to "show customers that we are going to do what is right, always," Van Egdom said. "What would I expect a retailer or a service company to do in my position? We believe if you treat the customer right, they will be coming back because they know we have their back if something goes wrong."
Heartland Appliance and Repair has three repair guys who fix appliances and stand ready to help customers. The range of the business stretches as far west as Mitchell, SD, east to Spirit Lake and south as Sioux City.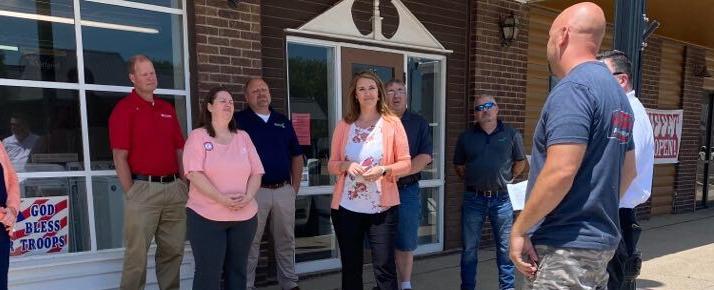 "We run a big area and the repair part of the business has not slowed down at all," Van Egdom said. "What really sets us apart is the fact that we will show you the pricing of the big box stores. At our store, everything the big box stores can do from pricing, to five year protection plans, to zero percent financing, delivery, installation and we add repair on top of it. So customers can call us directly with anything. We can handle anything pertaining to appliance sale or service."
Van Egdom said what also sets his stores apart is their "more personable touch" to they put on their work. Heartland has three office staff who are ready, by the phones, waiting to take customers calls and get appointments scheduled, which Van Egdom said is unique because often after the initial appliance purchase, stores don't offer repair services so it can be hard to find someone to do the job.
Van Egdom is excited about the store's expansion, believing it's "a great investment" for the company and he hopes to continue to see return customers for many years to come.
PROFILES:
AT A GLANCE:
Name: Rob Van Egdom
Position: Co-owner with Dan Gerber and Dave Roemen of Heartland Appliance and Repair in Hawarden and George
Age: 40
Residence: Lester
Education: Graduated from West Lyon High School in 1999; graduated with a degree in business from University of Sioux Falls in 2005.
Family: Wife, Libby; four children, Bodee, 9; Halle, 7; Cooper, 5; and Jovi, 2.
Interests: Spending time with family; football at all levels
BUSINESS PROFILE:
AT A GLANCE:
Business: Heartland Appliance and Repair
Owners: Rob Van Egdom, Dan Gerber and Dave Roemen
Address: 717 Central Ave., Hawarden; 
Hours: 9 a.m.-5:30 p.m. Monday-Friday; 9 a.m.-2 p.m. Saturday
Phone: 712-551-1338
Online: www.heartlandappliance.com; on Facebook at "Heartland Appliance & Repair"