HAWARDEN—Faye Vander Lugt is retiring Friday, May 29, from the Hawarden Post Office.
The 65-year-old Maurice resident said after more than 20 years working for the U.S. Post Office she will miss interacting with her co-workers and her customers the most.
"I enjoy the people that I work with and helping customers," she said. "I will miss the interaction."
In her first eight years working as a postal worker Monday-Saturday, Vander Lugt was not considered a career employee. In March of 2000, she took a career job in Primghar where she would work split days generally. She would work 6:30-8:30 a.m. and then be back 2:30-4:30 p.m. — this schedule lasted a year before Vander Lugt was transferred to LeMars where she worked noon-5 p.m. daily. In April of 2007, she transferred to Hawarden as the full-time clerk.
"Faye has been instrumental in the community and a great valuable asset to the Post Office," said Hawarden Postmaster Douglas Riediger.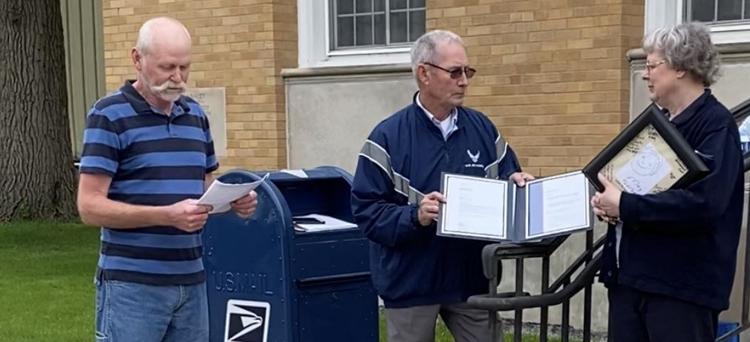 In her career at Hawarden she has completed more than 900 passports a year for local customers. Riediger said counting renewals, she has completed nearly 1,300 a year.
Riediger will most miss the leadership Vander Lugt has brought to the team.
"She is the one that keeps us going forward," he said. "She adapts to change, she provides a stabilizing atmosphere and she is also the one who customers go to first because Faye probably overreacts to find the solution and satisfy the customer."
The years of knowledge Vander Lugt has will be hard to replace in Riediger's opinion. He is thankful to her for the years of service she has put in with a smile on her face each day.
"If you needed anything, just tell Faye and she would spend hours on the computer and find it out for you," co-worker Curt Anderson said. "I wish her the best."
Vander Lugt is looking forward to not having to fill out all the government forms and paperwork nor will she miss the daily checklists she and fellow employees have to complete.
Vander Lugt plans to spend more time with her family in her retirement. She has six grandchildren whom she plans to spoil and a few things on the honey-do list for her husband, Al, to accomplish.
"It was just time to retire," Vander Lugt said. "I plan to garden more, too. I am sure I will still see people around, it's just my time."