HAWARDEN—Sunday, May 10, one Hawarden women is excited to celebrate her first Mother's Day.
Come May 17, Jessi Rehder and her husband, Kevin, will celebrate the one-year anniversary of being a family of four.
"I became a mom later than many and not in the traditional way," said Jessi Rehder, 34. "I don't have biological children, but what I do know is that I love my children just as much as the mother who birthed her babies, the mother who nursed her babies, the mother who grew and carried her babies. I love my adopted children and will go to the ends of the Earth to protect them just like a birth mother would. Our love for them is unconditional."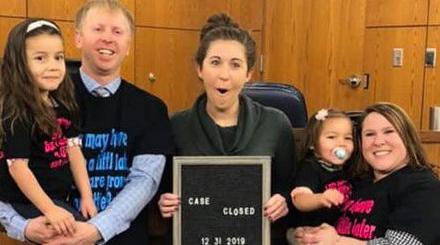 Jessi is mom to two adopted daughters, Blake, 2.5, and Spencer, 3.
Path to parenthood
The Rehders knew they wanted to be parents but initially struggled with infertility. Jessi had surgery to remove a large cyst on an ovary. While in recovery, her doctor mentioned a program she was part of in Sioux Falls, SD, called Safe Families for Children that provides families to temporarily host children and provides a network of support to families in crisis while they get back on their feet.
"Right then in the recovery room, Kevin and I decided to go through the process of getting approved," Jessi said. 
Soon after approval, they cared for a 2-year-old girl and 3-year-old boy.
"It was a great first experience as a SFFC host," Jessi said. "We wanted to do more and loved having the children in our home so we decided to get into foster care."
While taking those foster care classes, the Rehders received a text through SFFC for a "middle home" for two toddlers who the birth mother wanted to have adopted and find a family. 
"It was going to be a longer hosting," Rehder explained. "We had a trip coming up the next month so right away our selfishness told us we shouldn't volunteer. Moments later I remembered something someone very wise said to me: 'Don't let having a child interfere with what God wants you to be doing' — in that moment I realized we can take these children and love them until they went to an adoptive home."
The night they made that decision was also the night Jessi met her children.
"For the first time in my life I can say I saw love at first sight and I had no idea what the future held," she said.
Eleven days later — on May 17, 2019 — the girls went to live with Kevin and Jessi. Their families fell in love instantly just as mom and dad did and the couple talked openly about if the opportunity arose that they would be able to adopt the girls, they would.
"We were told it would be very unlikely for us to adopt them because we weren't native, we didn't live in South Dakota, we weren't an approved adopted family," Rehder said. "At one point the birth mother was considering parenting them but one evening we learned she signed forms to move forward with adoption. Kevin and I quickly became cautiously optimistic, which came to a halt minutes later after learning the birth mother had a family picked out for the girls. We were so disappointed, we knew that family couldn't be ours because we never talked adoption with the birth mother."
The following morning the Rehders received an expected but thrilling phone call asking if they would have any interest in adopting the girls. The Rehder's said "yes" without hesitation.
Roller coaster ride
It was a process far from simple. July, September and August was a roller-coaster ride of emotions as they waited for birthparents to make their final decisions. By Nov. 6, 2019, all three of the biological parents terminated their rights. The Redher family celebrated by going out for dinner and taking the kids to the trampoline park.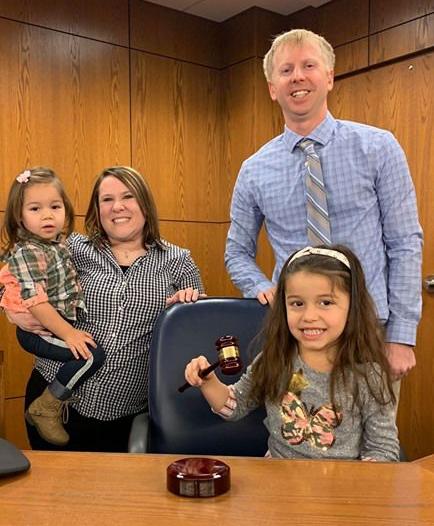 "Our attorney was determined to have the adoption finalized by the end of the year," Rehder said. "By the grace of God we adopted our beautiful little Rehder girls on Dec. 31, 2019. We had so much support from our families that day. I am still in awe of everyone who showed up. From day one we were told that we would be supported. Not then and not now has anyone ever treated our children any different from they treat the other grandchildren, nieces, cousins."
Through it all Jessi knows God had a plan and she remains grateful to Morgan Jarding, the adoption representative from Bethany Christian Services, for walking them through the entire process. Just like in these unprecedented times families are finding themselves living in today during the coronavirus pandemic.
"I am grateful I am able to stay home with the girls during COVID-19, but I will be honest the first few weeks were very challenging," Jessi said. "We didn't have a routine or anywhere to be and we are very social people. Staying home and not being able to go anywhere was very difficult but then we got into a routine and are now finding our new normal.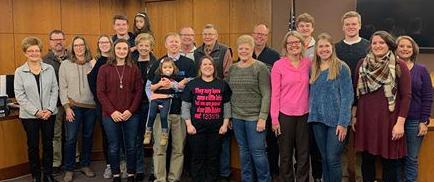 One of the biggest challenges this mom has faced is explaining to her young daughter why they can't go to day care and see their friends or why they can't go grocery shopping or play at the parks.
Three things that have stayed the same for the Rehders are nightly family suppers, being outside and enjoying the fresh air while staying socially distant. 
Jessi more so is grateful for the extra time they have together as a family because of the pandemic.
"Advice to other mothers that I would give is to not beat yourself up," Rehder said. "We are all doing the best we can during a pandemic or when life is normal. Our babies are different from every other child and even very different from their siblings. I have learned that if it works for our family but not yours, that's OK! I know often times as mothers we feel we are failing our children but I look at how my children treat others and look at their kind hearts, compassion and loving personalities, I then realize I must be doing something right. When my little one reaches her tiny hand from under the blanket to touch my face and says 'I love you momma' or my three year old telling me 'you're the best mommy to us.' Those are the moments that make the tough parts of parenting worth it."