HAWARDEN—Hawarden Regional Healthcare has tested 153 people as of today, (Monday, June 1), for the novel coronavirus, resulting in 132 negative cases and 20 positive cases. There is one test pending. At this time, HRH reported there is no one admitted in the hospital due to COVID-19.
Also as of Monday, a total of 1,395 in Sioux County have been tested for the coronavirus with 282 positive tests and 129 who have recovered from the virus. There's also been no deaths.
HRH staff want to be sure residents in Hawarden and the surrounding communities are aware of the different options available for testing.
"All nasopharyngeal swabs taken at HRH are sent on to the state hygienic laboratory or Sanford Health laboratory, which usually takes two or three days to get results back," said lab manager Shaun Hoogendoorn. "HRH is testing potential COVID-19 people at our Hawarden clinic by offering a telemedicine appointment with a provider followed by a drive-up environment to collect the nasopharyngeal swab. By doing this, we are able to keep the testing efficient and minimize the exposure to the clinic environment."
Its Ireton and Akron clinics remain open with telehealth and on-site visits available. However, all COVID-19 testing is done at the Hawarden clinic.
"We take our patients' health seriously and know how important it is to connect with your provider," said HRH clinic manager Mellany Risdal. "We have taken many steps to make sure your visit is safe. If you've put off any needed health care, any maintenance or preventive health care, children immunizations, or screening exams that you should be getting done, please call your physician's clinic to schedule these things." 
HRH is following the guidelines put in place by Iowa Department of Public Health and the Centers for Disease Control for those entering the hospital. That means they are screened for symptoms of the virus, including having their temperatures taken, sanitizing their hands and putting on a face mask before answering a series of questions. A band is placed on the wrist of the patient indicating they have been cleared before they may continue on through the hospital. Those who do not pass the screening are helped with scheduling an appointment with their primary care provider and are asked to return to their vehicle.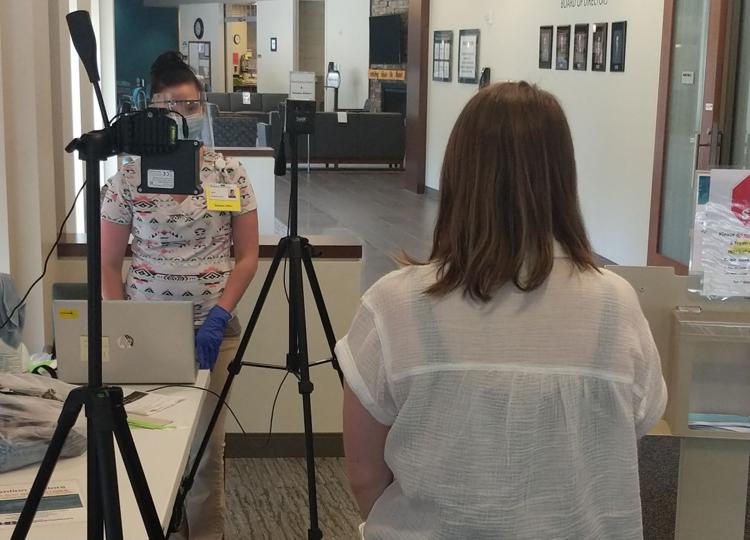 Employees are instructed to stay home if they have any COVID-19 symptoms. All employees and patients are instructed to practice social distancing while in HRH facilities.
"Thanks to the social distancing and good hygiene efforts we are seeing a decline in the curve but people may have no symptoms and still test positive, so it is important to continue to follow the social distancing guidelines," said HRH CEO Jayson Pullman.
Visitors are not allowed for hospital patients at this time.
"Our goal is to allow visitors back into the facility but in order for that to happen, we need to see declining numbers of active cases of COVID-19 in the surrounding communities and the region we serve," said Chris Mueller, director of patient care. "Until we see a decrease in Sioux County, we will continue visitor restrictions to ensure the health and safety of our employees and patients first." 
More precautions
 All patient-facing health care personnel wear surgical masks and all other employees and visitors are wearing cloth masks.
 Waiting rooms are set up to practice social distancing.
 All health care personnel follow CDC recommendations, including frequent hand hygiene, social distancing, and surface cleaning and disinfection.
 HRH has implemented pre-surgical testing and screening for COVID-19 for anyone having a surgical procedure.
 HRH has restricted all visitors but encourage phone calls and video chats to stay connected to your loved ones.
Social Distancing Guidelines
 Stay home if you or anyone in your home has any symptoms of illness
n Maintain a distance of six feet from others
 Clean your hands often
 Cover your coughs and sneezes
 Clean and disinfect frequently touched surfaces
 Wear a cloth face mask if you are out in public and cannot maintain a six foot distance from others.
If you have general questions on COVID-19, dial 2-1-1. For the latest CDC guidelines, visit www.cdc.gov/coronavirus/2019-ncov/.