HAWARDEN—Visitor restrictions are back on at Hawarden Regional Healthcare and CEO Jayson Pullman is calling on citizens in Sioux County to do their part to help stop the spread of COVID-19. 
Hawarden Regional Healthcare, as of today (Thursday, Sept. 24) has tested a total of 796 people with 662 negative results, 90 positive and 44 pending.
"Sioux County is a hot spot in the state of Iowa and we are trying to work collaboratively with the education system in Sioux County," Pullman said, during the Hawarden Chamber of Commerce Chamber Coffee hosted at the Hawarden Community Center by the hosptial.
"I would like to say there is a rosy picture, but unfortunately I cannot say that."
Pullman added the Sioux County hospitals, along with administration from Sioux County schools will be meeting at 7:05 a.m. Friday, Sept. 25, to discuss a plan to help lessen the spread of the virus.
"We are going to take a pretty proactive stance tomorrow," Pullman said. "We are going to kind of make some firm suggestions. Again, we are not in control of the school systems but we believe that it is our job to effectively communicate to the school systems what we are seeing on the ground. We have to do something different because it's not working."
Pullman went on to explain how he has never seen anything like this and confirmed there are positive cases being treated at Hawarden Regional Healthcare currently. He also said hospitals in Sioux Falls, SD, are no longer accepting outside COVID admissions.
Pullman explained the spectrum of COVID-19 and the symptoms people are having is huge in variety. Some have no symptoms, some feel like they have a cold, others have flu-like symptoms and diarrhea. 
"We are starting to see a huge uptick of COVID-19 in our area and of course it is affecting our school systems and health care systems in Sioux County," Pullman said. "Thirteen percent of the population is running around with no symptoms and are COVID positive. I don't want to instill fear in anybody but I just caution people as we go out in public that we are taking the precautions because it's getting real in Sioux County."
Testing is available at Hawarden Regional Healthcare clinic, however, the time it takes to get the results back has doubled in the last week. Pullman said results were coming back within 24 hours and now some cases have taken four-five days to get back. Pullman said due to the uptick in cases, they are experiencing staffing shortages which is causing challenges for the hospital. The West Sioux School District also has expressed staffing shortages as of late.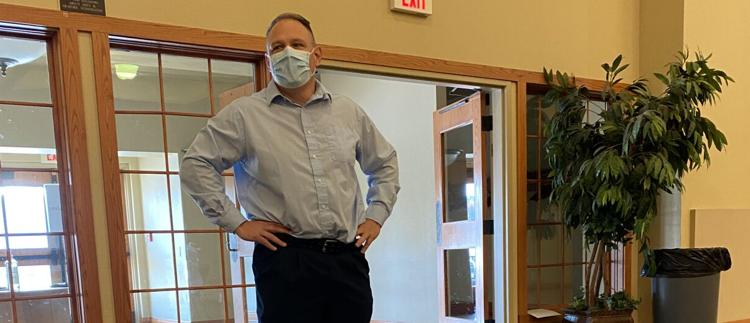 "It is really an intense situation right now," he said. "I encourage everyone to wear masks in and around places, I have changed my practices. We used to be a little bit lackadaisical, but it is really prevalent in Sioux County so just encouraging everyone to wear their masks if they are out and about."
Pullman told those in attendance at that chamber coffee that the two negative pressure rooms at Hawarden Regional Healthcare are occupied currently with COVID-19 patients. He explained that during the new construction of the hospital, one room was designed as a negative pressure room but said the hope was to never have to use it. Staff was able to design another one due to the increasing need.
While the West Sioux School District has reported low illness absentee rates among students, teacher absent rates have not been reported due to confidentiality. Several families have reported having students in quarantine because of exposure or possible exposure to a positive case.
"We could be in a situation if we don't do something now," Pullman said. "We want schools to continue, that is our goal and we want kids to be productive and have a social environment. It is difficult to manage, but we need to communicate."
This story has been modified to clarify a statement from Pullman.