HAWARDEN—The city of Hawarden hired Larry Cope, 49, to fill the new economic development director role. 
Cope was one of 23 applicants for the position. His first day on the job was Monday, June 3.
Cope has held that job title in cities and counties in California and Kansas for the past 23 years. He worked in Holton, KS, before moving to Hawarden.
"I am hoping the many years of experience made me stand out," Cope said about the interview process. "The 'outside of the box' kind of thinker I tend to be is what I think also made me stand out. I have served on a number of local, regional and statewide boards, whether it was in Kansas of California and I bring that knowledge back to the community I am serving. I plan to use that knowledge to help the city of Hawarden grow."
"I love to train other economic development professionals through regional and national organizations as a way to give back to my profession," Cope said. "But, it's not all about teaching others, you learn things as well. Just because an idea works in one community, it might not work here in Hawarden."
Cope is passionate about his profession. Sometimes, he admits, that can be a weakness, but it is never something he is ashamed of. He believes creating jobs and helping businesses grow and retain employees are keys to success in any town. He will strive to help Hawarden in that area first and foremost.
"I think Hawarden has a number of things going for it," Cope said, noting he brings a "fresh perspective" to the town.
How it all began
Cope the youngest of five children, is no stranger to what it takes to run a business.
His father worked in the corporate world of hotel chains and focused on what it took to make his division or his hotel run successfully. Cope learned quickly the ropes of what a successful business looks like from a very early age helping his family run business and entering the workforce in is early to mid-teens.
While helping his family run a business in Kansas, Cope met his wife of 26 years, Kimberly. During this time he started to give back to the community by being a trainer for the Kansas University Small Business Development Center (SBDC). That position lead him to his first position as an economic development professional in 1996. He has held that title in various places since.
Key components
Business retention and entrepreneurship, housing, workforce, tourism and partnerships with other entities are key components to a thriving economy, Cope said.
"I am hoping to have people come in and say, 'Hey, I want to open a business,'then once we go through a discovery and assistance process to ensure they are ready to open for business, that is our next new business in town," Cope said. "I think we have an unique opportunity at this time with what the city is doing with downtown."
In his first weeks, Cope plans on making connections by visiting with business owners as well as listening to the citizens and figuring out what the community wants.
"I have done research, reading the news, trying to see what are the big issues in Hawarden," Cope said. "My biggest strength that I hope people see from the start is my personality. I am open, engaging, willing to listen and willing to take their ideas and truly work for the people who reside here."
Why Hawarden?
Cope and his wife have family living in the northeast Kansas area so Hawarden met the first criteria of being semi-close to family.
Cope also wanted to work somewhere rural. 
"I've tried doing economic development in larger communities in the [San Francisco] Bay area and it was fine, but I have found my niche is truly rural," Cope said. 
Thirdly, the couple is more cold weather than warm weather people.
"We started looking to the north," he said. "I grew up in eastern Colorado , including Denver, western Nebraska and various other locations around the United States. A majority of my wife's family and some of my family grew up and still live in north eastern Kansas, Hawarden reminds us of many of those communities. What I will find interesting about this job, though, is this is the first time I have worked where the river is part of the community, as well as state line."
Cope said that does provide some challenges when it comes to economic development. "We have to see what our pluses and minuses are, and what theirs (communities across the state line in South Dakota) are, because we are going to be competing for jobs and investments with those communities right over the state line," he said.
Final thoughts
Cope encourages people to stop by and introduce themselves at his office in the city office building at 1150 Central Avenue. 
"If I am not here at the office, I am more than likely out visiting with other business people or citizens," Cope said. "Call me, e-mail me, leave a note — I would love to talk to you."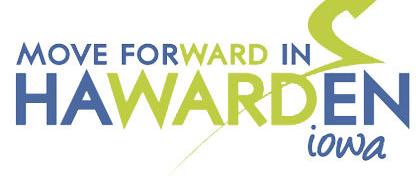 Cope may be reached by calling 712-551-4402 or by email at larryc@cityofhawarden.com.