HAWARDEN—Hawarden Fire and Rescue will celebrate its 129th Annual Fireman's Ball on Saturday, Jan. 30. The event, open to public, begins at 8:30 p.m. at the Hawarden Eagles Club.
There will also be a gun raffle at 10 p.m.
"This is our annual fundraiser to help with annual cost of training and up keep," said Hawarden fire chief Duane Schiefen. "Thanks to all who have donated in the past and those of you who continue to support Hawarden Fire and Rescue."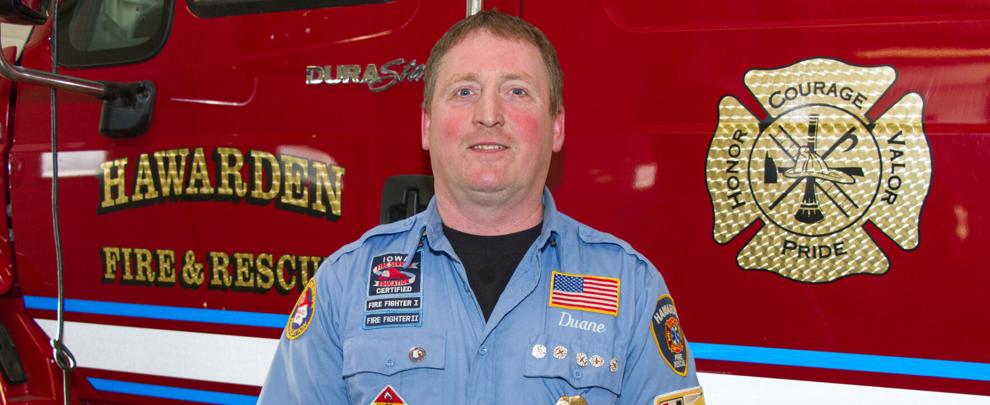 The year 2020 was an "exceptionally unusual" year dealing with COVID-19 for the fire and rescue squads. According to Schiefen, they responded to a total of 91 calls ranging from fire alarms, vehicle accidents, structure fires, grass/field fires and one accident that hit home with a fellow firefighting brother being involved.
Being this is the only fundraiser the department does, Schiefen is hoping the community continues to support them as they have in the past.
"We continue to stay on top of training so we can continue to provide fire protection and safety to our community," Schiefen said.
Thirty-one full-time firefighters and four students make up the squad.
Before opening the ball up to the public, volunteers on the department and their significant others will enjoy a meal and short presentation. The 129th Annual Fireman of the Year award will also be given along with the years of service ceremony. Following tradition, the chief will read the Fireman's Prayer:
"When I am called to duty, God; Wherever flames may rage, give me the strength to save some life, whatever be its age. Help me embrace a little child, before it is too late, or save an older person from the horror of the fate. Enable me to be alert and hear the weakest shout, and quickly and efficiently to put the fire out. I want to fill my calling and to give the best in me, to guard my every neighbor and protect their property. And if according to your will, I have to lose my life, please bless with your protecting hand, my children and my wife." — Author Unknown
Anyone wanting to make a donation can send it to Hawarden Fire and Rescue at 1150 Central Ave. but more so Schiefen and the squad would love to see you in attendance Saturday night.