IRETON—The West Sioux Falcon softball team will face Western Christian at 5 p.m. Wednesday, July 10, in Sioux Center to begin its quest for a trip to the state tournament in a Class 2A Regional Quarter-Final matchup.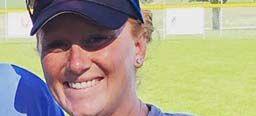 The Falcons are coached by Kaitlyn Lockhorst. Assisting her in the coaching duties are Ryan Schwiesow and Tim McKenney.
Punching their ticket to the state tournament will not be an easy task, however, Lockhorst thinks this could be the season her team goes all the way. The team motto this season has been "All In," meaning each day doing something to keep striving to reach the goal, never quitting.
"'All In' is what we have focused on this year," Lockhorst said. "The past few years we have struggled staying 'all in' all the way to the end. Whether that's attitudes or just wanting to be done, we are not having any of that this year. In our lifting workouts earlier this year, we really focused on keeping each other accountable and being able to be all in, not just here or there, but all in all the time. The support and love these girls give to each other is just way different this year. We've had a lot of positive feedback and it's good to see them grow as a family and be all In together to achieve one goal."
Another key component — that Lockhorst hopes carries her team to the finals — is the amount of fight and determination each person on the squad has.
"The girls have done so well with this all year and it's time to really grit down and take care of business," Lockhorst said. "It's time to clear the minds of what has happened in regular season and mental focus on what is yet to come."
First, the Falcons will need to get by Western Christian. To do so, Lockhorst said the Falcons will need to play tough defense and be prepared for aggressive base running.
"Other then that they play defense well and we just need to put the ball in play and be aggressive on the base paths," she said.
This year's team has the experience of playing softball together for several years and Lockhorst thinks that experience is one of its greatest strengths. 
"These girls have played together for so long and know each other and the game," Lockhorst said. "We have great offense and defense we just need to mentally focus in and get the job done with few/no errors. They just need to come out and play their game the rest will come. We need to be able to finish every inning and not let up until the game is over. The girls are wanting it bad and I hope it shows tonight."
Lockhorst wants the team to go out and play their hearts out while remembering to have some fun too.
"The work, dedication, time, sweat, tears, laughs, smiles, everything you've put into this game, do it for those. Play your game and show the world who you are."
In closing, Lockhorst says she can't say thank you enough to the team's supporters.
"The girls really appreciate the community behind them and the fans that support them through it all," she said. "They do it for the love of the game, but also for the West Sioux community and they are proud to be part of this team. So thank you fans for always being there!"
Game time, again, is 5 p.m. in Sioux Center.