HAWARDEN—While the horses are the main spectacle of the Kentucky Derby, the wide variety of unique hats worn during the early May event sometimes steal the show.
It was a different horse race that led to Candace Long forming her own custom hat company in Hawarden with business partner Chelsea Crumes — Double C Lids at a lot at 814 Central Ave. The shop, which includes a hat bar, offers personalized hats, wild rags and earrings and holds private parties and classes.
It could be a hot spot to purchase your Kentucky Derby hat for next year.
Long got the idea because of a family trip to the Montpelier Hunt Races, which are held at the site of former President James Madison's home in Montpelier Station, VA. She needed a hat but after looking at options online, she wasn't pleased with the selections.
So Long decided to make a hat for herself and a few family members.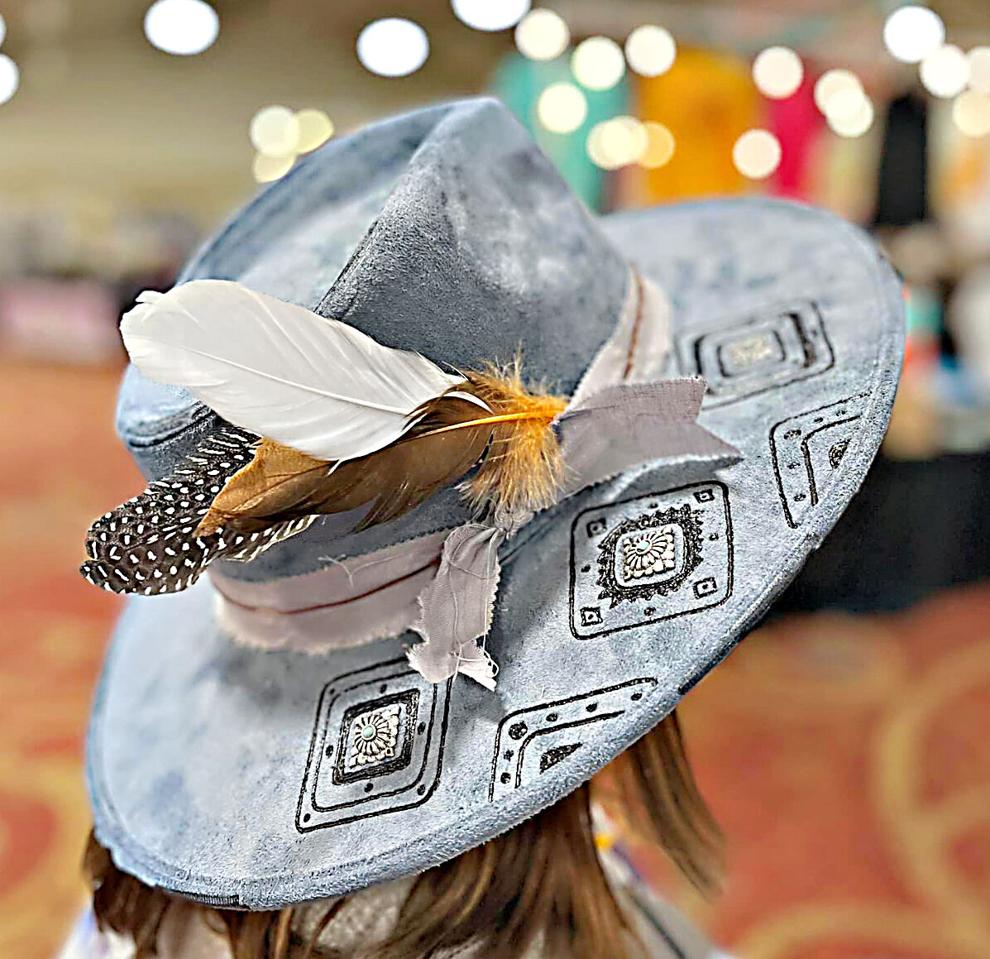 "People loved them," Long said. "I was asked to make a few hats around town and needed supplies. I invited Chelsea Crumes, my business partner, to join me for a parts run. While Chelsea and I were shopping, she suggested we should start a business making hats and call it Double C Lids and I said 'Yes, we freaking should.' Then we were on the fast track to designing."
Crumes gets credit for the name but the operation has been a duo effort by both as they started planning in November. The official start of Double C Lids was Jan. 1 and the boutique has been present at several vendor fairs this year, which Long said have "gone fabulously."
Long said Crumes brings an extra creative mind to the business and helps manage the challenges of figuring out event setups and looking for ways to improve the process to create the best experience possible for the clients.
Both women admit they love everything and anything that can add decoration to a hat — burning, painting, distressing, broaches, cards, flowers, feathers or colored bands. The two have found accessories at antique stores and enjoy finding old jewelry for their shop.
"We take pride in offering limited numbers of duplicate accessories to truly make every hat one of a kind. That's my favorite part of it all," Long said. "We want to give customers of all kinds a way to feel good in their bodies and show off. Women, men and kids light up when they finish a hat and wear it for the first time. That is why everyone needs a custom hat or two. Hats just make you smile and feel good about how you look. And yes, people will stare because they want one too. Plus, we never worry about bad hair days. Just throw on a hat."
The two owners enjoy wearing hats because they believe they are fun, playful and stylish. They often wear hats with a T-shirt and jeans and express to customers that hats can dress up any outfit and that you can wear it however you please. There is no right or wrong way to fashion or wear a custom hat, according to Crumes.
Double C Lids has an Etsy shop at doubleclids.esty.com that anyone can put down a deposit for to have custom hat made. The woman contact you and arrange how it would work best to complete the project.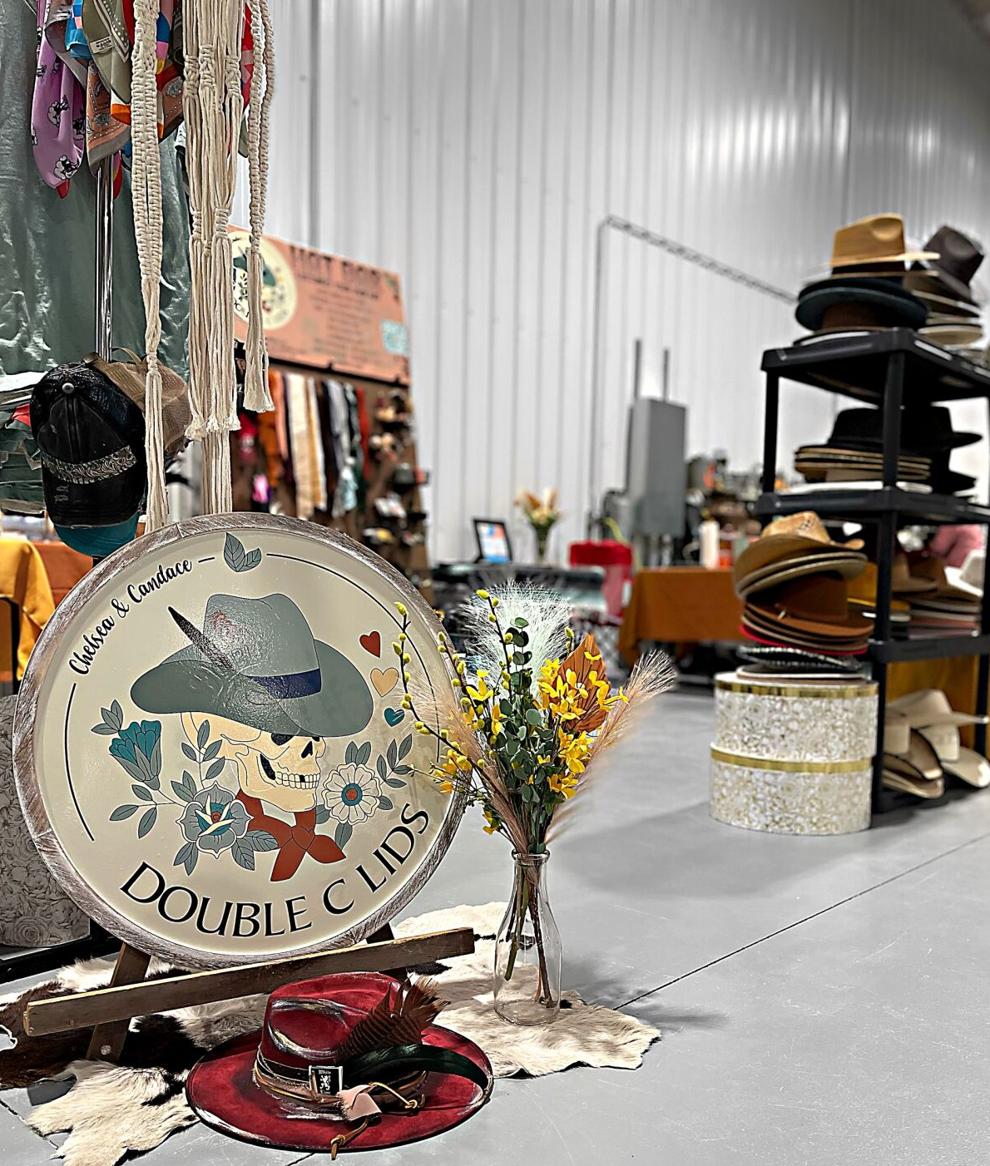 "Technology has helped to make hats for people from all over," Long said. "People can also follow our social media for information about hat bar events coming up in the future. At hat bars, we provide blank hats and all the accessories to customize. We will be right by our side the whole way offering as much help as you'd like to make the perfect hat. Anyone can do anything. Be true to yourself. Work hard. Play harder. Follow your heart, listen to your gut and take risks."
One of the hats the two had the most fun designing an odd request from a gentleman wanting a hat to use while promoting wrestling events. The customer wanted to be quirky and stand out from the crowd. By the time he was done at Double C Lids, he left with a straw cowboy hat decked out in pink.
Wide brim boho style or Western style hats are in style and Long and Crumes love to wear Western fashion every chance they get so designing hats just made sense for both of them.
"The only problem is, we want to keep them all," Long said.
It's not the first fashion business for Long as she owns cal shirt co. in Hudson, SD. Due to her ventures with the two companies, Long is up for the entrepreneur award for the Best of N'West Iowa contest.
Long said the business mentality runs in her family since her parents, Rick and Anita Long, have always encouraged her brothers and her to do whatever their hearts desire and make themselves happy.
"They taught us to have big goals and stay determined to achieve whatever success may look like to us," she said. "I have the best role models and truly the most amazing support system."
Long has a passion for business management and strategic planning and eventually would love to go back to school and be the person you call to come in and improve your processes to elevate the business to the next level. She said she enjoys making people happy as much as she possible can.
"I have ideas all day, every day," Long said. "I have notes everywhere about what would be fun to do next. When I grow up, my business structure will purely be to help others grow and improve as entrepreneurs. Everyone deserves a chance at the American dream."
For now, Double C Lids will keep making the hat dreams of their customers come true. They are looking forward to growing their business and embracing the challenges that may arise.
"We have a few opportunities in the future to, hopefully, outfit some pretty cool people for fun events and we're kind of geeking out about that," Long said. "Double C Lids at the Kentucky Derby would definitely feel like making it big."
AT A GLANCE:
Business: Double C Lids
Owner: Chelsea Crumes and Candace Long
Address: 814 Central Ave., Hawarden
Hours: By appointment
Websites: https://dot.cards/doubleclids or doubleclids.esty.com
Socials: @doubleclids