HAWARDEN—West Sioux senior basketball star Bryce Coppock came to Falcon Nation when his mother, Alynn Coppock, took on the high school/middle school principal position at the start of the 2019-20 school year. 
Coppock came from Newell Fonda where he had an impressive basketball career that he continued at West Sioux, being part of the Falcons first-ever trip to the state tournament.
Coppock finds enjoyment whenever he hits the hardwood.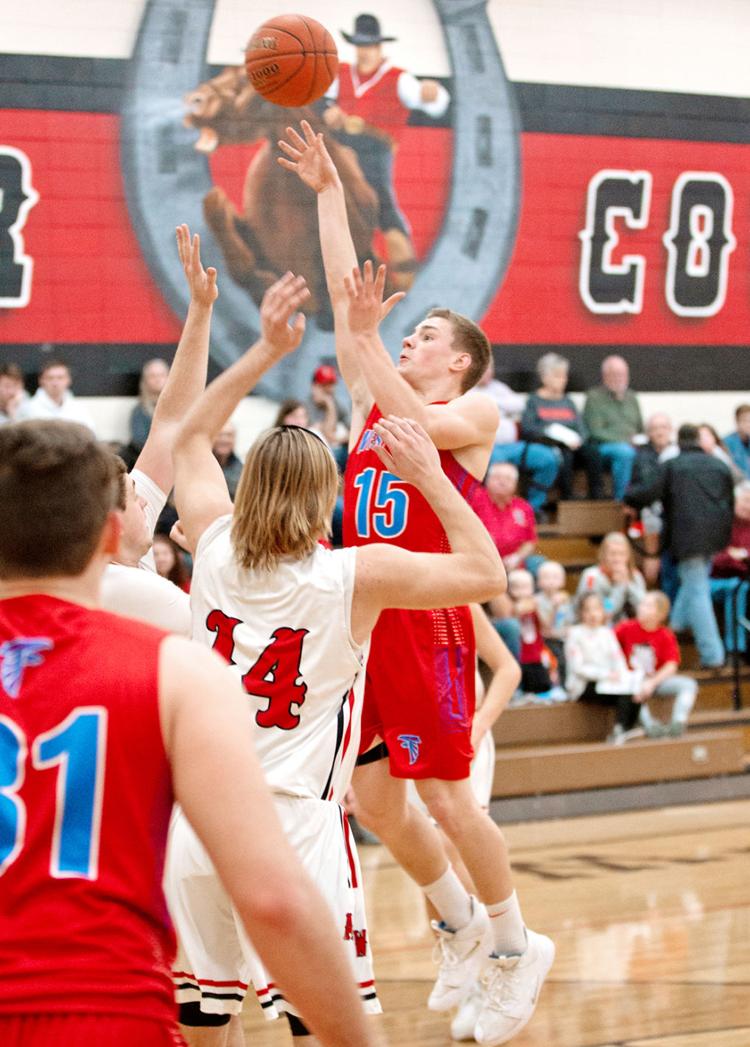 "I enjoy basketball simply because of the joy I have for the game," Coppock said. "It is something I have gotten really good at and I enjoy playing basketball more than just about anything."
He recently announced through Twitter he has made the decision to play basketball and continue his academics at Dordt University in Sioux Center.
The coaching staff at Dordt was a deciding factor for Coppock, adding he has a "great" relationship with them. He also likes the support the team seems to get from the community and those residing in Sioux Center.
"I really have one goal right now at Dordt, that is to win a national championship," he said. "If we can take care of that as a team, all of the individual awards and accolades will take care of themselves. This was a big reason I chose Dordt because I feel it is a realistic goal that, as a team, we can accomplish."
Basketball has taught Coppock that anything can be achieved through hard work and dedication. Coppock ended his career and hard work as a Falcon with 2,207 total career points and averaged 22.8 points per game.
His parents, Shad and Alynn Coppock, along with his siblings Mason and Jenna Coppock are happy with his choice to continue playing as a Defender and will be cheering him on to that hopeful national championship.
More Stats:
Freshman: 24 games, 70-163 2pt FG, 52-131 3pt FG, 94-126 FT, 390 points, 16.3 ppg, 77 rebounds, 3.2 rpg, 109 assists, 41 steals, 4 blocks
Sophomore: 24 games, 121-238 2pt, 43-133 3pt, 153-204 FT, 526 points, 21.9 ppg, 103 rebounds, 4.3 rpg, 98 assists, 54 steals, 12 blocks
Junior: 24 games, 155-286 2pt, 72-173 3pt, 150-197 FT, 676 points, 28.2 ppg, 110 rebounds, 4.6 rpg, 98 assists, 69 steals, 13 blocked shots
Senior: 25 games, 177-277 2pt, 54-140 3pt, 99-125 FT, 615 points, 24.6 ppg, 98 rebounds, 3.9 rpg, 110 assists, 73 steals, 5 blocks
Career totals: 97 games, 523-964 2pt, 221-577 3pt, 496-652 FT, 2,207 points, 22.8 points per game, 388 rebounds, 4.0 rpg, 415 assists, 4.3 apg, 237 steals, 2.4 spg, 34 blocks