IRETON—West Sioux junior Meraya Barrera should be on the bus headed to the Class 2A State Cross Country meet in Fort Dodge, but instead she is home sick with COVID-19.
"I came down with COVID and very low oxygen, and now I'm not even able to attend," Barrera said. "I've been very sad and believe I gave up on myself, but I had to tell myself I never asked to be sick. Next year I hope to come back stronger and better to get the opportunity again."
The 17-year-old Barrera of Ireton, finished 14th with a time of 21:38 to earn her place in the Class 2A state meet that is scheduled for Saturday, Oct. 31. 
"I am proud of how hard she worked this year," cross country coach Ashley Hoegh said. "She had a great season and qualified for state, which not many can say."
Barrera had a goal at the start of the season to place at one meet; her goal was accomplished as she placed at every meet she competed in. But punching her ticket to the state meet wasn't something Barrera ever even imagined she could do. When she realized she had done it in Orange City at the state-qualifying meet Thursday, Oct. 22, the first person she went to was her mom, Misti.
"I never gave it a thought about going to state because I didn't think I could," Barrera said. "I ran next to a girl from Okoboji and we pushed each other. I was super pumped, the first thing I did was run to my mom and said 'I did it!'"
Barrera says her parents and her brothers are her biggest supporters and have always been there for her, pushing her with positive words and being at her meets. As far as her coach, she says she is "probably the best coach" she has ever had and joked that she even loves her on the days she makes Barrera run more than everyone else on the team.
Although not being able to compete at state due to COVID-19, this is most certainly not Barrera's first time facing adversity. In fact, in 2017, Barrera was diagnosed with Amplified Musculoskeletal Pain Syndrome and was unable to run.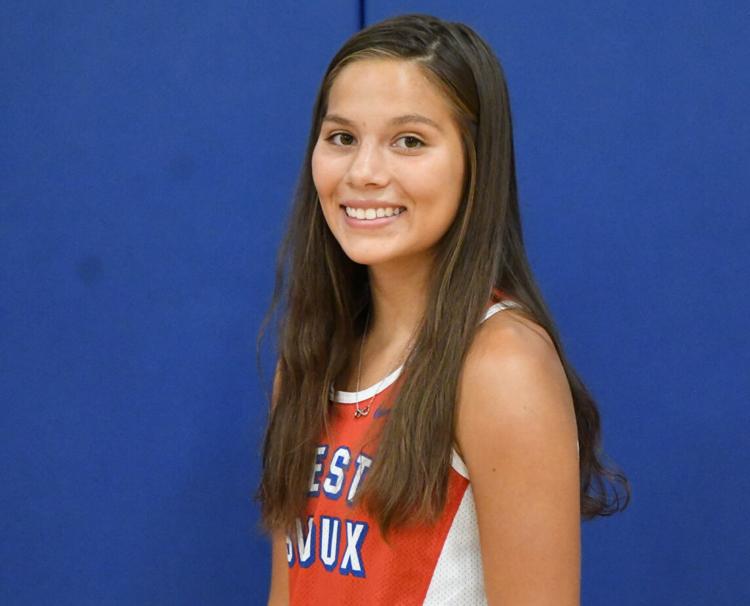 "I think of running as 'me time.' I go out and run to have time for myself time away from everything," Barrera said. "I never would just go out and run before I was diagnosed. I was just a normal teenager — I was to the point where doctors told me I couldn't even walk a block."
Barrera would define AMPS as "a pain syndrome were people think it is nothing because they can't see it, but I can feel it and it hurts and affects every part of my body."
Having to be mentally strong is just as important as making sure she gets a workout in regularly as Barrera says working out is the only cure.
"My first symptoms were knee pain and they thought I had weak hips so I did all different types of therapy to strengthen them, but it just got worse," Barrera said.
Initially, doctors were skeptical about what ailed her. She said that most doctors believed she had Osgood-Schlatters, which causes inflammation of a ligament around the knee. Some even thought she was faking or exaggerating for the sake of attention, but her condition continued to worsen.
"I was to the point where I couldn't walk and had no control of my body temperature," she said. "I was at my kidney doctor and he saw how cold and purple I was and said it wasn't normal."
He then took some blood samples from her and didn't like what he saw. He sent Berrera on to Omaha for further analysis.
"It took them less than 10 minutes to diagnose me because I had all the symptoms," she said.
With a proper diagnosis reached, she began a five-week treatment that summer. Through that experience, she was able to learn how to manage her pain.
"I think she is the strongest person I know," Misti said. "She works so hard and never gives up. We have been super close with all of this because most people don't understand where she was and where she is now is only because of a lot blood, sweat and tears — literally, she works out for around two hours every day plus does practices for sports. AMPS is amplified pain and it causes so many other issues like her stomach, she feels sick a lot and she has a lot of anxiety, she can't control body temperature and I feel terrible. She is a teenage girl and has this, it is so difficult."
Barrera stays positive through it all saying she "pretty much" has it under control other than extreme heat and cold affecting her body and running because of her inability to control her body temperature.
"I push through because I learned to always have a positive mindset," Barrera said. "I love my team and representing West Sioux. It's an awesome school, and I've been blessed with an awesome coach who pushes me to be my best always."
She also gave a shout-out to her fellow state qualifier Deven Henry who placed third overall at the state-qualifier with a time of 17:49.
"I am very proud of Deven for dropping two minutes I believe from last year and working hard to make it two years in a row to the state meet," she said. "I hope the best for him at state and hope he accomplishes what he wants."
After recovering from the latest obstacle thrown her way, Barrera will begin training for next year's season, this time with bigger goals than just placing at one meet in the season. 
"I give the best of luck to all the runners tomorrow, I wish I could do something to be one of them," a tear-filled Barrera said.