SHELDON—Sheldon will be alight with fun on Saturday night, Nov. 28.
For the first time, Sheldon will play host to a Hometown Holiday Parade of Lights through the city's streets. The parade will start at 5:30 p.m.
The parade came about because of the desire to provide people with a fun, holiday-filled event in the community
"I love Christmas, I always have. I remember all the fun things that would happen in town when I was a kid and I wanted to try and provide events for the holiday season that would be great memories for kids and families," said Shantel Oostra, chamber director with the Sheldon Chamber and Development Corporation. "I've always thought that lighted parades were so much fun and decided to bring one to Sheldon. Hopefully, all goes well and we can make it an annual event! But for this year, I think we can all use a little bright cheeriness."
The theme for this year's Parade of Lights is Hometown Holiday and registered parade entries are invited to decorate with that theme in mind.
"We are asking them to show what a hometown holiday looks like to them through their entries. We are hoping for lots of lights and maybe some music and people have a fun time of celebrating Christmas," Oostra said.
The parade will go through various parts of Sheldon after being moved out of the downtown corridor due to COVID-19 concerns. Oostra asks that people don't park in the streets along the route (see the map below) but instead utilize nearby parking lots and are asked not to exit their vehicles.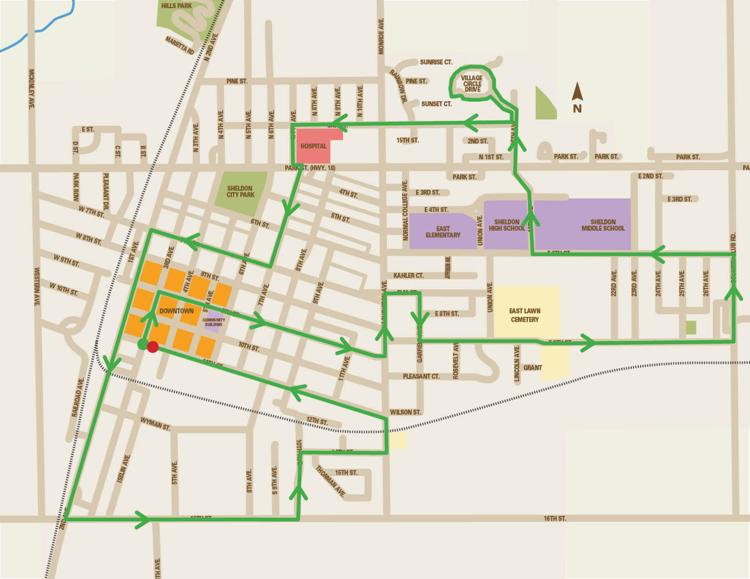 The chamber director also advises those who watch from their porch to keep enjoy hot cocoa or cider as they watch the event.
At the time of the interview, they had about 20 entries and were in the process of adding some more fun elements to the event. Oostra encourages people to stay tuned for more information as it becomes available.
The Parade of Lights is a great event to help people enjoy the holiday season while still staying safe.
Story has been updated for further clarification from the chamber.