Nature Center opens eagerly anticipated exhibits
Welcome to the wonderful world of pollinators.
The Dickinson County Nature Center is excited to open the doors to Pollinator Paradise.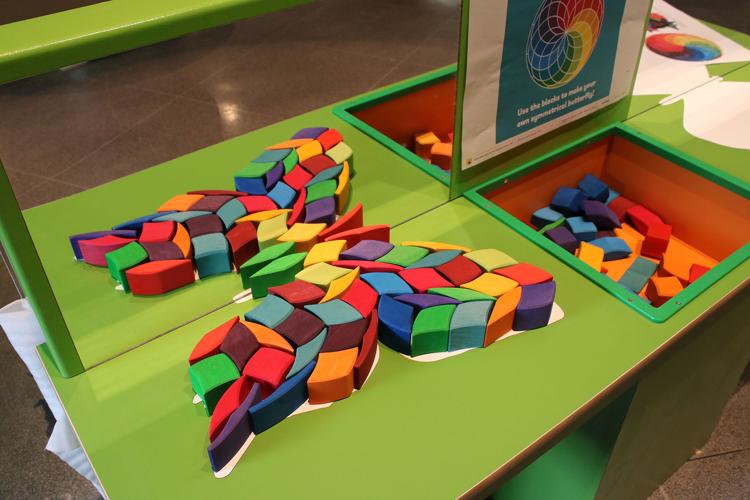 A grand opening for the addition will be held Saturday, Nov. 16 with a ribbon cutting at 10 a.m. and the nature center open to the public until 4 p.m.
The project has been a couple years in the making with a groundbreaking in 2017 and construction finished a year later. The first exhibits, a human-sized honeycomb climber and an indoor bee hive, have been on display for about a year and now the rest of the children's museum-quality exhibits will join the fun.
"This is the culmination of a year and a half of work and now all the exhibits can finally be revealed to the public," said Kiley Roth, the nature center's community relations coordinator. "I don't think people realize just how much is coming. We got to envision it when we went to the fabricators and are really excited for people to experience it all."
There will be a life-size apple orchard where kids can dress up as pollinators such as the blue orchard mason bee and launch faux pollen into a flower watching as a bee transports it from tree to tree.
"They will be learning that apples are pollinated foods and how that occurs as bees move around," Roth said.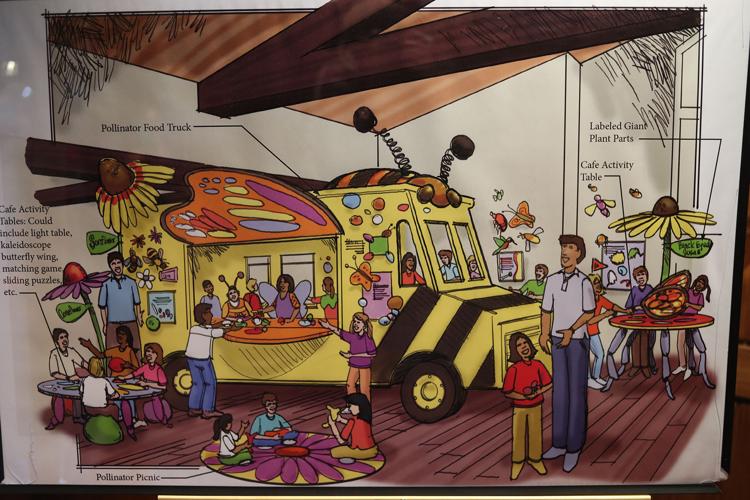 A bright yellow food truck will be parked right inside and visitors can conjure up a pretend meal with the many foods that wouldn't be possible without pollinators.
From blueberries with breakfast to the mint in a scoop of mint chocolate chip ice cream, a warm cup of coffee or even a juicy steak. None would be on our plates without the help of pollinators.
"One in three bites of food we take is due to pollinators," Roth said. "We have breakfast, lunch, dinner and dessert — every meal is covered. Even alfalfa is pollinated and beef cattle eat alfalfa so even that steak fajita we have for supper is also affected by pollinators."
The Build a Pollinator exhibit is described by Roth as "Mr. Potato Head for pollinators."
Visitors start with the body of a bumble bee, sphinx moth, milkweed bug or monarch butterfly and can add the antennae, legs, wings and proboscis.
The finished product can be a true-to-form or as wacky as people want.
The Save the Pollinators digital game will appeal to the aspiring landscapers of all ages.
Players pick out trees, shrubs, flowers and grasses to plant around their house. The plantings are then scored based on how well they will help out pollinators.
"What makes it even better is you can e-mail the list to yourself if you like what you created, take that to the store and say there are the plants you want in your garden," Roth said. "People will learn that they can make a really pretty landscape with pollinator friendly native plants and make a difference in their own backyards.
The Magic Monarch exhibit will give guests a glimpse into the life cycle of the butterfly and allow them the opportunity to create their own butterfly wing design.
It all adds up to a lot of fun in a learning environment at the nature center.
"I've been calling it 'sneakily educational,'" Roth said. "I think as people get into it and are having so much fun they are making memories. Maybe the next time they're having blueberries with Cheeriors they'll remember that pollinators made that possible. Those memories impact the way they view the environment and that leads to advocacy and change. We're always about fostering an appreciation of the outdoors and that starts through play, especially for the kids."
In addition to the new exhibits there will be hikes through Kenue Park with environmental education coordinator Bryanna Kuhlman throughout the day, as well as a bee-themed bouncy house weather permitting and craft activities set up downstairs and in the library.
It is sure to be an exciting day for everyone.
"From the teeny tiny ones with the play food, to the middle schoolers enjoying shooting pollen into trees, I think we really have a variety of activities that will hit a lot of age groups," Roth said. "Speaking from experience we all had a ball playing with all that stuff."