Fall family fun at area orchards and pumpkin patches
The leaves begin to turn red, yellow, and orange. The weather starts to turn toward the chillier side.
That means autumn is on its way and the time has come to pick out pumpkins, grab an armful of apples, and enjoy a fun fall day with the whole family at an area orchard or pumpkin patch.
Plenty of Pumpkins
1. Fields of Fun
3273 400th St., Sioux Center
712-441-4502
On the outskirts of Sioux Center, visitors can enjoy a petting zoo, coffee and treats, baked goods, unique vendor crafts, hayrides, games, a corn maze, and of course pumpkin picking.
2. Hawk Valley Garden
2670 Highway 18, Spencer, IA
712-363-1587
www.facebook.com/HawkValleyGarden
Pumpkins for sale in the shop or at the farmstand. They also have pie pumpkins, a farm market and gift shop.
3. Pumpkins on Garfield
2846 Garfield Ave., Doon, IA
712-578-9001
and on Facebook
Pumpkins, Gourds, Winter Squash, Indian Corn, Broom Corn, Fall garden vegetables, Jams, Jellies, Salsa. 10 Acre Corn Maze.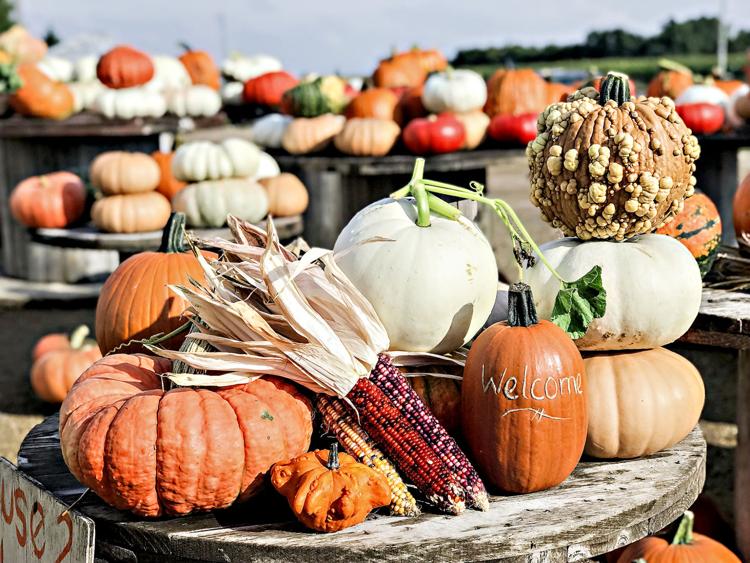 4. Solsma's Punkin Patch
6190 320th St. Sanborn, IA
712-729-3174
Fall produce including over 65 varieties of pumpkins gourds and squash. Oh my! They also have gourmet popcorn, a corn maze and a country store.
5. Hoefling's Pumpkin Patch & Corn Maze
5303 D Avenue, Marcus, IA
712-490-3329
www.facebook.com/TheHoeflingPumpkinPatch
They grow over 15 different kinds of pumpkins and over 50 different kinds of gourds in assorted colors and sizes. They also have Indian Corn, Broom Corn and squash. Travel through the Corn Maze, play pumpkin bowling, shell corn with the hand corn sheller, ride along on a hayride and visit the gift shop.
6. Harvest Hollow Pumpkin Farm
23805 Nature Ave., Le Mars, IA
Find them on Facebook
Find your homegrown pumpkins and gourds. The farm also has a corn maze, haunted cemetery, enchanted trail, spook house, play areas, a petting zoo, giant chess and checkers, horse drawn wagon ride and antique farm machinery.
7. Diane's Pumpkin Patch
22324 Hwy C-12, Ireton, IA
712-552-1912
Find them on Facebook
Pumpkin patch-pick in the field, tractor-pulled hay rides, restrooms, farm animals, paint your own pumpkins for kids, squash and gourds.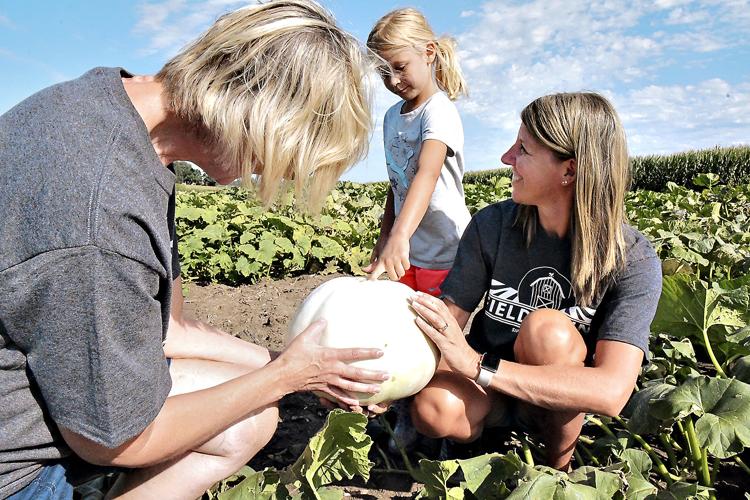 8. Grandpa's Fun Farm
31463 Read Ave., Worthington, MN
507-360-2649
www.facebook.com/grandpasfunfarm/
They feature lots of fun things for the whole family. There is a corn maze, kids games, crafts and pumpkins! Last year they had a 40-foot tube slide, a zip line and an air cannon that shoots pumpkins.
A is for Apple
9. Ocheda Orchard
29716 Read Ave., Worthington, MN
507-376-3255
Pick your own apples at Ocheda Orchard, which has approximately 5,000 trees and 15 varieties planted on 35 acres. They also have pumpkins and varieties of squash later in the fall.
10. Nystrom Orchard
30679 Quine Ave., Worthington, MN
507-376-6904
find them on Facebook
Nystrom Orchard has about 10 varieties ranging from sweet to tart including Haralson, Cortland, SweetTango, and Honeycrisp. They sell them at the local farmers market and their orchard store, plus make several into Dutch apple pies.
11. Little Sioux Orchard
2618 160th Ave., Milford, IA
712-320-8707
The Lakes area's only pick-your-own apple orchard. There are also hayrides, pumpkins and a corn maze most years.