Damon Dotson's Lake Affect ready to rock once again
Live music is a big part of summertime in the Iowa Great Lakes. But only one concert actually takes place on the water.
Damon Dotson's Lake Affect is back for a 14th summer rocking the waters of Millers Bay on West Lake Okoboji. The music gets underway at noon with Cody Carter, followed up by Birdchild and finally Damon Dotson takes the stage to wrap up what has become a must-see summer event in the Iowa Great Lakes.
Q: So many events had to cancel last year and Lake Affect was no exception, so how pumped are you get the concert back on the water this year? And in general, how excited are you to just to be able to be performing live once again?
A: Oh man, so excited. I really hated missing last year but I feel it was the right decision. Things have been so busy over the past month that its been hard to focus on being excited for one show because I've been excited for every show. It's funny because I have always been grateful and excited to do what I do and perform, but having a year where I barely played at all made me realize how special the moments on stage can be.
Q: Can you tell me a little bit about the opening acts you have on the lineup for this summer and what the audience should expect if they've not heard them before?
A: Cody Carter will be the first act starting at noon. Cody and I go way back to when we met at Iowa State. That friendship has carried over time and we've been in each other's weddings and watched from afar how we've grown as people and husbands and fathers. He's originally from Newton but resides now in sunny southern California. Along with mostly the country classics everyone knows, he also has a great batch of original music he is currently working on in a studio in California. Birdchild is a great band of seasoned musicians playing some of today's best pop and rock tunes. They are friends of mine as well. The two founding members, Drew Birdsall and Justin Goodchild, are originally from Spencer. I have also known them for about as long as I've been playing music professionally. Funny thing is, they were actually at the very first Lake Affect some 15 years ago. They helped out on the barge where needed. It is great to have it all come full circle this year. A lot has changed for a lot of us over the past 15 years so it's going to be a very "home" feeling for everyone on the Boji Dock Service Barge.
Q: How about yourself, what are looking forward to playing for the crowd? Any new songs or old favorites that you're particularly looking forward to playing on the barge?
A: I'd say there are probably a few I'm looking forward to most. "Summer Days" obviously holds the nostalgia in my mind of growing up in Okoboji. Writing that song on Manhattan Beach some 18 years ago — crazy where the time goes. I am looking forward to performing my song "Tumblin." My wife will be there at this show. Her love and support and all she does especially when things get really busy for me never goes unappreciated. She will bring out my best with that song — as she always does. Also, a tradition for most my shows, I always dedicate the song "Honky Tonk Woman" to my mom. Ever since I can remember that was always the song when she would find her way to the stage and completely steal the show! Those memories will live forever for me.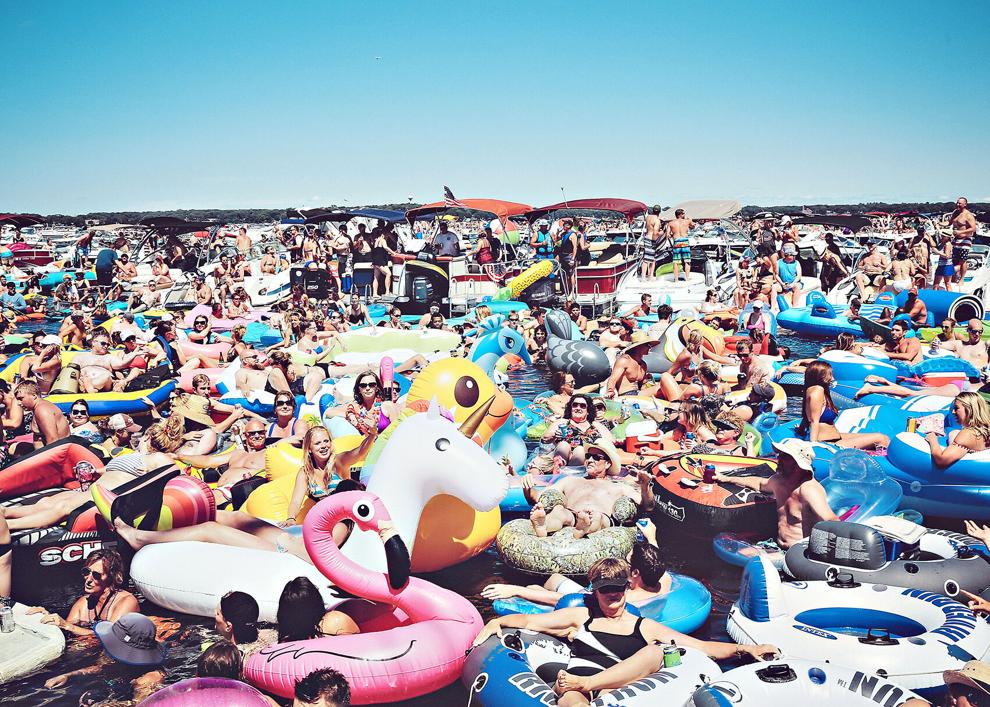 Q: Can you explain the new set up with the barge configuration and emergency lane? What should boaters know to expect when they arrive?
A: That is by far the biggest change with Lake Affect this year. As I have always done, I have tried to work with local and state officials to ensure a clean, safe and smooth event. The safety lane was created so that if the unfortunate need arises where an emergency vessel needs to enter the bay, they will have a clear lane to do so. Boats may use the lane to enter and exit the bay, but will not be permitted to anchor down or tie up within the 60-foot lane. There will be four marked buoys as well as the Lake Patrol enforcing this new regulation. This is strictly for the day of Lake Affect and the buoys will be removed at the conclusion of the day. We're also asking everyone to be patient and work together and be mindful of your surroundings and obey this new safety implementation. We're also urging boats to not anchor down on the south shore of the bay too close to docks. We need to remember those are private docks and residences. They need space to swim off their own dock or get their own boat out of the hoist. Just be smart and respectful of boaters around you and to the shoreline. Also remember that there is little to no parking in Wahpeton, so please obey street signs and private property. Cars may be towed or fined if parked unlawfully.
Q: Any other thoughts about this year's Lake Affect or the event in general?
A: Lake Affect is a group effort. It takes everyone to make it a success. It takes all of our local and regional sponsors. Without their support, Lake Affect would be a thing of the past or still just an idea. No show can happen without the stage! This year we're playing on the new barge from Boji Dock Service. Speaking of that "home" feeling I'm excited for, I've also known the owner, Randy Osler, from back in my childhood days growing up on Millers Bay. We're thankful for Boji Dock Service for being the best and unique stage most of us will ever play on. Lastly, but equally important, it takes the crowd to be smart, courteous and respectful and clean. I urge all the boaters to not be in a hurry and to allow plenty of time to get into the bay. The very reason this event still exists is because those who attend work together and enjoy one of the best days of the summer. Keep Okoboji Blue!
There is also the Lake Affect Clean Up to be held on Sunday, July 4. In conjunction with the great people at the Iowa Lakeside Lab we all come together to help do our part. The Lakeside Lab provides canoes, life jackets and bags for getting any trash or debris in the water or on the shoreline. If you feel inclined and want to just pitch in and help, meet us at the Iowa Lakeside Lab at 8:30 a.m. We would love to see you!