Clay County Fair offers entertainment for all
Expectations are always high when you're "The World's Greatest County Fair."
One way the Clay County Fair continues to meet and exceed those expectations year after year is by providing high quality free entertainment throughout the week.
Gate admission is all that's required. Once guests are on the fairgrounds there is something happening every half-hour they can sit down and enjoy.
"We offer $200,000 in free entertainment to our fairgoers every year," said Jeremy Parsons, fair manager and CEO. "We want to provide the audience with quality shows with just their fair admission. And with kids 12 and under being free, this year the fair is more affordable than ever."
The Farmers Bank and Northwest Bank stages each host six shows every day.
Every three hours a new entertainer will take to one of the stages. From comedians to hypnotists, a cappella groups, and tribute bands, there is something everyone at the fair will enjoy.
"There is a Billy Joel and Elton John tribute band that is new for us this year, which is exciting," Parsons said.
Then there are the grounds and strolling acts. Some stick to one place and some, as indicated by their name, pick up and move around the fairgrounds. These entertainers will perform four times per day while at the fair.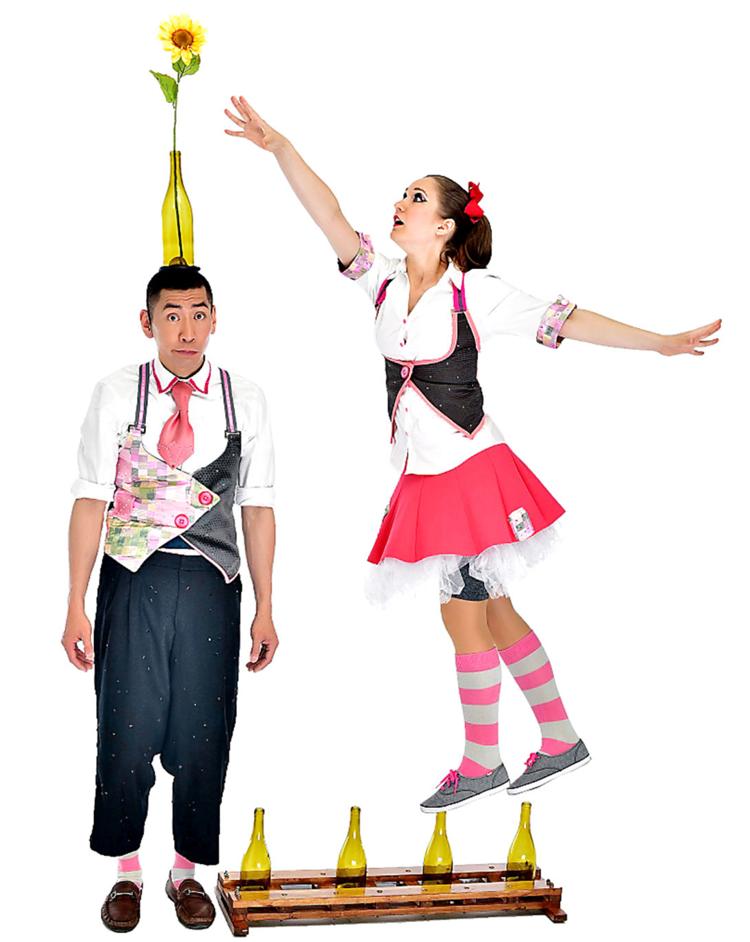 "The grounds and strolling acts provide something around every corner at the fair," Parsons said. "Again we have something for everyone. A returning favorite is the circus comedy act Alléz-OOPS! There are the thrilling shows of the Moto Maniacs. We have a new stilt walker, and this year we have the 9/11 Never Forget Mobile Exhibit.
Rob Lok of New York City and Ievgeniia Pokrovska Lok of Kiev, Ukraine, aka Rob and Miss Jane, form the fantastic entertaining duo that performs Alléz-OOPS! and quickly became a fair favorite last year.
The pair of performers met in South Korea, got engaged in Russia, and finally married in St. Petersburg, FL. For the past five years they've performed together around the globe. Truly citizens of the world, they are ready to bring their unique brand of fun and entertainment to the Clay County Fair once again.
"I like to think those who've seen us in the past that they come specifically to see us," Rob said. "We do big time circus in a small area — stilts, acrobatics, slapstick comedy — that people really like and enjoy. It's high, high, high energy. The audience will have to take a breath, exhale, and on and on."
Rob is a graduate of the Ringling Bros. and Barnum & Bailey Clown College and Miss Jane is one of just a handful of glass bottle walking artists in the world.
"We went from 'the Greatest Show on Earth' to 'the World's Greatest County Fair!'" Rob said. "And we're just a drop in a large pool of world class entertainment here at the fair. It's absolutely amazing."
They're both excited to be part of that entertainment lineup once again.
"I really enjoy the people," Miss Jane said. "They're so warm and friendly and always want to take photos and spend time with us, get to know us better like family."
"We can't wait to see everyone again," Rob added. "Last year we had an older gentleman who came up and said he didn't think he would see anything new in his life again, but he did with Miss Jane and her bottle walking. He was just so thankful. And that's what we enjoy — our show making memories that people can talk about."
Many memories are sure to made once again this year at "The World's Greatest County Fair."