IRETON—PR Construction has chosen to call Ireton home by building a new shop at 207 LaSalle St. 
"Our company has expanded," said co-owner Mark Rens, on whose rural Ireton acreage the construction company was previously located. "Our shop was too small. Craig Petersen, my business partner, is very good at keeping things organized and things running. We are short of storage and office space and just wanted to invest in the Ireton community and build something we can grow into."
The new shop is 64 feet by 192 feet; the crew is hoping to move into the shop by March.
PR Construction began in January 2005 and specializes in a variety of job sizes, from installing storm doors, building custom homes and apartment buildings to erecting various agricultural structures. 
The construction company has been involved in projects in Hawarden, Ireton and the surrounding area.
Projects in Hawarden include the shop at Cooperative Farmers Elevator, Eisma Trucking's shop, custom homes such as those for Ryan and Heather Schwiesow and Bob and Nancy Sanderson, and parts of Hawarden Regional Heathcare.
PR Construction also worked on Central Avenue for the economic development committee.
In Ireton, projects include building Main Street Auto Body, Iowa State Bank, WD Grease and custom homes for Dustin and Rachael Houlton and Clark and Bonnie VandeBerg. PR Construction also was instrumental in the upgrade to the Ireton Ball Park.
Job sizes have changed rapidly in the last couple of years. 
"One thing that I am glad to see hasn't changed is we have a lot of key employees that have been with us a long time," Rens said. "We have employees that have been with us for the life of our company."
Petersen and Rens agree the key to a successful business is the employees working for them. In fact, they say the most important room in the new building on LaSalle Street is the employee break room. The owners will need to make the break room large enough to house its 18 employees.
"That is the most important room that we are building in our shop is the employee break room," Rens said. "The guys who will use that room, deserve it."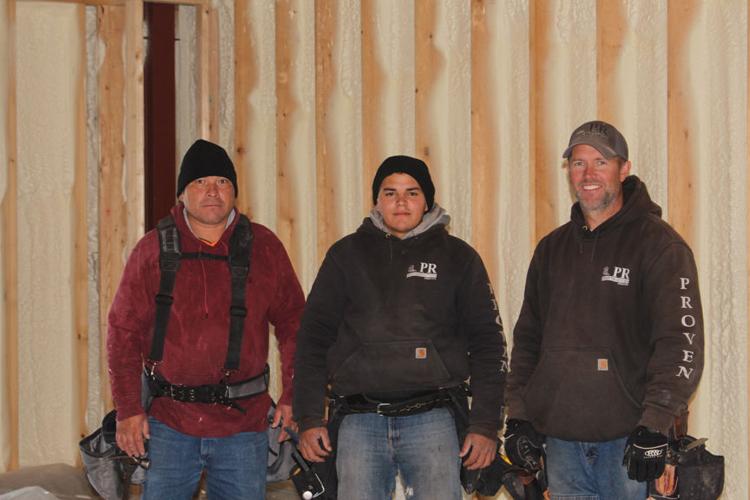 A whole new way of managing employees is something Rens has seen change from year to year. Younger employees just coming on were raised differently than some of their veteran employees.
"The biggest thing that has helped us is learning to understand the younger employee," Rens said. "The younger generation is an untapped resource. We have two that are working full time and two part time but will come on the workforce when they graduate; it is a great thing. But, you can't just yell and prod them, you have to go about it differently. The difference in the younger generation and the way you manage that help has changed over the years."
To Rens, technology has been wonderful. In 2013, the company acquired a soft plan that allows them to draw their own plans with 3D images and elevation. Rens also appreciates how far printers have come and likes how they are able to print large plans for customers to see the layouts before the build. Between Petersen and Rens, the design is gets taken care of, the job gets bid on and they mesh well together to make sure jobs get done well.
"The biggest thing that I have learned in a partnership is the communication is huge," Rens said. "There are things that I'm not perfect on and having another set of eyes has made projects go a lot better…having an open mind."
PR Construction works alongside several other businesses Rens refers to as "subs" or sub-contractors, which are Koopmans Concrete, L and D Electic, Schoenemans and DeRaad Heating and Cooling. 
"Aside from our employees, the business is only as good as our subs," Rens said. "Our subs have really helped us make what I would think a good name for our company."