IRETON—Four generations of family involvement makes farming the best job in the world for one rural Ireton family.
Dustin Houlton, 37, is the fourth generation farmer managing the Houlton homestead in Reading Township just east of Ireton. He works side by side with his father Doug, 66, raising 300 cattle and managing roughly 600 acres of cropland.
The farm has had the Houlton name on it for more than 100 years. It began with Charles Bruce Houlton, known as C.B. Houlton; then his son, Charles Bruce Houlton II, who farmed with his son Doug, who in turn now farms with his son Dustin.
"The best part of the farm life is that you have a sense of accomplishment when everything is said and done," Dustin said. "You can watch the progress as the crop is growing or the livestock is growing and in the end you can sit back and see what your hard work accomplished."
Approximately 65 percent of their corn crop goes to their cattle each year, noting they consider their operation to be "old school." 
"We don't have grain carts or semi trucks or trailers," Dustin said. "We combine everything ourselves and haul everything with tractor and wagon whether it is going to the farm or to town."
They also don't sell their grain ahead of time. Some farmers sell on contract so the price is set before harvesting and are required to deliver contracted bushels for that price.
"I guess I figure the good Lord will take care of me," Dustin said.
This harvest season has been highly unusual for the Houltons. Normally harvest is nearly done by now but lots of rain has kept them out of the fields. October's second week brought up to 4 inches of above average precipitation to Iowa. Average temperatures were predominantly cooler than expected; northwest Iowa was 6-10 degrees below normal.
"This year has been very trying," Doug said. "It has just been an emotional roller coaster all the time. With the tariffs and everything that is going on, you don't know where you are at anymore."
The father-son duo know they have a 24/7, 365-day job, but they enjoy the freedom of being their own bosses and the quality of life working on the farm gives them.
"You can truly put family first, which is huge for me," Dustin said. "There isn't a thing in the world I wouldn't do for my kids and I try to be there for them every step of the way. Sometimes in means putting in late nights afterward but it is all worth it. My family is my life, without them I wouldn't know what I would do."
Dustin and his wife Rachael have two boys, Charlie and Oliver, who Dustin hopes will want to farm alongside him one day. 
Besides farming, the father-son duel also are realtors for Beyer Auction and Realty. Dustin focuses on residential, commercial and agricultural land sales while Doug focuses mainly on agriculture land sales and auctions. 
Dustin volunteers and coaches youth in several sports as a way to show his support for the community — a value that's been handed down for generations.
"My grandpa and grandma were the first people in the bleachers at almost every sporting event West Sioux had back when I was growing up, whether they had a family member playing or not," Dustin said. "My parents are very involved as well; it is something we believe in."
Dustin remembers a time when he was playing basketball, his grandparents were in the stands and another player on the team asked who those people were since they were always at every game.
"We try to do what we can to support our local communities in Ireton and Hawarden as well," Dustin said. "Whether it is a fundraiser or benefit, we try and take an active role in the community."
The changes on the Houlton homestead have been dramatic throughout the years, from larger equipment to incorporating more technology.
"Farming in general has the same principals as it always has, but it is done on a bigger scale with a lot more dollars involved," Dustin said. "Kind of scary when you really sit back and think about it."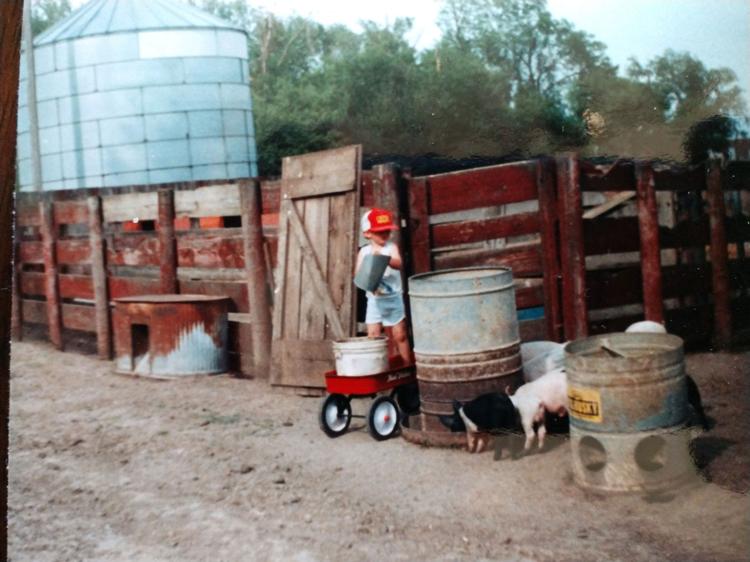 Dustin remembers being a young boy and riding along hauling a pickup load of hogs to Sioux City with the cattle rack on the back of the pickup. Or hauling a three-point cart of hogs to IBP station by Highway 10 just north of Ireton. Doug remembers having two-row pickers and picking the corn, putting it into a crib and letting it dry. Then putting that into grinders before the cattle could eat it. Reminiscing is something Doug does often with stories about growing up on the farm.
"Last year, we tore this fence out," Doug said. "I can remember when I was a boy, my dad put that fence in; I told my grandson Oliver, you are going to remember, when I am gone and you are out here on the farm, you are going to remember that."
For the Houltons farm life is a good life.
"You can see why [my] dad never really loved being in the home," Doug said. "He loved being out here on the farm; we all do."
"I for one, love it," Dustin said. "It is why I chose to live here and raise my family here, to me there is no better place on earth."